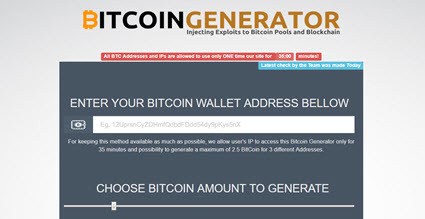 The creators of Bitcoin Generator claim that their servers run exploits into Bitcoin pools and allow users to generate up to 2.5 BTC.
Is Bitcoin Generator another scam or a secret weapon to earn free Bitcoins?
Let's find out.
By the way, if you want to learn proven the method that earns me over $1,000/mo in passive income, check out my #1 recommendation!
Bitcoin Generator Review
---
Name: Bitcoin Generator
Website: http://limited-bitcoin-generator.org/
Price: 0.00107 BTC
Overall Rating:

0/5
What is Bitcoin Generator?
---
Good question! The only information that you will see on the website about this crazy system is that it supposedly injects exploits to Bitcoin Pools and Blockchain.

So, they are trying to convince you that they are using secret hacks to exploit the Blockchain and generate free bitcoins for you.
I see…
If that is true, then they are literally stealing funds!
However, after going through the process, I realized they are probably exploiting users instead of the Blockchain.
Let me tell you why I am confident that is the case.
How Does Bitcoin Generator Work?
---
Well, it's simple!
You must provide your wallet address, choose the number of Bitcoins you want (from 0.1 to 2.5 BTC) and press start.
Great! Now you just have to wait until the progress bar finishes. When it's done, you will see the following message:
X amount of BTC has been sent to XXXXXX.

The Bitcoin network requires a small fee to be paid for each transaction that goes to the miners, else a transaction might never be confirmed. To ensure your transaction confirms consistently and reliably, pay the miners fee of 0.00107 BTC for this transaction at: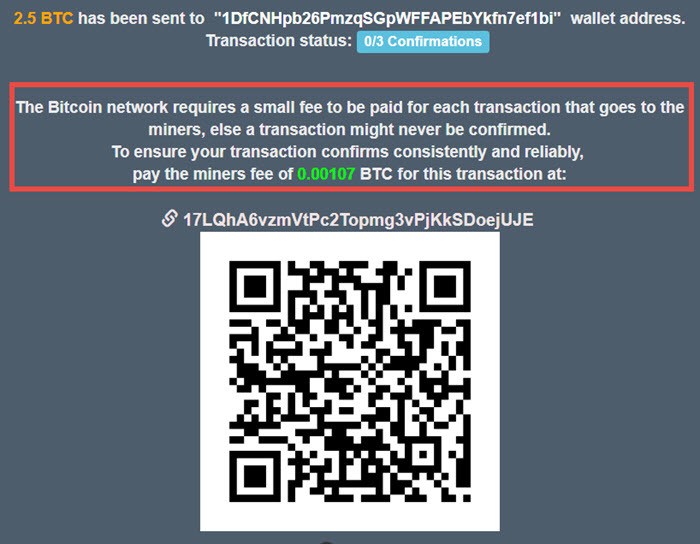 Believe it or not, they are charging 0.00107 (currently $8) so that you can receive the Bitcoins.
They are claiming that amount of BTC is to pay miners, but that's not the case at all.
Miners are rewarded during the transaction and not after the transaction has been made.
It's important to mention that miners get paid to keep the Blockchain secure. However, if you are using Bitcoin Generator to exploit the network, why on earth do you have to pay the miners?
It doesn't make sense, folks!
Anyway, I copied my wallet address and searched the transaction on blockchain.com.
The result?

Well, as I expected, they haven't found any transactions for my address, which means Bitcoin Generator hasn't sent any Bitcoins.

Don't Trust Bitcoin Generator!
---
Bitcoin Generator is continually showing different IP addresses that received a certain amount of BTCs.
Well, there is no proof that those IPs are real, or that people are receiving their BTCs.
Also, you have probably noticed a live chat where some "people" are saying positive things like:
The fee is too small for the received amount I love this

I havent seen this before but im impressed with the result!

Funny how this works but will expire soon

Saw this on forums pretty impressive
If you pay close attention, 99% of those messages are fake as they don't spark any conversation between individuals.
Not to mention the website doesn't have an About us page, a Privacy Policy, a Terms, and Conditions or an FAQ.
So, how can you give BTC to someone you don't even know and expect huge returns back?
Conclusion
---
Bitcoin Generation doesn't look like a legitimate website.
It's clear to me that they are targeting newbies who don't really know how Bitcoin mining works.
Think about it. If they are truly able to exploit the Blockchain, why would they give you free BTCs and ask you to pay the miners?
It doesn't make any sense!

It's like expecting a bank robber to run a website just to give you the money he's stolen.
There are many scams targeting individuals who want to make money with cryptocurrencies. So, you should stay well away from sites that promise free BTCs.
Even if you eventually find legit mining platforms, there are still substantial risks involved.
With the significant fall in BTC prices recently, mining is no longer profitable.
Verdict: Scam

This reward platform is going viral! Cash out via PayPal, Visa, Gift Cards, and in-game currencies - Click here to find out how to generate an extra $10+ per day! 
Discover How I Make Money Online – No Cryptocurrencies
---
 If you are serious about making money online, you should avoid risky investments and focus on creating business systems.
For example, I created this website, which works 24/7 and generating me over $1,000 per month in passive income.

My website is a business that I have total control of, so I can work on it as much as I want and keep growing.
I can go on holidays, and it will still attract potential customers and generate commissions!
It's not complicated, and anyone can achieve similar or even better results. I know people who earn 10K per month with affiliate marketing.
However, I need to be honest with you and say that it requires a lot of upfront work.
There are no shortcuts, but a well-structured course and a supportive community can make all the difference! That's why I always recommend this training program.
I hope this Bitcoin Generation review was helpful to you. If you have any questions, please let me know in the comment section below.
Stay safe!