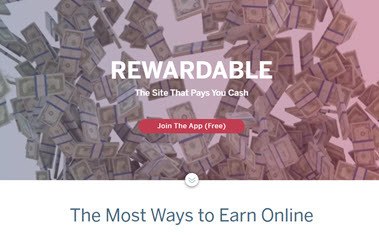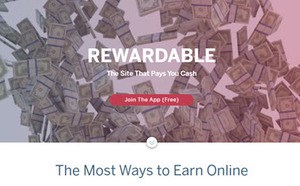 Welcome to my Rewardable App Review!
Rewardable is an app that supposedly rewards users to watch videos, take surveys, complete offers, and more.
At first glance, it seems like another reward app to earn some pocket money from your phone.
However, because of the large number of dishonest apps available on the Google Playstore, you might be wondering…
Is Rewardable a Scam? Does it pay for your time and effort?
I decided to test this app and write this review to answer all the questions you might have!
But before we dive in, let me ask you one important question: Have you ever dreamed of making a full-time income from home?
If so, you may want to check out my #1 recommendation! This is the same program that helped me build an online business, reach $1,300 per month and say goodbye to my boss and co-workers.
Rewardable App Review
---
Name: Rewardable
Website: https://rewardable.com/logout
Company:  Rewardable, Inc.
Operating System: Android and iOS
Payment method: PayPal or Gobank
Minimum Payout Threshold: $10
Membership Eligibility: Worldwide
Recommended?

No

Overall Rating:

1/5
What is Rewardable?
---
Rewardable is the usual money-making application funded by advertisers and marketing research companies.
As a member, you can get paid to take surveys, watch videos, complete offers, visit retail stores (mystery shopping) and more.
After completing a task, you will earn points called Acorns, which you can redeem later via PayPal.
According to the official website, Rewardable has paid over $5,180,000 and that number keeps growing!

Although Rewardable app is available worldwide, many tasks are not available in certain countries.
So, you can struggle to save enough Acorns to cash out depending on your location.
Is Rewardable App a Scam?
---
No. I don't think Rewardable is a scam.
But at the same time, I need to tell you why I don't recommend Rewardable app.
If you check the reviews on Google Playstore, you will see that some people don't get credited after completing tasks.


In another review, the user said he took 8 months to reach 9,999 credits (acorns), but then, Rewardable stopped giving him credits.


As a result, he couldn't cash out due to the fact that users must reach 10,000 credits to redeem $10 via PayPal.
The interesting thing is that most people who rated it 5 stars write very short sentences like "great app", "nice app, easy money", "easy and fun".
On the other hand, people who give 1 – 3 stars tend to be more critical and explain what they like or don't like about the app.
I am skeptical of "quick" reviews since there are many paid review services on the internet. MyAppAware is one of them!
Unfortunately, most thorough reviews that I see about Rewardable are negative ones.
Pros and Cons
---
Pros
Get paid via PayPal.
It's available worldwide.
There is a wide range of tasks available.
Cons
Low pay.
Some people complain about missing points and payments.
The minimum payout threshold is $10, so it takes a long time to cash out.
You may not find mystery shopping missions close to your location.
How Does Rewardable App Work?
---
Download and Registration
You can download Rewardable app for free by visiting the website, and clicking on the "join the app" button.
Select Google Play or App Store, depending on your operating system.
Next, tap on Create Account, and complete a short registration form with your name, email, date of birth and gender.
Before completing tasks, you should set up your PayPal account via your Account Settings.
Points vs Cash
At Rewardable, 1000 points (Acorns) are equivalent to $1.
It's also important to know that you can only cash out once you accumulate 10,000 Acorns or $10.

Earn Acorns
You can collect Acorns by completing a wide range of tasks inside the Rewardable app. These include:
Taking Surveys: Get paid by sharing your opinions with marketing research companies.
Watching videos: Simply watch videos from advertisers.
Complete offers: Sign up to free websites, subscribe to free trials, enter prize draws, and more!
Complete mystery shopping tasks: visit a store in your local area, take pictures of products, provide the number of products on the shelf and rate the service.
How Much Money Can You Earn?
---
The amount of money that you can earn depends on each task.
In most countries, surveys and offers will pay you less than 1000 Acorns or $1, which is not very encouraging!
The only offers that pay you more than $1 will likely require a payment.

This reward platform is going viral! Cash out via PayPal, Visa, Gift Cards, and in-game currencies - Click here to find out how to generate an extra $10+ per day! 
I'd avoid those type of offers because if Rewardable miss your payment, you will lose that money.

Another fact is that you will have to watch 1 hour of videos to earn 1 or 2 cents. 
Therefore, you will need to keep your phone playing 24/7 in order to earn less than $0.25 per day.
As for the mystery shopping missions, you can earn between $2 and $20, which is not bad!
Just keep in mind that most opportunities are located in big city centers in the US. So, mystery shopping missions are not for everyone.
I noticed there are some videos on Youtube advertising Rewardable as an easy way to make money online.
Although the tasks requite minimum effort, it's not that easy to reach the minimum cashout requirement of $10.
It takes a lot of time and persistence.
Conclusion
---
Rewardable App has been advertised as a great app to make money from your smartphone.
All you have to do is watch videos and complete simple tasks!
However, I am very concerned about some negative reviews on Google Play.
Some people report that their points were not credited after answering surveys and completing offers.
So, be aware that you may not get paid after spending countless hours working to reach the minimum payout threshold.
Other apps that you can use to complete mystery shopping missions are EasyShift, BeMyEye, Premise and Field Agent, and
If you are more into surveys and offers, I highly recommend Prizerebel, which you can use from either your phone or laptop. In my opinion, it's currently the best GPT platform on the internet.
How to Make A Full-Time Income From Home
---
Have you ever thought about the possibility of making a living online and quitting your day job?
In 2015, I discovered a business model called affiliate marketing and decided to take it very seriously.
After four years of consistent work, I finally quit my job! 
I built this lucrative online business after following a structured training program developed by Kyle and Carson.
Yes! It takes a lot of time and effort in the beginning, but the results can be life-changing!
In my opinion, this is the best place for those who wish to create an alternative source of income from home and eventually achieve time and location freedom.
Read more about my success story and Start your first 10 lessons completely free here! 
Final Words
Thanks for taking the time to read my Rewardable app review. I hope it answered all your questions, but if not, don't hesitate to leave me a comment below!

All the best
Stefan