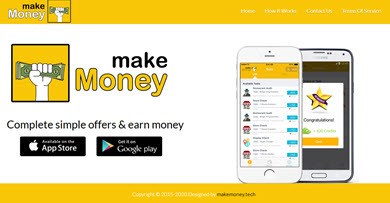 Welcome to my Make Money – Free Cash App Review!
Make Money is advertised as the best reward app available for Android and iOS devices.
According to the company, the app pays more and much faster than any other competitor!
Another great benefit is that they will process your payment via PayPal instead of Gift cards. So, you can spend your money as you please!
Well, if you have followed my blog for some time, you know that I reviewed lots of reward apps that underdelivered.
Many apps are rigged and designed to give you fewer and fewer points, so you never reach the minimum payout threshold.
So, is Make Money a scam or a legit app? Is it good for earning a bit of extra cash or a complete waste of time?
Let's find out!
But before we dive in, let me ask you one important question: Have you ever dreamed of making a full-time income from home?
If so, you may want to check out my #1 recommendation! This is the same program that helped me reach $1,300 per month and quit my job in 2019. 
Make Money App Review
---
Name: Make Money – Free Cash App
Website: http://www.makemoney.tech/
Company: Free International Calls App, Ltd
Operating System: Android and iOS
Payment method: PayPal
Minimum Payout Threshold: $5
Membership Eligibility: Worldwide
Similar apps: CashKarma, FeaturePoints and CashOut
Overall Rating:

3.7/5
What is Make Money App?
---
Make Money is probably the most popular reward app available on the Google Play Store!
It promises to pay users for trying free apps, watching videos, completing offers, and taking online surveys from their phones.
Not surprisingly, there are three apps with the same name available for Android Devices.
However, this one is owned by Free International Calls App, Ltd and has been downloaded more than 5 million times.
The company also operates CashApp, which is a reputable app that I reviewed a while ago.
As you complete the tasks, you will accumulate credit rewards that you can redeem for cash via PayPal.
Is Make Money App a Scam?
---
No. Make Money is a legit application, but it's essential to know that credits can be missing when completing offers and surveys.
There are a few complaints about missing credits and payments, which is pretty standard with this type of app.
However, Make Money receives lots of positive feedback from users who get paid without any issues.
Pros and Cons
---
Pros
Get paid via PayPal.
There are lots of offers.
It's available worldwide and in different languages.
It works on Android and iOS devices.
Earn 30 credits as a signup bonus.
No PayPal fees.
The minimum payout threshold is not too high.
Check in daily to earn 20 points.
Cons
Very low earning potential.
It takes a long time to cash out.
How Does Make Money App Work?
---
Download and Registration
The make Money app is available for iOS and Android devices.

You can download and install it for free by visiting the website and choosing either Google Play or App store, depending on your phone.
After the installation, you can add a referral code in order to earn 20 credits. However, the credits will be awarded only after you complete the two offer wall tasks.
You can skip this page or enter my referral code if you wish to support my blog: JKDBVH.
Regardless if you enter the code, you will earn 30 credits as a signup bonus.
Credits Vs. Cash
Before completing tasks, you need to know how much credits are worth.
If you check the Payouts page, you will see that you can redeem 5000 credits for 5 USD or 6500 credits for 5 Euros.
Therefore, 1000 credits are worth 1 USD.
Complete the Profile Task (50 Credits)
This is the first task you should complete after installing the Make Money App.
You can find it in the "more tasks" tab.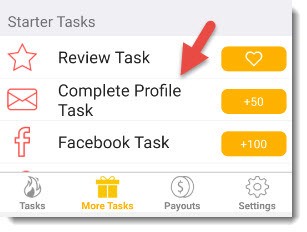 All you have to do is provide your name and your email in order to identify your account and receive your payments via PayPal.
So, make sure you provide your correct PayPal email. Otherwise, you can miss the payment.

Complete Offers (50 – 9.000+ Credits)
The most common way of earning credits with the Make Money App is to complete offers.
You can find lots of offers in the "Tasks" tab, but if you want more, just tap on "More Tasks," and you will find three more Offer Walls.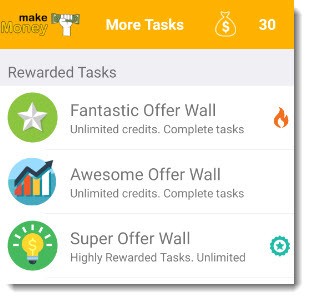 The most popular offers involve downloading apps and playing games on your phone.
Usually, all you have to do is download, install, and use the app for a few minutes. If it's a game, you should normally play it until you reach a specific level.

This reward platform is going viral! Cash out via PayPal, Visa, Gift Cards, and in-game currencies - Click here to find out how to generate an extra $10+ per day! 
The highest paying offer that I saw when I was testing the Make Money app was King Avalon: Dragon War.
They gave 9600 credits ($9.60) for those who completed stronghold level 13.

Installing the Swagbucks app and hitting 500 points would also award you 9600 credits.
When completing offers, be aware that you must be a new user in order to get credited.
So, if you are already of member of Swagbucks, downloading the app and working your way to 500 SB won't give you any money.
Watch Videos (2 Credits Per Video)
Another popular way to collect more credits is by watching videos.
All you have to do is tap on Watch Videos and wait until the end of the video, which usually lasts for 20 or 30 seconds.
You will get two credits per video view.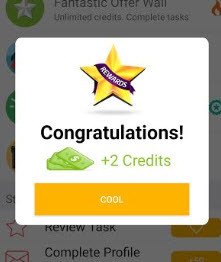 Starter Tasks
In this category, you can find the following tasks:
Review task (0 Credits): Leave a 5-star review in the Play Store.
Facebook task (100 Credits): Share the Make Money App on Facebook.
Invite Friends (100 Credits): Invite your friends to Make Money and earn 100 credits per friend that uses your referral code and completes at least two offers. When you click on "invite," you have to option to send an automated message to anyone on Whatsapp, SMS, and Facebook.
Attendance Rewards
Another easy way to earn credits is to check in daily. You will earn 20 free credits every day you log into your account and tap on the Check-in button.
Conclusion
---
In my opinion, Make Money is not a scam by any means.
It's a decent app for those who want to earn a little bit of extra income online.
The main issues people face with apps like Make Money are always the low pay rate and missing payments. 
Fortunately, I didn't see a lot of people complaining about payments.
Regarding the pay rates, yes, most offers don't pay very well, and watching videos is a complete waste of time.
You will only earn one-fifth of a cent ($0.002) per video!
Therefore, you may have to wait a long time to reach the minimum payout threshold and receive the money.
Those who cash out faster do so because they focus on completing offers that pay the most.
Verdict: Legit
How to Earn a Full-Time Income From Home
---
Have you ever thought about the possibility of making a job-replacing income online?

In 2015, I discovered a business model which allowed me to earn a substantial income from home and eventually quit my day job.
It's called affiliate marketing!
In short, my job is to create helpful content and promote products and services through my own website.
I had no clue about internet marketing, but after following this excellent step-by-step program developed by Kyle and Carson, I was able to go from $0 to $1,300 per month. 
Yes! It takes a lot of time and effort initially, but the business potential is enormous, and the results are life-changing!
In my opinion, this is the best place for those who wish to achieve time and location freedom!
Read more about my success story and Start your first 5 lessons completely free here!
Final Words
Thanks for taking the time to read my Make Money app review. I hope it was helpful! If you have any questions, feel free to leave us a comment below!
All the best
Stefan