Welcome to my Bituro app review!
You may have found Bituro while browsing for hundreds of reward applications on Google Play.
The app allows users to complete simple tasks from their smartphone and redeem points for PayPal, Bitcoin, Ethereum, and gift cards.
One of the easiest tasks you can do to make money with Bituro is installing and using third-party applications such as games, VPN services, etc.
At first glance, Bituro provides a convenient way for anyone to make some extra money on the go. However, before you start using the app, you should know if users are receiving points and getting paid.
In this review, I will explain in detail how Bituro works and give you my honest opinion about it. Is it legit and worth joining? How much money can you make?
By the way, if you want to learn the same method that earns me $1,600+/mo from my laptop, check out my #1 recommendation! Newbie-friendly and free to get started! 
Bituro App Review
Website: bituro.com
Company: Bituro LLC
Eligibility: All countries
Price: Free
Income potential: Low
LEGITIMATE
Overall Rating:

2.1/5
What is Bituro? 
Bituro is a GPT (get paid to) application that pays you for taking online surveys, installing mobile games, watching videos, and inviting friends.

This reward platform is going viral! Cash out via PayPal, Visa, Gift Cards, and in-game currencies - Click here to find out how to generate an extra $10+ per day! 
Every time you take a survey or complete an offer, you will earn points redeemable for PayPal, Bitcoin, Ethereum tokens, and gift cards.
The rate is 1,000 points = $1, so it's easy to know the cash incentive for each task.
Bituro has partnered with a decent number of marketing research firms and ad networks to provide as many tasks as possible.
However, opportunities are scarce in countries with low demand for advertising and marketing research studies. This is especially the case for South America, Africa, and the Middle East countries.
Nevertheless, you may cash out relatively quickly as the minimum payout is just $1.
Bituro is not only available on iOS and Android devices but also on your desktop via the website. Therefore, you can use the platform as any other GPT site.
Is Bituro Legit? Does it Pay? 
Yes, Bituro is a legitimate platform that is likely to pay you once you collect enough points to cash out. However, many people reported that they didn't receive points after completing tasks. 
This is a big problem because you can end up working for free and wasting a lot of time. 

According to the company's ToS, they are not responsible for any loss of points due to errors and failures in the system. because
In theory, the user should be able to submit proof of completion so that Bituro could guarantee your credits.
Unfortunately, I don't think there is effective communication between app developers and ad networks, which makes it challenging to claim missing points.
Another reason Bituro may not give you points is if the advertisers end up not paying them after you complete the offer or survey. For example, this can happen if you didn't complete the task correctly or if the advertiser defaulted.
One of the things people complain about most about reward sites and apps is being banned for no reason. I know some apps suspend accounts before people can cash out.
I was reading Bituro's Terms of Service (ToS) and saw that they could terminate your account if they suspect you have violated their ToS. For example, you will probably get caught if you log in with a VPN or try to create multiple accounts!
If you don't violate the Terms and Conditions, I think you should not worry about getting banned.
Pros and Cons
Pros
It's an easy way to earn pocket money.
There are many survey routers that offer walls.
The minimum cashout amount is only $1.
Earn 100 points as a sign-up bonus.
Lots of payment methods.
It's available worldwide for both Android, iOS, and desktop.
Cons
Low cash incentives.
You may not receive points after completing tasks.
How Does Bituro Work?
Bituro connects you with marketing research agencies and ad networks so that you can complete their surveys and offers. Whenever you complete the task, Bituro gets paid and splits the revenue with you in the form of points.
Installation and Registration
After installing Bituro on Google Play or App Store, you must sign up using your Google or Facebook account. Once you log in, you will get a bonus of 100 points ($0.10).
You can use three main sections to earn points: Surveys, Tasks, and Play.

Surveys
Bituro has partnered with many marketing research companies, so you can take part in their surveys.
Some options available include Tap Research, Poll Fish, SaySo Rewards, Toluna, TheoremReach, and PeanutLabs.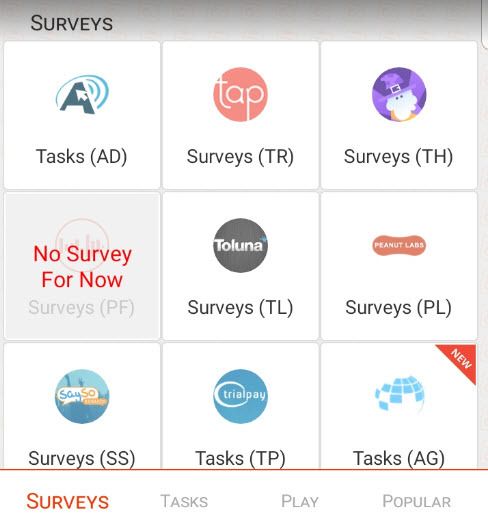 If you have already joined another reward app or GPT site, you may have stumbled across some of these routers.
They are operated by some of the leading survey monetization firms in the world, which doesn't necessarily reflect a positive experience for panelists. 
The reason is that some companies screen out participants halfway through the survey, causing a lot of frustration.
Another drawback of completing surveys is that you will waste a lot of time answering qualification questions. Most of the time, they are repetitive and take a long time!
If you don't match with specific characteristics and interests that clients need for their studies, you will get disqualified.
Most surveys pay between 100 to 500 points, but it's possible to find studies paying over 1000 points depending on your country.

Tasks
In this section, you will find different offer walls with many opportunities to earn points, such as:
Offers: Earn points for registering to websites, subscribing to free trials, entering prize draws, etc.
Install apps: Earn points for installing different apps, such as games, services, survey panels, etc.
Videos: Earn points for watching promotional clips.
Offer Walls are also prevalent in many reward platforms. Some of them also connect you with additional survey routers such as Yuno, SSI Surveys, and Your Surveys.
This is a screenshot from an Offer Wall called Aye Studios, and as you can see, they have lots of survey opportunities.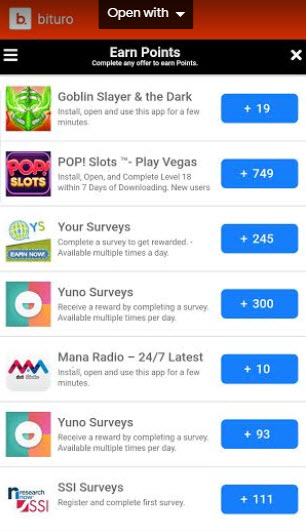 Please pay attention to some offers because although they give you thousands of points, you must deposit $10/£10. So, it may not be worth your time!
Some of these tasks (offers) require that you install another application and meet specific requirements.
For example, if it's a mobile game, the advertiser may ask you to reach a certain level. If it's a survey app, you may have to register can complete your first survey. 
You can also earn extra points by following Bituro on Twitter and Facebook.
Play
Bituro's "Play" section is about luck and maybe a bit of graph analysis.
You have to guess right tomorrow's price of Bitcoin in US dollars. Check today's price, and then give your suggestion.
The person who guesses the closest to the BTC price wins points proportional to the number of participants.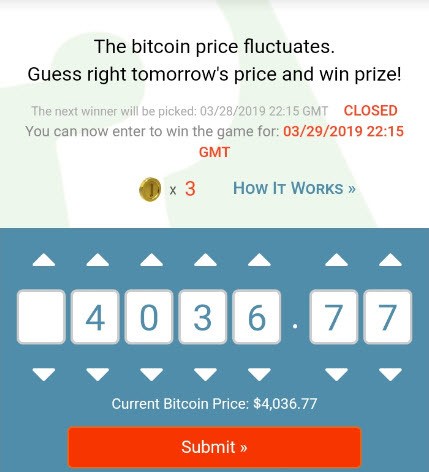 The minimum prize per game is 100 points, and if you guess the exact value of Bitcoin, you will get 1,000 points. Daily winners are selected around 6:15 AM PST.
Just keep in mind that you need a token to play the game. You will automatically collect one token for every 50 points you collect by completing tasks.
In this section, you can also earn random points for watching videos.
Invite Friends 
Bituro has a referral program that rewards you for inviting your friends.
When someone joins Bituro through your link or uses your referral code, you will earn 10% of all the lifetime points that your friend redeems for gifts.
You will also earn an instant bonus as soon as your referral installs Bituro, depending on their country.
How do You Get Paid?
Once you've reached 1,000 points, you can redeem them via Paypal, Bitcoin, or Ethereum.
Bear in mind that due to the high transaction fees for Bitcoin and Etherium, the minimum requirement was increased to 5,000 points. However, it's still possible to redeem 1,000 points if you use Coinbase, which has no fees.
Users from the US can also withdraw points for Amazon, Google Play, and Target gift cards. In that case, the minimum requirement is 10,000 points ($10).

What Are Other People Saying About Bituro?
Bituro has received many positive reviews on the Google Play store and has been rated 4.2 stars out of 5. In addition, many users who left a positive review reported fast payments.
However, I noticed many reviews are left by individuals promoting their referral code. So, take those with a grain of salt.
As I mentioned, many users complain about missing points and the low pay rate. One user said he didn't get any reward after completing three offers. He tried to contact support, but they didn't reply.
All apps like Bituro seem to handle the reward system very poorly. But, at the end of the day, companies are taking advantage of this situation to make more profits.
Conclusion
Bituro is a legit application that you can use to earn a little extra money by doing simple tasks. However, the cash incentives are very low, and you can waste a lot of time due to survey disqualifications and missing points.
Unfortunately, I don't think there is an excellent substitute for Bituro, but there are many options. This one might work well for you! 
Just don't set high expectations because any similar app can let you down at some point.
Still, I think specific GPT sites are better than apps like Bituro.
In my opinion, Prizerebel is one of the best GPT sites, and the good news is that you can use it on any mobile device because it's responsive. Besides, the pay is a bit higher, and there are more opportunities to earn points.
Verdict: Legit
How I Make Money Online
In 2015, I was in a difficult financial situation and decided to take online surveys to help with the bills.
Yes, it helped a little, but I was spending a lot of time to earn a few extra bucks, mainly because of the frequent disqualifications.
Then, in July of the same year, I found a step-by-step program that helped me grow a lucrative site and achieve $1,600 per month working remotely.
In this community-based platform, you will meet many members who are building profitable sites too. You can interact and learn from them, which is something that makes a huge difference. You are not alone!
Remember that this type of business takes time and commitment, so you should not expect overnight results.
If you want to learn more about this training program and my story, check out my #1 recommendation review here.
Final Words
I hope my Bituro app review was helpful to you!
If you have tried Bituro, share your experience in the comment section below! 🙂
Stay safe and peace out!