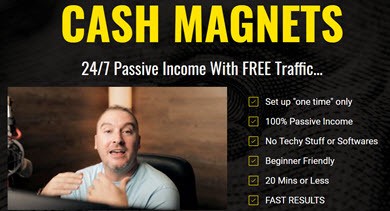 Brendan Mace, a successful internet marketer, has just launched another course to show you how to make passive income with Cash Magnets.
What are these Cash Magnets all about? Can you really set it up once and keep making money over and over again for the rest of your life? Is Cash Magnets a scam or legit?
In this review, I am going to expose everything you need to know about Brendan's course and give you my honest opinion about it.
By the way, if you want to discover the same method that earns me over $1,000 per month from my laptop, check out my #1 recommendation.
Cash Magnets Review
---
Name: Cash Magnets
Website: http://www.cashmagnets.net/cash-magnets/
Owners: Brendan Mace
Price: $12.95 + Upsells

LEGIT

Overall rating:

3.5/5
The Sales Page
---
In the sales video, Brendan tries to convince you that you can set up Cash Magnets that pay you 24/7 while you are sleeping, watching TV or travelling the world!
That's fine! I am an internet marketer, and I earn money while I am not actively working. So, there is nothing new here!
The insane part of this overhyped advertising is when Brendan claims his Cash Magnets will earn you money forever.
He goes on to say that each Cash Magnet makes $1,000 per month and that there is no limit to how many you can create.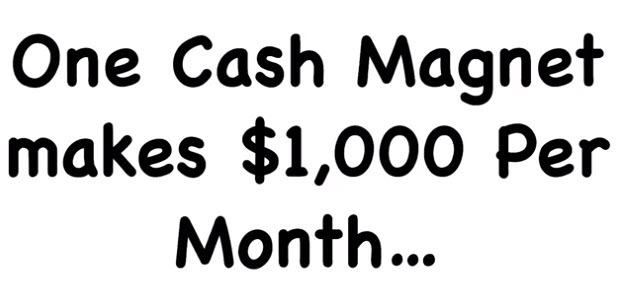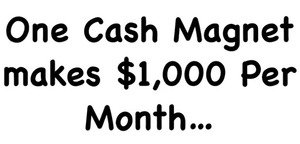 Bear in mind that the sales page also claims each Cash Magnet takes 10 – 30 min to set up.
How Much Could You Supposedly Earn With Cash Magnets?
---
According to the statements above, if you built 2 Cash Magnets per hour and worked 8 hours on your first day, that means you would have created a $16,000/mo income source.
But it doesn't stop here. If each Cash Magnet paid you forever, you would supposedly achieve financial freedom working just 1 day.
Heck! What if you worked for an entire year? 365 x $16,000 = $5,840,000/mo or…
$70 Million a year! 
That's probably close to Neymar's salary!
Remember, you would work only for 1 year, and after that, each Cash Magnet would keep on making passive income forever.
So, can we all be richer than Neymar then?
Not so fast…
What is Cash Magnets?
---
Cash Magnets is an internet marketing course developed by a highly experienced internet marketer called Brendan mace.
I have reviewed some of his older products such as Octane, Fuego Breakout, El Bandito among others. These are good quality courses!

In Cash Magnets, Brendan will show you 5 strategies to generate passive income online.
These are Funnels, Reviews, Blogging, Youtube, and Adsense.
Is Cash Magnet Something New?
---
Brendan claims that very few people know about these strategies, but I disagree.
There are probably millions of people making money using any of the above strategies.
Fewer people are using the marketplaces that Brendan recommend you use as an affiliate. But the core business model he proposes is not unique.
How Does it Work?
---
You can choose one or more of the 5 strategies and set up the so-called Cash Magnet fairly quickly.
Each method has its pros and cons, but all of them are proven to generate a full-time income online.
Here is a screenshot of the dashboard: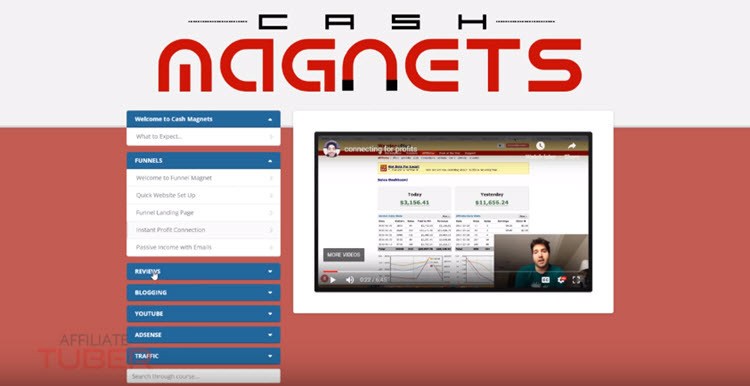 In my opinion, the best ones are Blogging and Youtube because creating content is usually the most cost-effective way to get traffic (build an audience) and sales.
Great! Now you know it's possible to make money with these methods.
Yes, you can set up a blog or a Youtube Channel in half an hour or less. However, you will need to work much more than 10 – 30 minutes to turn it into a profitable internet business.

That is because after you set up your Cash Magnet, you will have to get traffic, which you can't grow from zero passively.
It takes time and commitment as there are no shortcuts to success.
You won't build a youtube channel, record a video in 30 minutes and start making $1,000 per month forever. That's impossible, folks!
The same applies to blogs and reviews. You must create content for months before experiencing significant results.
There are 5 Upsells!
---
After buying the frontend product, there are 5 upgrades that will supposedly increase your earnings and make things easier for you.

This reward platform is going viral! Cash out via PayPal, Visa, Gift Cards, and in-game currencies - Click here to find out how to generate an extra $10+ per day! 
Here are them:
Done For You Magnets ($37): Done-for-you magnets that will eliminate the guesswork and help you make money immediately.
High Ticket Magnets ($197): They will show you how to earn huge commissions with your Cash Magnets.
Advanced Secrets ($97): Advanced strategies to generate more sales.
Limitless Traffic ($197): Leverage their high traffic sales pages using Ad Pixels to generate more traffic.
Licence Rights ($97): Sell Cash Magnets as your own product and keep 100% of the profits.

Conclusion – Is Cash Magnets a Scam?
---
In my opinion, Cash Magnets is not a scam because you will receive quality training.
However, I don't like the way the opportunity is being advertised as it may give people unrealistic expectations.
Don't expect to start making money today, next week or even next month as this is rarely the case.
The reality is regardless of the method, you will need to put in a significant amount of time and effort.
Also, once you start making money, you shouldn't abandon your business for a long time as it will eventually die.
So, it's passive for a while but if you stop providing content, rankings will drop and visitors will stop coming.
Verdict: Legit 
How I Make Money Online
---
In 2015, I discovered an excellent program that helped me build a website, get free traffic from Google and earn life-changing online commissions.
What made me join this program what that the owners didn't promise me I would get fast results.
Instead, they gave the proper education and the right mindset to grow a successful internet business.
As I knew it would take time, I focused on providing quality content exactly the way they showed me, and all my hard work paid off.
If you want to learn more about my success story and the program that helped me build a lucrative site, check out my #1 recommendation review here.
I hope my Cash magnets review was helpful to you. If you have any questions, feel free to leave me a comment below. 😉
Stay safe and peace out!