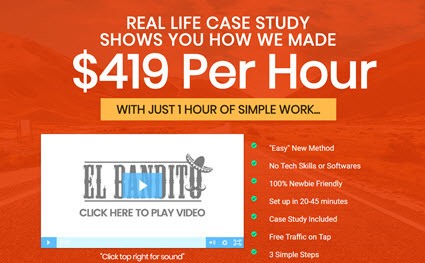 The creators of El Bandito are claiming their real case study is going to show you how to make $419 with just one hour of simple work. What's the catch this time?
Is El Bandito another scam or will they really help you earn 10x more than a chief executive from home?
Let's find out!
This review is based on my opinion about the product and strategy it proposes.
El Bandito Review
---
Name: El bandito
Website: http://www.elbandito.net/el-banditonow
Price: $12.95
Strategy: Internet marketing
Authors: Brendan Mace, Jono Armstrong, and Anthony Mancuso.
LEGITIMATE
Overall Rating:

2.3/5
The Sales Page
---
El Bandito's sales copy makes you think that making $419 per hour is as easy as following 3 simple steps in half an hour.

According to the creators, it's a proven method that requires a tiny amount of time and effort.
They also claim that it's self-funding, meaning you don't need to spend any money on traffic.
The problem?
Well, there is no information about the business, and what you will have to do to earn big profits.

This reward platform is going viral! Cash out via PayPal, Visa, Gift Cards, and in-game currencies - Click here to find out how to generate an extra $10+ per day! 
Therefore, you are encouraged to buy El Bandito in hopes that it's indeed an easy way to make big profits.
What is El Bandito?
---
El Bandito is an internet marketing course that will teach you how to make money by promoting other people's products as an affiliate.
So, the main idea is that you get traffic (visitors) to a squeeze page, collect leads, and start promoting via email marketing.
After reviewing internet marketing courses for over 3 years, I can confidently say this is the most common method any product creator will teach you.
The only tweak is they recommend you purchase license rights of the products you will be promoting so you earn 100% commissions instead of 50%.
How Does it Work?
---
The course consists of 19 lessons that will walk you through step by step the following process:
Find products that allow you to buy its license rights.
Build a squeeze page to capture people's emails (leads).
Set up an Aweber account and connect your squeeze page with your email list.
Set up a 7 day follow up email sequence.
Getting traffic to your squeeze page.
The crucial aspect of any internet marketing course is the traffic strategy because there is no money to be made without visitors.

El Bandito will teach you free and paid traffic strategies.
The paid traffic methods include solo ads and Bing Ads. As for the free ones, you will learn SEO (search engine optimization) and forum marketing.
The free methods are not covered in detail, so you will need more information to set up your business in a way that attracts visitors without investing in advertising.
Can You Really Make $419 Per Hour?
---
Unless you are a highly experienced marketer with a massive email list and a strong social media presence, you won't make $419 profit with just 1 hour of work.
Pay attention to the word "profit" in my last sentence.
YES, you can make $419 quickly after setting up the system and purchasing solo ads. But how much money will be left after your initial investment?
The problem with buying solo ads is that you will reduce your profit margin significantly because they are not cheap.
In fact, many people lose money with solo ads because they usually don't convert well, and it's difficult to make enough sales to cover all the costs.
Bing ads are also not cheap, so you should expect to lose money to test your marketing campaigns.
Conclusion
---
I am not a fan of the business model proposed by El Bandito.
Purchasing license rights is an additional risk to you. Many products will charge hundreds of dollars, so you have the right to resell it for 100 % commissions.
In my opinion, it's a short-term approach to internet marketing because it's not focused on providing value.

You will learn about search engine optimization, but one video is not enough to teach you everything you need to build a successful internet business around free traffic.
Besides, getting free traffic through SEO takes a lot of time and effort, which is entirely different from what El Bandito's sale page is proposing.
Therefore, many people will jump into solo ads in hopes they will achieve overnight success.
But I am warning you. If you can't afford to lose money, don't invest in solo ads. It's too risky, especially for beginners.
My #1 Strategy to Make Money Online
---
If you want to make money as an affiliate marketer, the best way is to focus on free traffic strategies.
In my opinion, the best way is to create a website and, if you want, a Youtube channel.
Why? Because they are powerful channels to provide valuable content and attract a HUGE audience.
By creating content, you attract an audience looking for information, and that's how your business can thrive and generate a steady income!
When you have a website, it will work for you 24/7 and generate commissions regardless of whether you are writing more content, sleeping or traveling the world.
It's not easy or quick, but if you stick to it, learn from your mistakes and adapt, you will eventually start making money. Then, you can scale to earn a full-time income!

For in-depth training on how to build passive income sites in any niche, check out my #1 recommendation.
It's the same training program that I used 3 years ago to build my site from scratch.
Thanks for checking out my El Bandito review. If you have any questions, let me know in the comment section below.
Stay safe and peace out!