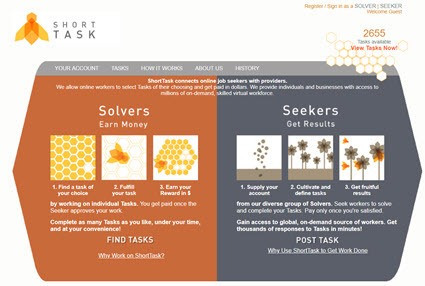 In this review, I am going to explain all you need to know about ShortTask and give you my honest opinion about it.
Is ShortTask a Scam or legit? Is it worth your time and effort?
Let's find out!
By the way, if you want to learn the method that earns me over $1,000/mo from my laptop, check out my #1 recommendation!
ShortTask Review
---
Name: ShortTask
Website: www.shorttask.com
Price: Free to join
Strategy: Microjobs (or offers?)
LEGITIMATE
Overall Rating:

2/5
What is Short Task?
---
ShortTask is a crowdsourcing site that connects job seekers with companies/providers that need simple tasks accomplished at the lowest price.
Instead of hiring in-house staff, companies have been using platforms like ShortTask to outsource their workforce.
There are many other similar sites on the internet, and the most popular one is undoubtedly the Amazon Mechanical Turk (aka mTurk).
By providing jobs that anyone can do on demand, these companies can tap into cheap labor all around the world, and thus, reducing their costs dramatically.  
Since its launch date in 2009, ShortTask claims to have provided over 1 million tasks. Besides, the company claims to have over 125,000 workers that are ready to complete tasks.
Is Short Task a Scam?
---
No, it isn't. The company behind ShortTask, Career Mission, is specialized in career sites and has a solid reputation in the industry.
They own the Employment Research Institute, which is one of the world's largest conglomerates of job-related companies such as LawCrossing, EmploymentCrossing, WorkathomeCrossing, and many others!
Their first website, LawCrossing, was featured twice on the Inc. 500 list, which is enough proof that you are dealing with a legit company.
What Types of Jobs Can You Find?
---
If you take a look at ShortTask's homepage, you will see a list of different job opportunities that you can expect to find.
These are:
Data Entry: categorize writing and products, extract data from sites, batch-rename files, etc.
Research: research product information, price ranges for office supplies, competitor websites, email addresses, etc.
Writing: review, article, video transcription, leave a comment, check spelling or grammar errors, proofreading, etc.
Design: create banners, logos, slogans, etc.
I Didn't Find Any of These Jobs!
---
After signing up with ShortTask and clicking on Tasks, I was disappointed with the fact that there were only 4 tasks available.
Not only that but all these tasks were utterly different from what I expected.
Those were actually offers advertised by marketers who will earn commissions when you sign up to sites or download apps.
These are the offers that I came across today:
Sign up for freebitco.in – Reward: $0.06
Download an app called Biograffi – Reward: $0.25
Register with a crypto trading platform called uCash – Reward: $0.25
Register with another cryptocurrency trading platform called Coinut – Reward: $0.25



So, when you sign up and use any of these sites, the advertiser will earn an affiliate commission.
Although the site states that it has over 2000 tasks available, that doesn't mean you can complete all of them.
Those 2000 tasks are actually counted as the total number of opportunities available to all members.
Had I decided to complete all the tasks, I would have made $0.81, which is not encouraging at all!
Payment
---
PayPal is the only payment option available. You can withdraw your earnings via Paypal when you accumulate $10.
Conclusion
---
ShortTask is a legit site, but I was disappointed with the type of tasks available.
Instead of data entry, research, and writing jobs, I came across offers that require me to sign up to weird trading platforms.
Those who sign up to ShortTask expect to work and get paid, not accept offers advertised by affiliate marketers.
Even if you decide to complete those offers, there is not much money to be made at the time I was writing this review (17/07/2018).
I can't tell for sure, but the lack of microjobs indicates the platform is currently not attractive to entrepreneurs.
If you want to complete microjobs, you can find plenty of opportunities at mTurk, Clickworker, Remotasks, Picoworkers, Smart Crowd, and Microworkers.

How I Prefer to Make Money Online
---
It's possible to generate a full-time income while working whenever and wherever you want.
From my experience, one of the best ways is to build passive income websites. A website works for you 24/7 and generates commissions regardless of whether you are writing more content, sleeping or traveling the world! Cool, right?
I got started 3 years ago from scratch, and now I am making over $1,000 per month.
However, I need to be honest with you and say that reaching that income level requires a lot of upfront work. There are no shortcuts, but a step by step course can make all the difference!
For in-depth training on how to build passive income sites in any niche, check out my #1 recommendation.

This reward platform is going viral! Cash out via PayPal, Visa, Gift Cards, and in-game currencies - Click here to find out how to generate an extra $10+ per day! 
It's the same training program that I went through 3 years ago to build my site from scratch.
Click Here and Check Out My #1 Recommendation Review

Thanks for checking out my ShortTask review. If you have any questions, just let me know in the comment section below.
Stay safe and peace out!