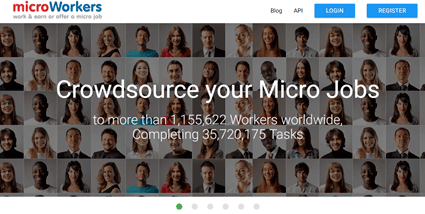 There is an incredible number of platforms that give users the opportunity to complete easy tasks for some extra cash online. Microworkers is one of them!
In this review, I would like to give you my honest opinion about Microworkers and tell you whether this is a scam or a legit site.
By the way, if you want to learn step by step the same strategy that earns me $1,000+ per month from my laptop, check out my #1 recommendation!
Microworkers Review
---
Platform: Microworkers
Website: www.microworkers.com
Price: Free to join
Type: Micro Jobs
LEGITIMATE
Overall rating: 2.4/5
What is Microworkers?
---
Microworkers is a crowdsourcing platform that connects workers and employers all around the world.
It's a kind of freelancing site where the tasks required by employers tend to be much quicker and easier to complete. That's why they are called micro jobs.
Some of these tasks include:
Data categorization
Transcription
Data matching
Data tagging
Content comparison
Sentiment analysis
Data mining
Website signup
Social media likes, shares, and comments.
Surveys
And more!
I have already reviewed a couple of micro job sites on my blog, and I consider Microworker very similar to Picoworkers, RapidWorkers, and Rapidworkers.
Is Microworkers a Scam?
---
Microworkers is a well-established crowdsourcing platform that was founded by an American company called Weblabcenter, inc. in 2009.
I don't think Microworkers is a scam, but I came across some negative reviews from workers that were not able to withdraw for some reason. You can find these negative testimonials at Sitejabber.com.
The number of negative comments is small compared to the number of people who complete tasks on a daily basis.
So, I still believe and hope that Microworkers are not messing up with payments and that those were just exceptions.
Pros And Cons
---
Pros
It's available for people all over the world.
There are lots of micro jobs available.
Cons
High withdraw fees.
Low-income potential.
The withdrawal process requires mailing address verification.
Phone verification requirement before you can start working.
How Does It Work?
---
The registration is free but is not as straightforward as other websites.
You must provide a valid home address so that they can send your PIN code through mail. Without this PIN, you won't be able to receive your payments.
According to the FAQ, this procedure is required to ensure that workers are verified to prevent multiple accounts.
Not only that, but they also require a phone verification before you complete any job. When you give your phone number, they will send you another PIN number via SMS.
I tried many times, but they didn't send me the SMS, and as a result, I couldn't complete any tasks.

If you are also having trouble receiving the PIN, try to contact them via this email: [email protected].
Accepting Jobs
Once your phone is activated, you can start applying for jobs.
The list is extensive and provides some useful information about the each task such as:
Payment rate
Success rate
Time to rate (in days) (TTR)
Time to fish (in minutes) (TTF)
Done – The number of tasks completed versus the number of tasks available.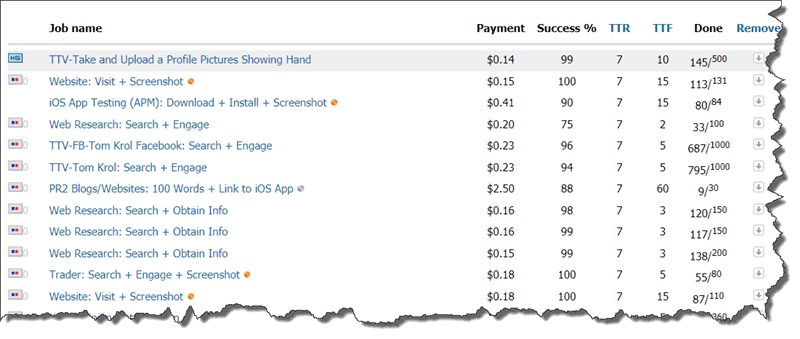 To help with your selection, you can choose among different categories as well as sort them by highest paying, latest, best rating and time to rate.

It's important that you only accept tasks that you feel you can complete.
The reason being that employers will rate incomplete tasks poorly, thus, pushing your success rate down.
Note you must always keep a success rate above 75% to be eligible for completing tasks.
After you've done the task, you should submit proof to the employers such a screenshot.
You may not get paid for poorly rated tasks. However, if you don't agree with the poor rating received from the employer, you can get in touch with Microworkers. If they believe you were misrated, you will get credited for your job.
Payments
In order to withdraw via Paypal, Skrill, and Dwolla, you must earn at least $9 plus the following fees:

Paypal – 7.50%
Skrill/ Dwolla – 6.50%
Local Funds Transfer via Transpay – 3% + $1.00 (Non-USD transfer), or $3 (USD transfer).
Payments are sent every Wednesdays and Sundays.
If you choose to withdraw via PayPal or Skrill, you will need to wait your PIN number to arrive at your mailing address so you can receive your first payment.
The PIN should arrive in 1 to 4 week, depending on your location. You will only receive your first payment after the PIN verification.
You won't need PIN verification if you choose to withdraw via bank transfer or Dwolla.
Conclusion – Is Microworkers a Scam?
---
No, it isn't. Microworkers is a legit site, but depending on where you live, the pay rate is incredibly low!

This reward platform is going viral! Cash out via PayPal, Visa, Gift Cards, and in-game currencies - Click here to find out how to generate an extra $10+ per day! 
That is because tasks are available Worldwide and don't require knowledge nor specific skills.
In my opinion, Microworkers is only worth if you live in a country where the dollar is depreciated, AND you work fast.

Verdict: Legit
What I Recommend
---
For pocket money, I always recommend a reward platform called Prizerebel.
Still, there is always a better way to make money online if you are not afraid to learn and put in the time and effort.
Building an online business offers enormous income potential!
If you can write in English, you are more than capable of building a successful website and promote other people's products as an affiliate.
I built my website in 2015 and is currently covering all my living expenses in London.
The great thing about having a website is that it earns me money 24/7, whether I am traveling, sleeping or spending time with my wife.
It takes time and grunt work, especially in the beginning, but it's worth it in the end!
After all, you are growing a passive income stream that can pay you for months and years!
I started from NOTHING and achieved remarkable results thanks to a newbie-friendly step-by-step training developed by Kyle and Carson.
These guys helped me go from $0 to $1,000 per month, so I highly recommend anyone to try their free starter membership.
If you take the lessons an apply the strategy, there is no reason why you can't achieve similar or even better results!
Thanks for checking out this Microworkers review. If you have any questions, feel free to ask in the comment section below.