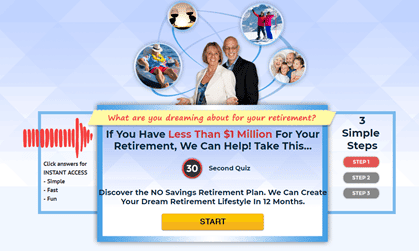 In my Ultimate Retirement Breakthrough review, I would like to explain in detail the online business opportunity Chris and Susan are proposing to you.
Can they really help you create real income and achieve financial freedom in retirement?
Is it a scam or legit?
Before I answer these questions, I would like to be clear that I'm not affiliated with this program.
Besides, even though I promote other training platforms, I don't let this fact influence the positive or negative rating I give to other programs. You can confirm this throughout the last 400+ articles and reviews I have written for this blog.
Another important thing to mention is that this review is based on my own opinions, which means we probably won't agree with everything.
So, don't base your decision to buy (or not) the Ultimate Retirement Breakthrough just from what is written here. Read everything you can about the business, investigate it thoroughly and don't forget to read their terms and conditions.
Finally, if you have been through their training and think I am unfair or made any mistake, please let me know in the comment section below. I am always committed to the truth and willing to correct that.
So, let's get started!
Highly recommended:  Learn a proven method to achieve time and location freedom with my #1 recommendation! (free and newbie-friendly training available.)
Ultimate Retirement Breakthrough Review
---
Name: Ultimate Retirement Breakthrough (aka MOBE)
Website: https://ultimateretirementbreakthrough.com
Price: $49 up to $29,997
Overall Rating: 2.8

/

5
The Sales Page
---
Chris and Susan, both from the UK, are claiming they have multiple six-figure online businesses that allow them to enjoy the kind of life they have always dreamt of.
It allows them to:
Work from anywhere.
Travel to exotic places.
Control their own destiny
Pursue their passions and causes.
The sales page encourages you to challenge the traditional retirement advice and become an online entrepreneur regardless of your age.
They make it seem incredibly profitable and the best opportunity you can have!
However, they don't explain what the business is all about or what exactly you will be doing.
Not even when you go to the next page and discover you have to pay $49 for some services like:
1-on-1 phone coach.
Websites and marketing funnel that earns you commissions.
Quality products that provide value.
And more.
This is their front-end product called My Top Tier Business (MTTB). More on that later…
The only way to discover anything about the company is to read the terms and conditions and watch the 2 video testimonials that you can find on the checkout page.
Here is one of them:
These videos reveal that you will be learning digital marketing with a company called My Own Business Education Ltd. (MOBE).
What Exactly is Ultimate Retirement Breakthrough?
---
At first, you may think that Ultimate Retirement Breakthrough is owned by Chris and Susan, but that is not the case.

If you look at the terms and conditions, you will quickly realize that it's MOBE's property.
That means Ultimate Retirement Breakthrough is a trademark of MOBE and a sale's funnel (advertising tool) to collect leads and sales for MOBE.
MOBE? What is it?
---
MOBE is a big name when it comes to online business education.
They provide not only an incredible amount of training and marketing tools, but also organize live events and workshops to help individuals succeed online.
As Chris and Susan are both MOBE's consultants, they earn high-ticket commission for being featured on the site and for getting referrals (customers).
Using a trademark is an effective strategy used by MOBE and its consultants. So, you can also find many other sites with different names promoting the same business opportunity.
I have recently reviewed one called the Laptop Lifestyle System, which is promoted by Carolina Millan from Chile.
How Does It Work?
---
I already mentioned that you have to pay $49 to get access to MTTB, which consists of 21 training steps taught mostly through video lessons.
The MTTB also provides 1-on-1 coaching with an expert who has made 6 figures in MOBE.
The coach will answer all your questions and guide you along the journey. Eventually, he/she will also entice you to buy more expensive programs to increase your knowledge and earning potential.
The 21 Steps program will teach you in detail how to take advantage of high ticket affiliate marketing to earn $1,000s in commissions per sale.

Matt Lloyd, the owner of MOBE, claims that more than 50,000 people already bought into MTTB and made millions in commissions.
Although you can use the knowledge to promote anything you want, very few affiliate programs out there pay 1K, 2K, and even 5k in commissions.
In reality, most of these high-ticket programs are in the "online business education" niche.
Therefore, chances are you will end up promoting MOBE itself rather than Amazon products that pay less than $10 per sale.
Becoming a MOBE Consultant
---
If you want to become a Standard consultant, the bare minimum investment you need to make is $19.95 per month.

This reward platform is going viral! Cash out via PayPal, Visa, Gift Cards, and in-game currencies - Click here to find out how to generate an extra $10+ per day! 
You will earn 10-50% commissions for promoting the majority of MOBE's front end products, including business summits.
This fee covers back office functionality, analytics, affiliate tools, and hosting.

However, if you want to earn commissions of $1,250, $2,500, $3,300, $5,500 and $10,000 per sale, PLUS have a team that closes sales on the phone for you, then you need to upgrade to one of these 5 certification levels:
Silver Masterclass: $2,497
Gold Masterclass: $4,997
Titanium Mastermind: $9,997
Platinum Mastermind: $16,667
Diamond Mastermind: $29,997
When it comes to promoting these high-ticket products, you can only earn commissions on sales that correspond to your current positioning or below.
For example, if you purchase the Gold Masterclass, you are eligible to earn commissions of $2,500 when your referral purchases the same level.
In the same example, you will also earn $44.10 for the MTTB sale, and $1,250 if your referral purchases the Silver Masterclass.
Here is a screenshot of MOBE's compensation plan.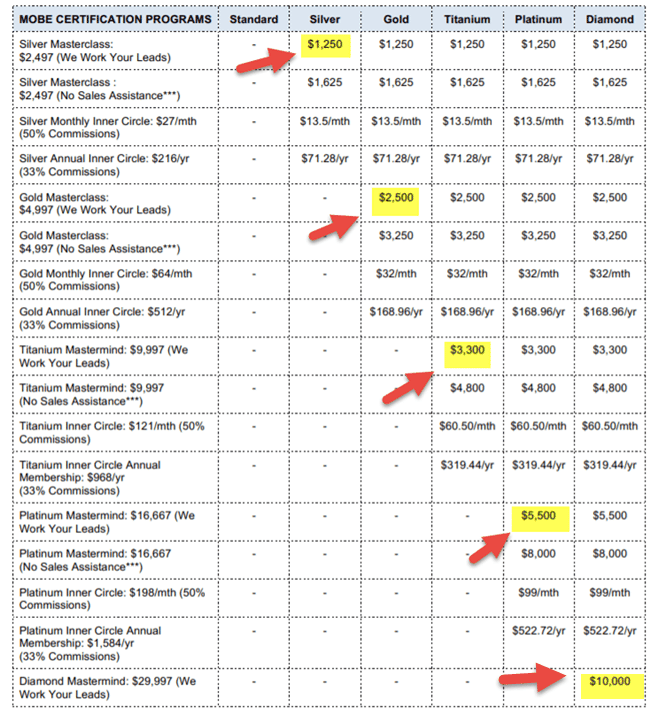 Is The Ultimate Retirement Breakthrough AKA MOBE a Smart Choice for Retirement?
---
I advise against this program if you:
Are going through a difficult financial situation.
We all would like to retire with a significant nest egg. But if you are already struggling to pay the bills, investing thousands in an online business can put additional and unnecessary pressure.
Are not prepared to put in the time and effort.
As you could see, the business can be very lucrative! However, the competition is high, and people are willing to work long hours per day to finally achieve financial freedom and retire early.
Therefore, you will need to outwork most of them to start making commissions.
Don't feel comfortable promoting the same business opportunity so that your referrals will promote the same business opportunity.
 Most, if not all 6-figure earners earned so much money because they decided to become a MOBE consultant.
There is nothing wrong with that as long as your referrals are acquiring knowledge and skills in internet marketing.
They will have the same opportunity to promote MOBE and earn a lot of money. If they fail and give up, it's not because the training is bad, but because it's a business, and businesses inevitably fail.
The income stats don't lie!
Only 1.50% of active consultants earn more than $25,000 per month.
62.48% of them make $61/month on average!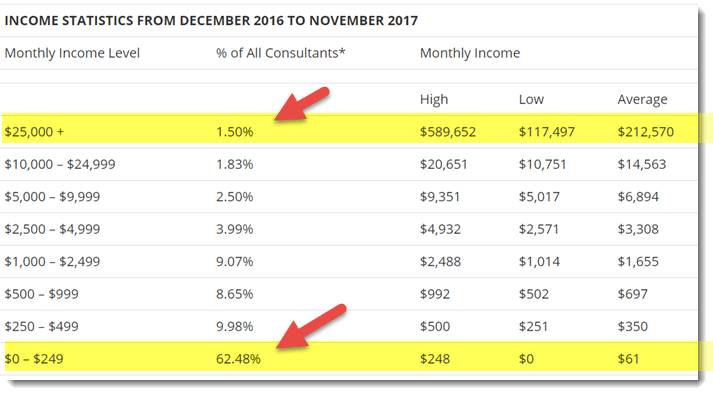 In addition to that, building a business that relies 100% on another business is not a reliable strategy. What if MOBE shuts down? You risk losing most, if not all your income!
Conclusion – Is Ultimate Retirement Breakthrough a Scam?
---
No, it isn't!
What I really don't like about MOBE is  the way it has been advertised. Unfortunately, many MOBE's affiliates give people false expectations about it because it's easy to sell.
Besides, if you build a business to exclusively promote MOBE, you don't have control over your business. That means if MOBE shuts down, your business is likely to go down with it.
Verdict: Legit
You may also check out my #1 recommended program. That's the same platform I used to start and grow my internet business.

Try their free starter membership (no credit card required) and see if you like with no strings attached. You will get the first 10 lessons, 2 websites, and 7-days of support!
If you decide to go premium, you will pay $49/mo with no Upsells! That includes hosting, training, weekly live webinars, chat, support, keyword research tools, and much more!
Thanks for checking out my Laptop Lifestyle System review. If you have any questions, feel free to ask in the comment section below. It's a pleasure to help! 🙂