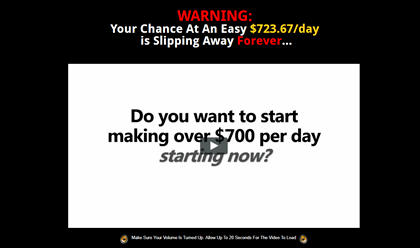 The owner of 700 Profit Club is trying to convince you that you will make $700 per day from just 10 minutes of set up time.
Do you believe someone that you don't even know will give you the ticket to financial freedom? I don't think so!
Check out my review below and discover how the system really works.
For a REAL way to build a lucrative website, check out my #1 recommendation. 
700 Profit Club Review
---
Name: 700 Profit Club
Website: www.700profitclub.com
Price: $95.40
Owner: Unknown
Overall Rating: 0/5
Did I Hear That Right?
---
Yes, the woman behind that video is saying that you are guaranteed to make $700 per day on autopilot.
She also claims that it just takes 10 minutes to this up and then her team all do all the work for you.
I see…
What Are You Going To Set Up Here?
---
If you watched the second video, you discovered that it's all about a money-making commission website.
According to this lady, for some reason, her website hosted at Coolhandle.com seem to draw 10 times more traffic and profits than other hosting companies.

Needless to say, she will encourage you to purchase a hosting plan and domain name with Coolhandle.
Pay attention when she says longer registrations mean more Google visibility, more website visitors, and a larger discount.
Well, she forgot to mention that the longer your hosting plan, the higher her commission.
What Exactly is 700 Profit Club?
---
It's basically an affiliate website that is promoting a hosting service called Coolhandle.
Hosting is the service required for any website to be accessible on the world wide web.
So, the reality is that 700 profit club is designed to generate commissions for the owner(s) of this site.
When people click on the link and purchase a hosting plan with Coolhandle, the owner will earn a commission.
The minimum price for hosting with that company is $95.40 per year. 

It Doesn't Work Like That!
---
They are claiming the website will generate profits on autopilot, but that is false!
I don't really know if 700 Profit Club will provide a ready-made landing page, but that doesn't seem the case as all they do is direct you to Coolhandle.com.
Even if they provide a ready-made template, that doesn't mean the site will start generating $700/day without blood, sweat, and tears.
If you just buy the hosting plan, sit back and relax, all you gonna get is a bill at the end of the month.
Why It Doesn't Work
---
It doesn't work because you need visitors to your site, but without providing anything of value, they won't come!
How do you provide value?
You do that by creating helpful content in the form of articles. By doing that, you get ranked on Google for keywords people are searching for.
You also take advantage of social media to attract visitors to your site, but still, content creation is essential.
Final Thoughts
---
Don't believe that earning a substantial income online is just a matter of buying hosting and setting up a website.
It's much more than that! You will need to create valuable content in your niche marketer and work hard to promote it. Not to mention you should have a monetization strategy in place.
All of that cannot be accomplished in just a few minutes, but months or probably years!
It took me 8 months to earn $1, can you believe that?

I make $1,000 per month with affiliate marketing, and I know what it takes to build a lucrative site.
Now, it's decision to join 700 Profit Club or not.
Verdict: Not Recommended
My Recommendation
---
If you are interested in learning more about the strategy and training platform that I use to build my internet business, check out #1 recommendation.
It's a remarkable community-based platform with excellent step by step training, live classes, chat (24/7 support) and all the tools you need to grow your affiliate business.

This reward platform is going viral! Cash out via PayPal, Visa, Gift Cards, and in-game currencies - Click here to find out how to generate an extra $10+ per day! 
Get your first 10 video lessons for free through the link below!
Check Out My #1 Recommendation and Get Started For FREE

I hope you find this 700 Profit Club review useful to you. If you have any questions, feel free to ask in the comment section below.