You've decided to do some research on Paytrix before choosing the right pill.
The blue pill is hard to swallow, but the red one seems too good to be true! So, which one should you take? Is Paytrix another scam or a real system to change your reality?
In this review, I am going to explain all you need to know about Paytrix and give you my honest opinion about it.
By the way, if you want to learn step by step the same strategy that earns me $1K+ per month from my laptop, check out my #1 recommendation. (newbie-friendly and free starter membership available)
Paytrix Review
---
Product: Paytrix
Website: www.paytrix.com
Price: $14.95  (Frontend) + Upsells
Creators: Jono Armstrong, Paul O'Keeffe, and Richard Fairbairn.
LEGITIMATE
Overall Rating: 3.7/5
The Sales Page
---
Paytrix's sales page is the craziest and most creative sales page that I have ever seem in the"make money online" industry.
It's inspired by a famous sci-fi movie from 1999, Matrix!
There are two choices MorpayUS proposes to you:
You take the blue pill, this story ends, and you go back to your 9-5. OR
You choose the red pill, you stay in Wonderland, and I show you how deep the rabbit hole goes.
Choosing the blue pill means you decide to purchase Paytrix and discover how to earn thousands of dollars in affiliate commissions per day.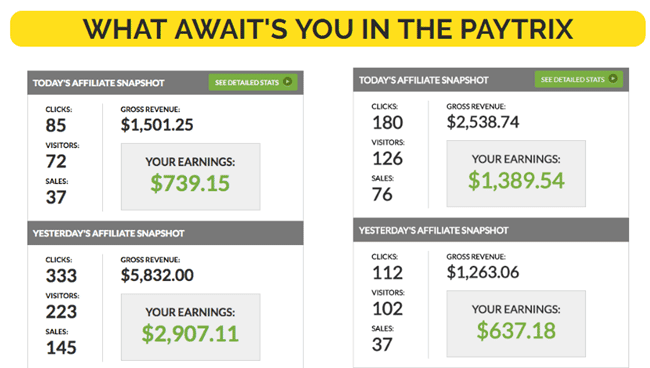 This reward platform is going viral! Cash out via PayPal, Visa, Gift Cards, and in-game currencies - Click here to find out how to generate an extra $10+ per day! 
I am sure you are not interested in the cover of this product but in its content.
Most importantly, you want to know whether it lives up to the hype, or it's just another shiny object.
What on Earth is Paytrix?
---
Paytrix is an Internet marketing course created by Jono Armstrong and 2 other experienced marketers, Paul O'Keeffe and Richard Fairbairn.
Jono Amstrong is a successful digital product creator, affiliate marketer, and Youtuber.
I have already reviewed two of his most recent Internet marketing products namely the Traffic-Laze and MOBILEE.
Now, with his new launch, Paytrix, Jono wants to show you not only the exact system that makes him $700 per day but also how to increase your earnings by 75%.
So, whether you are a newbie or an experienced affiliate marketer, he claims the method will take you to the next level!
The Training
---
Paytrix has 7 modules that include a video and a PDF each.


Here is a brief overview of what each module is all about:
Module One – Introduction
This is welcome video from Jono, Paul, and Richard, who will tell you how they got started using the Paythix method.
Module Two – Affiliate Offers
Learn how these guys identify which offer will convert the best to maximize their profits.
Module Three – Driving Traffic
This module is crucial to your success as the more traffic you get, the more money you can make.
You will learn how to get visitors (traffic) to your affiliate offers using a few different methods such as Facebook ads and solo ads.
Module Four – Bonus Page
Learn the exact method and software they use to create bonus pages.
Giving bonuses is the strategy used by many affiliates to entice people to click on their links and increase conversions.
Module Five – Bonuses
Discover how Jono, Paul, and Richard find bonuses that they use to create their bonus packages.
Module Six – Delivery
This is the module where Jono will show you the trick you can apply to your bonus page to increase your profits by 75%.
In respect to the product owner, I prefer not to expose the trick, but It certainly offers enormous potential to increase your earning. Just keep in mind that there are no guarantees.
Module Seven – Long-Term Growth
Learn how to use Facebook retargeting to keep visitors coming back to your site. This is a highly effective strategy used even by big brands around the World.

Should You Take The Red Pill? Can You Succeed With Paytrix?
---
Paytrix is a great course to make money online as it's easy to follow and presents some useful strategies in affiliate marketing.
There is no doubt you can apply the same methods that Jono uses to generate thousands of dollars per day.
However, don't expect overnight results!
If you study Jono's entire trajectory as an internet marketer, you will see that there is no such thing as "easy" commissions.
He has created almost 300 video reviews on Youtube and grown up a massive list of email subscribers.
So, now it's easy for him to pull in $1,000/ day, but if you are just starting out, you should be happy to make $10 per day.
It requires content creation, consistency and grunt work!
Another important thing I would like to mention is that, in my opinion, Jono's key strategy is to create reviews for his Youtube channel.
Youtube is apparently the foundation of his business and his main traffic source. Please correct me if I am wrong here, Jono.
That means if you want to have any chance to achieve similar results, the minimum you have to do is create lots and lots of content! 
If you avoid content creation like the plague, it's likely that you will struggle to get leads and earn profits. You are also more likely to lose money with paid advertising.

Conclusion – Is PayTrix a Scam?
---
Because of the hype around the possibility of making $1,000s per day, you may feel very skeptical of Paytrix. I can totally relate to you!
To be honest, if I had seen this product 4 years ago when I had no idea about affiliate marketing, I would certainly call it a scam!
But because I have been in the "make money online" niche for over 3 years now, I am quite familiar with these digital courses for sale on JVZoo and WarriorPlus. So, I know to separate the wheat from the chaff.
That being said, I am confident that Paytrix is not a scam.
It's a decent training that can make a difference in your life, as long as you put in the time and effort just like Jono did!
Verdict:

Legit
PS. If you are interested in learning more about the strategy and training platform I use to build my internet business, check out #1 recommendation.
It's a remarkable community-based platform with excellent step by step training, live classes, chat (24/7 support) and all the tools you need to grow your affiliate business.
Get your first 10 video lessons for free through the link below!
I hope this Paythix was helpful to you. If you still have any questions, please feel free to ask them in the comment section below. It's always a pleasure to help!
🙂