Skylom promises to pay you for watching videos, which is perhaps the easiest thing you can do to earn money online.
Is Skylom a legit opportunity? And if so, is it worth your time?
I decided to join and earn something with this website, but I guess it's going to take ages!
So, check my review below when I give you my honest opinion about it.
By the way, if you want to learn step by step the same strategy that earns me $1K+ per month from my laptop, check out my #1 recommendation. (The first 10 lessons are completely free!)
Skylom Review
---
Name: Skylom
Website: www.skylom.com
Price: Free to join
LEGITIMATE
Type: make money for watching YouTube videos
Overall Rating:

2.2/5
What is Skylom?
---
Skylom is a site that gives you coins for watching Youtube videos. Once you achieve the minimum balance requirement, you can redeem your coins for cash via PayPal.
The company behind Skylom is the same that also operates Baymack, Flamzy, and VipBirdie, which are very similar to each other.
The main difference is that Skylom will reward you in points for each video you watch, whereas these other 3 platforms will give you entries for prizes.
Pros and Cons
---
Pros
It's free to join.
Easy "job."
Get paid via PayPal.
Cons
You need to watch for 8 hours to earn a measly $1.
The minimum redemption requirement is just $1, but that means you need to watch 500 videos.
How Does it Work?
---
 Registration
Skylom is entirely free to join, but it requires an invitation. As I don't promote Skylom, I will not be able to provide my link to you, so I apologize for that.
However, it's not difficult to find a referral link in other blogs and forums.
Alternatively, you can request an invite by providing your email. If you are not in a rush, I think this is the best option.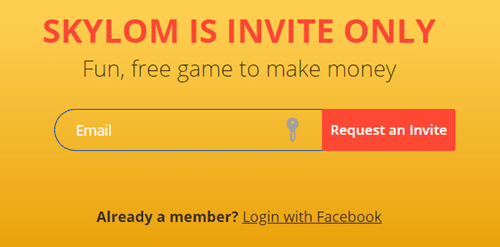 Next, you just need to sign up using your Facebook account.
Earning Coins
It's very simple and easy to earn coins!
Just click on "Get Coins," and start watching the videos that will show up for you.
You will need to watch the video for approximately 1 minute and then guess its category. You have to answer this question as proof that you are watching the video.
If you guess correctly, you will get 1 coin.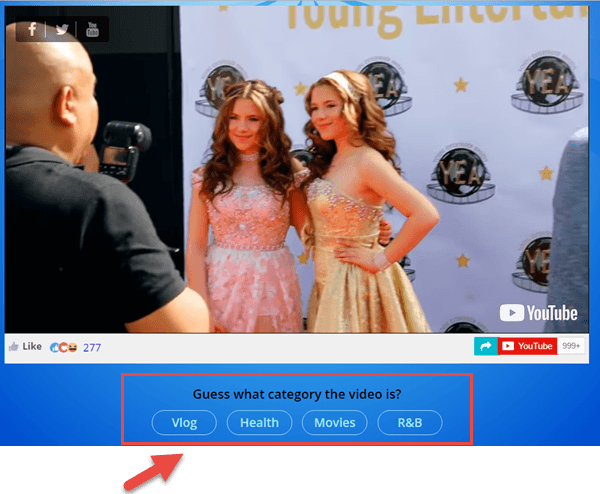 Watch 500 videos and Earn $1 – WHAT?!
---
You heard that right!
At the top of the page, they give you a clue of how much 1 coin is worth in dollars.

They encourage you to watch 500 videos and redeem $1 today! And if you check out the rewards page, you will discover that you will need 500 coins to redeem $1 via PayPal.
Now, let's do some simple math, shall we?
$1 divided by 500 is $0.002 per video.
Considering you will spend at least 1 minute in each video, that means you must watch 500 minutes or 8 hours of aleatory content to earn a measly $1.
Cashing Out
You can only redeem your coin via Paypal. Here are the redemption options currently available:
$1 – 500 coins
$5 – 2200 coins
$25 – 10000 coins
Conclusion – Is Skylom a Scam? Is it Worth it?
---
Skylom is not a scam, and I believe they are paying all members who earn at least 500 coins. I have found many positive testimonials with income "proof" on the internet.
Now, the important question you need to ask yourself is: Is it worth it?
Honestly, guys! If you can pay most of your bills with $1/day, then at least you have a reasonable excuse to spend all your day on Skylom.

However, even if $1 can buy you lots of stuff in your country, I think Skylom will do more harm than good in the long term.
That is because you won't learn anything useful or build up new skills that allow you to earn more money, be it online or offline.
Verdict: Legit
How I Prefer To Make Money Online
---
In short, I prefer to grow my own Internet business that is currently generating over $1,000 in passive income.
When you have the website and the proper strategy in place, the effort you put in today will pay you for years ahead!

This reward platform is going viral! Cash out via PayPal, Visa, Gift Cards, and in-game currencies - Click here to find out how to generate an extra $10+ per day! 
Basically, I write helpful content for my website, promote only the products that I trust and earn affiliate commissions.
With this type of business, I don't need to create any product, handle any customer service or deal with inventory.

The site keeps running 24/7 and generating great commissions whether I am actively working on it or traveling around the world.
If you want to learn step by step the right away to build your Internet business, check out my #1 recommendation.
They will give you the first 10 lessons, 2 websites and initial support completely for free! No credit card required and risk-free!
Click Here and Check Out My #1 Recommended Program
Thanks for checking out my Skylom review. If you have any question, feel free to ask in the comment section below.