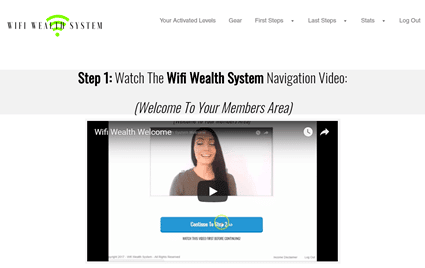 Anji Long, the creator of Wifi Wealth System, wants to show you a simple system that generates $400/day online on autopilot. The good news, she says, is that it's going to be 100% free with no strings attached.
Can you really trust Anji Long? Is Wifi Wealthy System a scam or legit?
I decided to get access to the member's area and discover what exactly this opportunity was all about.
By the way, if you want to learn step by step the same strategy that earns me $1K+ per month from my laptop, check out my #1 recommendation. (The first 10 lessons are completely free!)
Wifi Wealth System Review
---
Name: Wifi Wealth System
Website: wifiwealthsystem.co
Price: Free, but you will need to make purchases to take full advantage.
Overall Rating: 1.5/5
What is Wifi Wealth System?
---
I am still trying to define this system in a few words, but a brief explanation is probably not enough for a complete understanding.
The Wifi Wealthy System is smart marketing funnel designed to earn Anji Long a ton of direct affiliate commissions.
Not only that, but it also encourages members to become her affiliates and promote the same system to other people.
She claims that it doesn't require website building as it's all done-for-you. Yep! She does all the selling and telling as well!
She goes on by saying that what you have to do is configure offers so that when you send referrals to the system, the commissions are traced to you.
What kind of offers? Still confused? Check out the next session as I will explain step-by-step how Wifi Wealth System works.
How Does It Work?
---
By now you have probably watched Anji's video that encourages you to register for her free done-for-you system.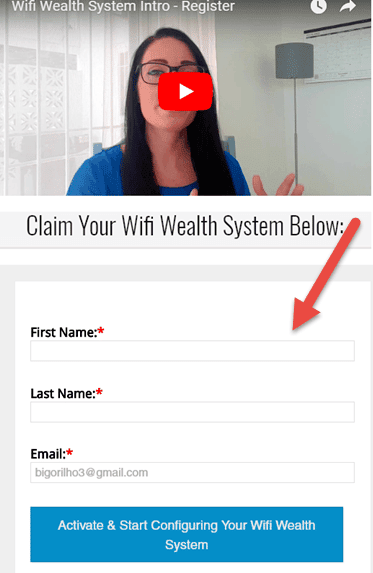 After you sign up, Anji will ask you to join 3 programs that she is affiliated with and encourage you to make purchases using her links.
The current companies are:
Ebates,
MCA (Motor Club of America) and
Aweber
That means whenever you buy something from those companies, she or someone who referred you will earn a commission.
The first program you need to join is the cashback site called Ebates.
Ebates is 100% free to join, and if you purchase any product from the platform, you will get a cash back. Besides, Anji or an affiliate that referred you will earn a commission.
This company has an affiliate program that pays $5 when a referral purchases at least $25.
The key to understanding the system is that you will need to copy the affiliate ID that each company provides and paste into your Wifi Wealth System account.
Why?
Well, when you reach the final step, Anji will give you a single affiliate link to promote her Wifi Wealth System website.
Instead of promoting all those companies individually, you just have to promote that link.


So, if people join Wifi Wealth System through your link and make any purchase, be it from Ebates, MCA or Aweber, you will get a commission.
However, if you do not enter your affiliate ID from any of those companies, the commissions are paid to Anji or the affiliate.
Example:
Let's say you connect your Ebate's affiliate ID to your Wifi Wealthy System account, but not the other ones.
In this case, you just earn a commission IF someone purchases on Ebates.
Why I Don't Like This System
---
I am not a fan of this system because it urges people to buy stuff and memberships they don't really need.
The promotion of MCA is particularly problematic.
Anji claims that if you decide to pay for the MCA Total Security, you will have not only all the benefits that this MCA provides, but you will also be able to become an associate and earn $80 per referral.
The question is: If you are trying to make money online, why on earth would you have to pay for a 24/7 roadside assistance among other unrelated services?
I got in touch in the live chat with an MCA staff, and she confirmed that I could become an associate and promote MCA for free!  
Here is the proof: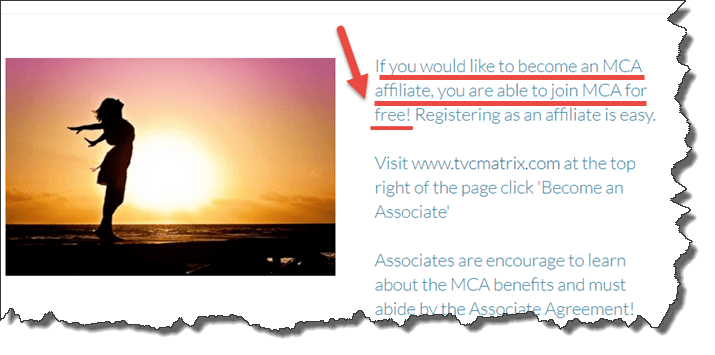 However, Anji says you should continue only after you finish you MCA setup, which involves the purchasing of the Total Security Plan for $39.90 plus $19.95 per month.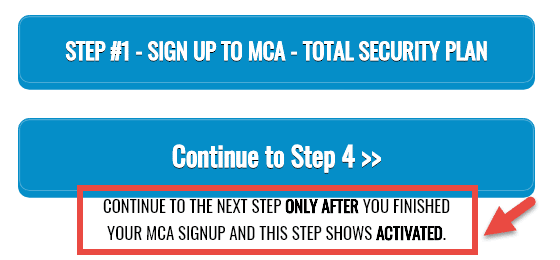 So, although people don't need to purchase any membership, they will be led to believe so.
Can You Really Make $400 Per Day?
---
Honestly, I think if you are not an experienced marketer, you will struggle to make even $4/day let alone $400/day!

This reward platform is going viral! Cash out via PayPal, Visa, Gift Cards, and in-game currencies - Click here to find out how to generate an extra $10+ per day! 
Does the system work on auto-pilot?
Well, it depends on what you call "the system."

You still need to get traffic (visitors) to your affiliate link because as this critical aspect of the business is not done-for-you.
In fact, the challenge of every internet marketer is getting traffic to their offers.
Risky Business!
---
Speaking of traffic, Anji suggests purchasing solo ads which are email-based advertisements you buy from email list owners.
Again, she will earn commissions when you click on her link and purchase solo ads at Udimi.com.
The problem is that solo ads are not cheap, so you can lose money if commissions are less than your advertising costs. It's too risky!
I believe most newbie who venture themselves in solo ads without a clue, end up losing money.
Guess who is leveraging your investment and getting leads for the business without any risks?
Got it! The owner of Wifi Wealth System!
Conclusion – is Wifi Wealth System a Scam?
---
Scam is a strong word for Wifi Wealth System. I don't think it's a scam, but I don't admire the way Anji makes affiliate commissions from her members.
It's a kind of business similar to The 4 Percent Group, which relies on affiliates to not only promote the system but also to financially sustain it through the purchase of unnecessary products.
The sales page makes people believe that making $400/day is something easy with a done-for-you marketing funnel, but it's not.
People need proper knowledge, and mindset to get traffic and start making sales for themselves.
Relying on other people's websites to make money online can limit your ability to achieve success.
Verdict: Not Recommended
My #1 Strategy To Make Money Online
---
In 2015 I built this website and started creating product reviews.
By consistently publishing articles, I started getting high Google rankings over time, and so more and more people started visiting my site.
The more traffic I get, the more money I can make by promoting only the products that I trust!
I started as a complete newbie and finally reached the $1,000/mo mark thanks to a step-by-step training developed by Kyle and Carson.
I recommend you start with their free starter membership (no credit card required) to see if you like. You will get the first 10 lessons, 2 WordPress sites and 7-days of 1-on-1 support.
Most importantly, complete all the tasks at the end of each lesson and take massive action!
Thanks for checking out my Wifi Wealth System review. If you have any questions, feel free to ask in the comment section below.