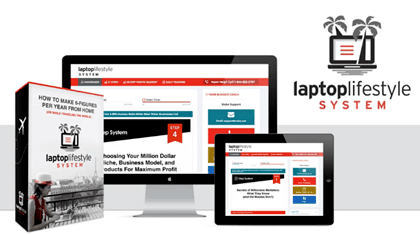 Carolina Millan starts out her video presentation by claiming she has made $723,621 in the last 5 years thanks to an amazing system called the Laptop Lifestyle System.
She goes on by saying the system has allowed her to escape the rat race and live a life of freedom! You watched the video, and now you are tempted to buy it.
In this review, I would like to expose the program that she promotes and give you my honest opinion about it. Is it a scam or legit?
Let's find out!
By the way, if you want to learn step by step the same strategy that earns me $2K+ per month from my laptop, check out my #1 recommendation. (The first 10 lessons are completely free!)
Laptop Lifestyle System Review
---
Name: Laptop Lifestyle System
Website: laptoplifestylesystem.online / laptoplifestylesystem.me
Price: $49 up to $29,997
LEGITIMATE
Overall Rating:

3.8/5
The Sales Page
---
It all starts with a landing page where you are encouraged to provide your email address to get access.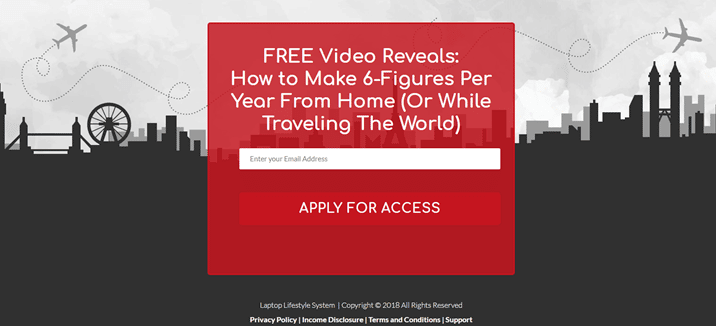 By providing their email addresses, most people expect that a free video will give all the essential information they need to make 6-figure per year while working from home.
However, this is only an advertising video that gives you partial information about the system and company that Carolina is promoting.
Carolina's Secret
According to Carolina, all you have to do is find leads (potential customers) as the company will do all the grunt work of running a business on your behalf.
Which work?
Well, the company will handle the product fulfilments, sales, website design, customer service, and merchant processing for you!
You will be leveraging their systems as an independent entrepreneur and get paid commissions instead of a salary.
Speaking of commissions,  what makes this system extremely tempting is the possibility of making $1,250, $3,300 and even $5,500 per sale!

Amazing right?
What Exactly Is Laptop Lifestyle System? 
---
You may think that the website is Carolina's, but if you check out their terms and condition, you will discover that laptoplifestylesystem.online is actually owned by MOBE.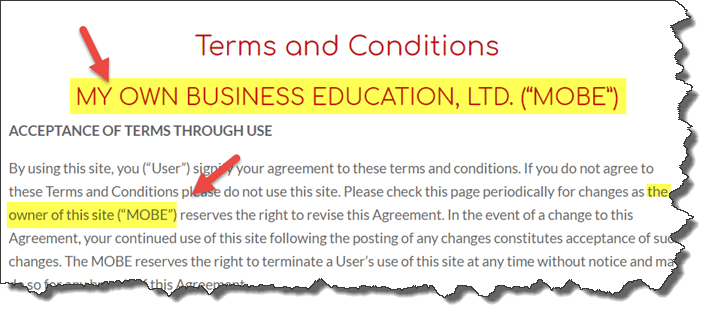 Laptop Lifestyle System is a trademark of MOBE Ltd (My Own Business Education) in the same way as many as other trademarks such as The Wifi Millionaire and Rookie Profit System.
It's also sales funnel that she or another affiliate consultant can use to get leads and sales for MOBE.
That means when you purchase MOBE's membership or any other products through the Laptop Lifestyle System website, Carolina or another affiliate will earn generous commissions!

Carolina is featured in the video because she is a successful consultant that actively promotes MOBE on her Youtube Channel and social media accounts.
She is a digital entrepreneur, digital marketing consultant, and social media branding coach!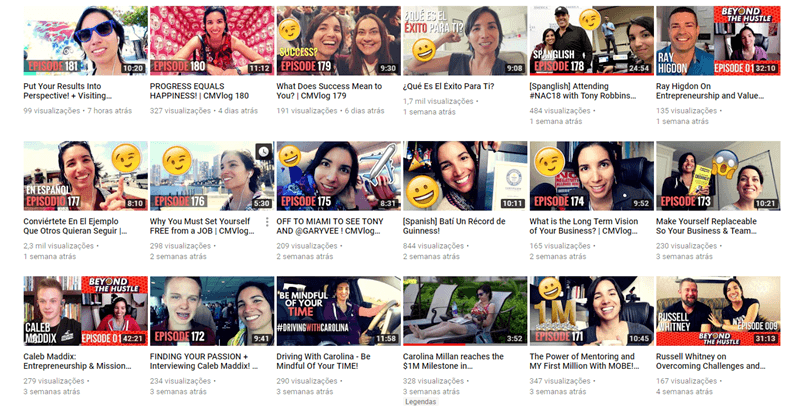 In other words, she is leveraging the same system that she is encouraging you to use and promote.
What Is MOBE? 
---
MOBE is a company that provides the knowledge and skills to help anyone start and grow an online business.
It offers video lessons, written lessons, webinars, coaching, sales funnel, live events, mastermind groups, and much more!
The courses that they provide cover a wide range of topics, including:
Traffic generation
Youtube marketing
Facebook Advertising
WordPress.
Personal development
Public speaking
Leadership
and so much more!
It's important to understand that MOBE's operates a franchising business model. That means you pay not only to have the training and tools but also to have the right to promote the same products to others. 
Just like you have to pay for the franchising to operate a Starbucks, you have to purchase one of their core training programs to start promoting MOBE.
The Laptop Lifestyle System is promoting the first membership level called the MTTB (My Top Tier Business).
For $49, you will get the 21 Steps Coaching Program, which will show you the importance and how to sell high-ticket products online to earn $1K, 3K and 5K commissions. 
In addition to the 21 steps course, you will get access to your top tier coach's contact details for support.
It turns out the training is designed to encourage you to become MOBE's consultant by purchasing the more expensive memberships.

Becoming a MOBE Consultant
---
You can become an affiliate consultant for a minimum fee of $19.95 per month. This is the standard membership, which allows you to earn great commissions from many products including the 21 Steps Course, done-for-you services, and events.
However, if you want to earn the high-ticket commissions that Caroline mentions in her sales video, you must purchase the exact membership you'd like to promote.
Here is the price list:
Silver Masterclass: $2,497
Gold Masterclass: $4,997
Titanium Mastermind: $9,997
Platinum Mastermind: $16,667
Diamond Mastermind: $29,997
And here is part of MOBE's compensation structure: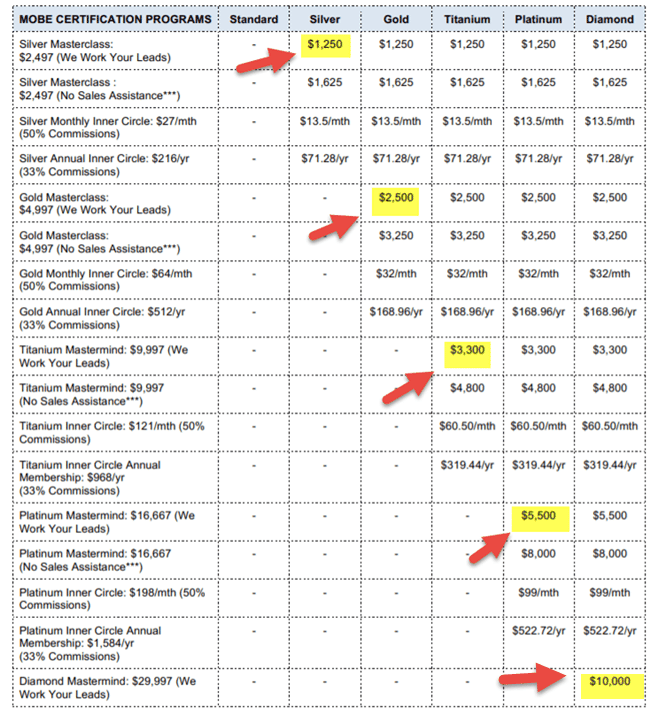 This reward platform is going viral! Cash out via PayPal, Visa, Gift Cards, and in-game currencies - Click here to find out how to generate an extra $10+ per day! 
For example, in order to earn $1,250 per sale, you have to purchase the Silver masterclass for $2,497.
Silver Masterclass is the entrance point for your high-ticket commission sales, and as you have noticed, it's a considerable investment!

Can You Succeed?
---
No doubt you can become a successful entrepreneur by following MOBE's training program. But it's a fact that most people will not achieve results with an online business. 
That is not to say the training is bad or the method is inefficient, but because success is 99% consistency and grind work! As most people don't have guts to put in the amount of time and effort required, they simply give up.
Some of them will blame the course and/or the coach in an attempt to justify their failure.
For that reason, I always recommend starting a business with a smaller investment.
It's clear to me that most if now all of MOBE's 6-figure earners are those who bought into the most expensive memberships.
Also, some top affiliates had some previous experience with internet marketing, so they invested because they already had a source of traffic such as a blog or an email list.
Here is a testimonial from a successful blogger:

Although you can apply the knowledge and skill to build a business around your interests, the program is set up in a way that makes promoting MOBE irresistible!
After all, you will have the sales team closing sales for you, done-for-you marketing tools and, most importantly, the possibility of making thousands of dollars per sale! 
You will undoubtedly be tempted to invest thousands of dollars to become a top affiliate too.
I think there is nothing wrong with promoting a quality training and earning high-ticket commissions. It's perfectly fine to promote a product that delivers value, and I believe that is the case with MOBE.
Conclusion – Is Laptop Lifestyle System a Scam?
---
I am confident that Laptop Lifestyle System is legit!
If you are just interested in learning internet marketing to build a business around your passion and interests, I don't think this it's the best system for you though. The reason being that there is plenty of cheaper and even free information on the internet.
Now, if you are interested in making high-ticket commissions by encouraging others to do the same, then Laptop Lifestyle System can be the right choice for you.
Just keep in mind you are paying a high price for the franchising, so it makes sense to focus on promoting MOBE.
Verdict: Legit
My #1 Strategy to Make Money Online
---
Laptop Lifestyle System takes advantage of affiliate marketing so you can generate commissions. Your job is to bring them leads by making people sign up to MOBE through your affiliate links.
You can apply the same business model to any other niche market. In fact, I always recommend people build an online business around their passions and interest.
Why? Because when you focus on something you enjoy talking about, you are more likely to succeed.
The difference is that you will have to apply for affiliate programs related to your niche market. Besides, most affiliate programs don't pay high-ticket commissions as MOBE does.
However, you can still scale and succeed as long as you are consistent and give your business enough time to grow.
If you want to build an affiliate site in a niche of your choice, check out my #1 recommended program. That's the same platform I used to start and grow my internet business.

Try their free starter membership (no credit card required) and see if you like with no strings attached. You will get the first 10 lessons, 2 websites, and 7-days of 1-on-1 support!
If you decide to go premium, you will pay $49/mo with no Upsells! That includes hosting, training, weekly live webinars, chat, support, keyword research tools, and much more!
Thanks for checking out my Laptop Lifestyle System review. If you have any questions, feel free to ask in the comment section below. It's a pleasure to help! 🙂