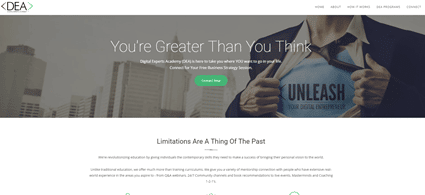 You are probably wondering if the Digital Experts Academy (DEA) can really help you become a successful online entrepreneur and live the internet lifestyle.
In this review, I am going to expose all you need to know about DEA and give you my honest opinion about it.
Is it worth spending thousands of dollars on that training and mentorship? Is a scam or legit?
Let's find out!
By the way, if you can't afford or don't want to spend $2,500+, check out my #1 rated program to build successful affiliate sites (FREE membership available).
Digital Experts Academy Review
---
Name: Digital Experts Academy (DEA)
Website: https://digitalexpertsacademy.com
Founders: Stuart Ross and Jay Kubassek
Price: $2,500 up to $20,000
LEGITIMATE
Overall Rating:

4.2/5
What is Digital Experts Academy?
---
Digital Experts Academy is a training program founded by Stuart Ross and Jay Kubassek back in 2012.
It is designed to help individuals to build their online businesses and eventually achieve full-time self-employment.
According to the sales page, they will give you step-by-step modules and variety of mentorship opportunities, which includes:
24/7 community support
1-2-1 coaching sections
Q&A webinars
Book recommendations and more!
Stuart and Jay are also the founders of Six Figure mentors, an internet marketing training that you will be encouraged to join as a prerequisite to buying any DEA membership.
Is Digital Experts Academy a Scam?
---
Most people are skeptical of online course and mentorship programmes that teach others how to make a substantial income online.
It's understandable because this industry attracts opportunists that sell the dream without providing valuable and actionable knowledge.
It also attracts affiliates who just want to say positive BS to earn commissions.
Although I think Digital Experts Academy is incredibly overpriced, I am confident to say that it's not a scam.
Not only is it a legit program, but it covers all the essential marketing strategies for anyone to become successful.
The fact that most people don't achieve their financial goals with this program doesn't mean that the training is bad or a complete scam.
Also, the fact that you purchased an expensive program, doesn't entitle you to start making money as if you had an advantage over those who learned for free somewhere.
Just like with anyone who attends the top university and end up earning the minimum wage, you can purchase the best course in the world and struggle to even cover your initial investment.
In other words, there are no guarantees because if you don't have the right mindset, if you don't put in the work and don't persevere for long enough, you won't get the results you want.
As Eric Thomas says:
The harder your dream, the harder the grind!
With that in mind, let me show you what you can expect from Digital Experts Academy.

How it Works
---
Understanding how digital experts Academy works before the application is a bit difficult.
That is because the website gives you vague information about each membership.
It doesn't explain precisely the business model that will allow you to make money online and doesn't display the pricing.
If you visit the "How it Works" page, they explain briefly the process of joining Digital Experts Academy.
The steps are:
Choose the DEA Program you think it's a good fit for you and fill up the application form.
Talk with your personal business consultant so he can help you get on track.
Go through the get started modules and complete exercises that to designed give you a proper mindset.
Interact with the community and get insights and support.
Take advanced step-by-step training courses, watch live webinars and attend industry events related to the DEA Program you have chosen.
So, the first step is to choose a DEA program and fill up the form, which includes your contact details and a few questions such as your hobbies, education, income, etc.
Digital Experts Academy offers 4 different memberships:

Digital Experts Academy Silver – $2,500
Yes, this is the cheapest membership! But that is not everything because you will also need to become a member of Six Figure Mentors before you can start with DEA.
DEA Silver is actually called ImportXpert, which is designed help you build an e-commerce business by importing high demand products from China and selling at a higher price.
You won't have to create a website as you will learn how to leverage the Amazon FBA.
Digital Experts Academy Gold – $8,000
This program is all about internet marketing. Among other things, you will learn how to:

Write compelling content that stands out and get people to take action (click on your affiliate link, buy a product, sign up to your email list).
Create successful email marketing campaigns.
Drive targeted traffic from Google, Facebook, YouTube, LinkedIn and more.
Understand analytics and use the data to create a solid business plan.
Test and optimize your website to increase conversions.
Improve SEO (search engine optimization) to get high Google rankings, and as a result, free traffic.
And more!
This membership provides all the knowledge you need to succeed as an Internet marketer. This no doubt about it!
However, I think $8,000 is a crazy amount of money to spend, folks!
Not to mention that this price doesn't include any of the necessary services that you will need to run your business such as hosting and autoresponder.
There are many courses out there for much cheaper and even for free.
Personally, I created my online business after going through the excellent step-by-step training by Wealthy Affiliate.
The curriculum is practically the same, but with a membership fee of $49/mo, you get not only in-depth training buy also support, hosting, keyword research tool, expert support and more!

This reward platform is going viral! Cash out via PayPal, Visa, Gift Cards, and in-game currencies - Click here to find out how to generate an extra $10+ per day! 
Besides, WA gives you a 100% free membership where you get the first 10 lessons, 2 websites and 7 days of premium support. That allows you know exactly what you will be doing and start taking action before you spend a dime!

Digital Experts Academy Platinum – $11,000
The platinum membership is all about creating a personal brand that builds trust and stands out from the crowd.
The programme includes:
Intensive 3-day workshop.
Access to what is called a Brand Incubation Portal, which will help you with your vision, missions, values, purposes, and more.
A biography published by a professional copywriter.
3 hours of 1-2-1 coaching.
A high quality and professional photo of yourself that you should use on your site and social media profile.
Branding is very important, but $11,000 just for this aspect of your business?
If you have no previous online business experience, you still need to get the DEA Gold, so that will be $19,000 in total.
Digital Experts Academy Black – $20,000
This membership is all about personal transformation and becoming a true entrepreneur.
The only information I have is from the sales page because, to be honest, I think I won't find unbiased testimonials from individuals who purchased this package.
They say you will learn how to monetize almost anything that interests you and feel like the sky is the limit.
According to other reviews on the internet, DEA Black is for those who want to partner with DEA and SFM, to create training programs and be a consultant.
Is Digital Experts Academy Worth the High Price?
---
If you just look at the positive impact that owning an online business can have in your life, then I would say YES it's worth it.
Freedom is priceless, so in order gain knowledge to finally break free from the 9-5, I would pay the price IF there was no cheaper alternative.
Fortunately, there many affordable options out there. So, you don't need to spend thousands to become a successful online entrepreneur.
The price is inflated mostly because of the high-ticket commissions that DEA pays to its affiliates.
You see, when you purchase these memberships, you have the right to promote it to other people and earn generous commissions.
Usually, these affiliate programs offer a 50% commission.
So, imagine if you recruit someone to pay the DEA Gold, you'd make around $4,000!
Pressure to Succeed
---
When you spend so much money on a training, the high pressure to succeed is inevitable. The more you spend, the bigger the urge to start making money fast to cover your investment.
This can have a positive or a negative impact on your business, and each person will cope with this in a different way.
It will be positive in a sense that you will force yourself to work harder than ever. It's a strong financial commitment you are making here.
Now, it can also be negative if you start operating your business out of desperation and don't be patient enough for it to flourish.
It's crucial to understand that building a successful online business doesn't happen overnight. You must be willing to work hard for at least a year without any return.
However, most people don't have the guts and give up.

That's why I recommend a more affordable course so that you work with more piece of mind. In case you give up, which I am sure you won't, then you won't "lose" so much money.
Conclusion
---
Don't get me wrong, Digital Experts Academy is a high-quality training with an incredible curriculum to master internet marketing.
However, just like MOBE (My Online Business Education) and SFM (Six Figure Mentor), you pay the high price to sustain the high-ticket commission structure.
In fact, as soon as you join DEA, you will be tempted to build a business around promoting DEA to others.
That's your choice, and there is nothing wrong with that as long as the course is also designed to help people in any niche. Which is the case!
Verdict: Legit
Thanks for checking out my Digital Experts Academy Review, if you have any questions, please let me know in the comment section below.