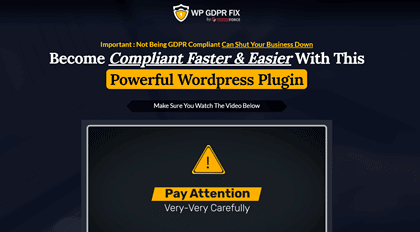 WP GDPR FIX has been promoted as a powerful plugin to achieve fast compliance with the new GDPR regulations.
Can you really be confident that its automatic implementations will save you from big fines?
Check out my honest review below and inform yourself before you decide to invest in this plugin.
Disclaimer: I am not a lawyer. Nothing on this website should be considered legal advice.
WP GDPR FIX Review
---
Product Name: WP GDPR FIX
Website:www.wpgdprfix.in 
Vendor: Cyril Gupta [Teknikforce]
Price: $21.50 (one site), $23.50 (unlimited sites)
LEGITIMATE
Overall rating: 3.9/5
First Things First
---
Although I'm not an expert, and not capable of providing legal advice (I am just a blogger), I have been researching and implementing many features on this website to make this website compliant with the new regulations.
It's tough but not impossible!
So, what I'm going to say here is based on my research and what I believe it's the correct approach. It doesn't mean it's the absolute truth.
However, I will reference the ICO's (Information Commissioner's Office) website to prove my points whenever possible.
Also, I encourage you to do your own research because GDPR is huge and impossible to cover in one post.
I know the GDPR regulations are driving you mad, so you are probably looking for an easy way to sort this out.
Take it easy! Web developers are still working hard to create solutions that will help website owners to become fully compliant.
Well, I am confident that there isn't one single plugin at the moment that can solve all the issues that need to be addressed.
Not even WP GDPR FIX! BUT that doesn't mean you shouldn't use it to achieve more compliance.
What Is WP GDPR FIX?
---
WP GDPR FIX is a plugin that includes many features to help you become GDPR compliant with 7 key requirements:
Cookie Consent.
Terms and conditions page.
Privacy policy page.
Right to be forgotten.
Access request.
Data breach notification.
Rectification requirements.
If you watch one of the walk-through videos that the company has released on their official YouTube channel, you will hear that:
Once all of the bars are green, you will know that you are 100% GDPR compliant.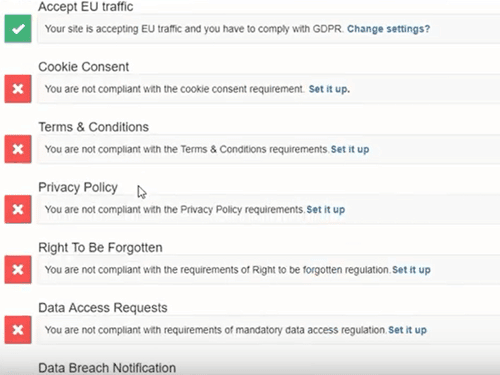 Considering how complex the regulation is in terms of practical implementations, I doubt that is the case.
After reading so much about GDPR, and visiting so many websites, it's clear to me that there is not a quick fix.
Every website is different, so you will have to understand all the processes that you are using to collect personal data and start making the changes based on a case by case basis.
So, let me show you how WP GDPR FIX can help you out and my honest opinion about each feature.
Let's start with the cookie consent.

Cookie Consent
---
If you use Google Analytics, Adsense, embed Youtube videos or have any plugins installed you are certainly placing cookies on people's devices as soon as they land on your site.
According to the Guidance On The Rules On Use of Cookies And Similar Technologies, the basic rules is that you must:
Inform users that you are using cookies.
Explain why you are using cookies and the purpose of each cookie.
Get the person's consent to install the cookie.
WP GDPR FIX will place this cookie banner on your website:

It's similar to many others you have probably seen out there. The difference is that your website will be blocked until people give explicit consent (click ok).
Is this the right approach?
Well, here is what ICO has to say about consent:
Consent requires a positive opt-in. Don't use pre-ticked boxes or any other method of default consent.

To be valid, consent must be freely given, specific and informed. It must involve some form of unambiguous positive action – for example, ticking a box or clicking a link – and the person must fully understand that they are giving you consent. You cannot show consent if you only provide information about cookies as part of a privacy policy that is hard to find, difficult to understand, or rarely read.
In other words, you can only place cookies on a user's device if he/she gives permission by ticking a box or clicking a link.
I believe this cookie banner comply partially because it prevents people from accessing the site. Hence, cookies won't be installed unless people click OK.
However, the regulation also requires that once consent has been given, the user has the right to opt-out any time.
WP GDPR FIX plugin doesn't give you this option, so people will have to clean up all cookies from their browser manually.
Therefore, to be compliant in this aspect, I believe you must inform users how to do that via your privacy policy.
The drawback of denying access to the site is that you will lose visitors. I think putting a wall in from of people is not a friendly approach.

In fact, ICO says you should avoid making consent a precondition of a service.
My Recommended Cookie Solution
I have searched extensively for a plug-in or a script to help with this challenge. The only one that worked for me was Cookiebot.
Cookiebot helped me deter specific cookies and not my entire website before consent.
It gives people a choice to opt-in and out any time via checkboxes divided into statistic, marketing, and preference cookies.

This reward platform is going viral! Cash out via PayPal, Visa, Gift Cards, and in-game currencies - Click here to find out how to generate an extra $10+ per day! 
Terms and Conditions and Privacy Policy Page
---
It's essential that you have a Terms and Conditions and a privacy policy page.
WP GDPR FIX claims that these pages were crafted by a privacy law expert.

From what I can see, though, they are missing vital information that is required by the GDPR.
According to the Guide to the GDPR document, you must state:
The purpose of the processing.
The lawful basis for the processing.
The retention periods for the personal data.
The rights available to individuals.
And more.
You will need much more information than what WP GDPR FIX provides in your privacy policy.
The plugin gives you the option to redirect people to your privacy policy page, so they are encouraged to consent before getting access to your site.
Again, this is another option that will drive traffic away. Unless you really need to install the cookie, I don't recommend denying access.
By the way, it's also important to have a cookie policy or a section in your Privacy Policy that lists all the cookies.
WP GDPR FIX won't scan your site for cookies and won't create a cookie declaration as Cookiebot does.
Rights
---
It's also a requirement under the GDPR regulations that you guarantee some user's rights, including, but not limited to, the right to access, erasure, and rectification.
WP GDPR FIX will give users the option to send these requests so that you can fulfill them.
For example, if people decide to exercise their right to erasure (aka right to be forgotten), they can choose to delete:
Comments.
Posts.
User data recorded in WordPress database.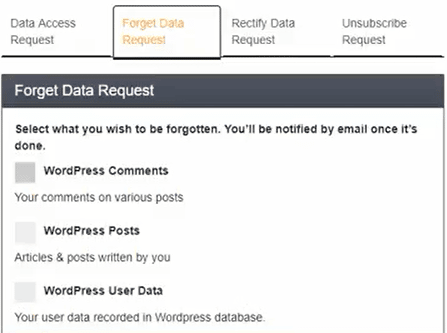 Currently, the new version of WordPress has only the options to delete and export personal data.
You still need a feature that allows you to manage these requests efficiently.
The plugin will store all the data requests in a list and give you full control over pending and fulfilled requests.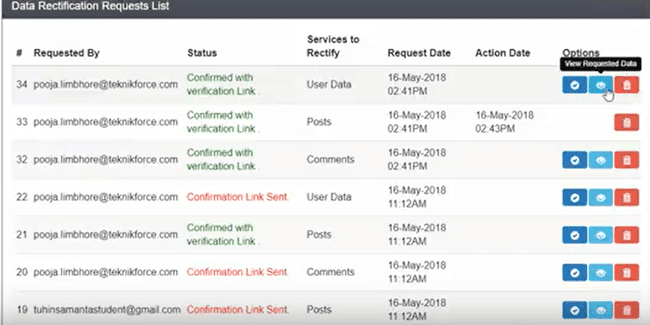 I think all these features work perfectly for GDPR compliance!
To be honest, I haven't seen other plugin that offers so much regarding the rights of individuals.
WP GDPR FIX is probably the most complete when it comes to GDPR requests.
Data Breaches
---
In case of a data breach, you should notify the relevant supervisory authority.
You will probably have to inform the individuals about it as well.
WP GDPR FIX has a feature that allows you to notify everyone in your database about a data breach or vulnerability.
I haven't seen any other plugin that provides this feature.

Refuse EU Traffic
---
Another great option is the possibility to refuse traffic from the European Union.
If you are still not confident that you have implemented all the necessary changes, you can simply deny access to EU residents.
By doing this, you make sure you are not infringing any privacy laws in Europe.
Thus, you can work at your own pace to achieve compliance without losing sleep.
Price
---
WP GDPR FIX costs $21.50 for 1 site and $23.50 for unlimited sites.
You can use the coupon located on the sales page to get a $3 discount.
Prons and Cons
---
Pros
It's affordable
No other free plugin offers so many features to become GDPR compliant.
The privacy request features make the compliance process a breeze!
There is an option to refuse traffic from the EU.
The plugin will be improved with future updates.
There is a 30-day money back guarantee.
Cons
The cookie consent is compliant, but It prevents people from visiting your site until they consent.
You will need to address many GDPR requirements for your Privacy Policy. There are better templates on the internet for free.
Conclusion
---
The are pros and cons about WP GDPR FIX, but overall, I think it's a great plugin that will help with your GDPR compliance.
It's not 100% compliant, but it helps in many aspects!
In my opinion, the cookie consent feature is not the best, but I believe it's GDPR compliant.
Sadly, The Privacy Policy falls short as it's missing important GDPR requirements. You should not copy and paste a template and ignore all the peculiarities of your website.
Personally, I used the privacy policy written by SEQLEGAL.com. You can use the free templates if you credit them (link to their website).
You also need to address many GDPR requirements such as informing which lawful basis you are using to process data.  Is it consent, legitimate interest, or another one?
Read the ICO guidelines to learn not only about different lawful basis but also everything you will need to become GDPR compliant.
Finally, I have to confess I was impressed with all the features to manage data requests and data breaches.
I tried many free plugins out there and can assure you that none of them offers so many features in this respect.
Considering all pros and cons, I think WP GDPR FIX is worth the price tag.
Thanks for checking out my WP GDPR FIX review. If you have any questions, feel free to leave a comment below. It's always a pleasure to help!