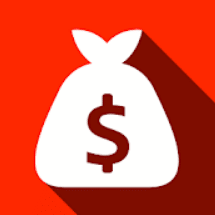 There are ridiculously easy ways to make money not only from home but also on the go. Cash For Apps is just one among hundreds of mobile applications that is promising to pay you for completing a variety of tasks.
Can you trust Cash For Apps? Is it a scam or a legit opportunity?
Discover the truth from my honest review below!
By the way, if you want to learn step by step the same strategy that earns me $2K+ per month from my laptop, check out my #1 recommendation.
Cash For Apps Review
---
Name: Cash For Apps
Website: getcashforapps.com
Price: Free to join
LEGITIMATE
Overall Rating: 3.4/5
What is Cash For Apps?
---
Cash for Apps is an app that rewards you primarily for downloading other apps.
I said "primarily" because other tasks such as watching videos, completing surveys and offers will only be unlocked after you download at least 4 apps.
You can also earn commissions by sharing your invite code.
It's similar to other apps that I've already reviewed on this blog such as CashApp, Applike, and AppNana.
Is Cash For Apps a Scam?
---
I know you may be skeptical and afraid to waste your time and patience with this app. But I'm confident to say that Cash For Apps is not a scam!
It was created by a mobile advertising company called Mobvantage Marketing Ltd in 2015.
Since then, the app has been downloaded over 300,000 times and received a 4.5-star rating on Google Play. That's remarkable!
I have read many user reviews, and I can see both positive and negative opinions.
That's completely normal as you will find complaints with any other site, app or product out there.
Pros and Cons
---
Pros
It's available worldwide.
Intuitive.
There are many Gift Card options available.
Cons
Very low-income potential.
No PayPal or any other cash reward available.
When technical errors occur, you may lose your points.
How Does Cash For Apps Work? 
---
You will find Cash For Apps available for download from Google Play and Apple Store.
After the installation, complete the sign-up form and verify your email address.
Done? Great!
So, now you will see a list of apps you can download and earn points that you can redeem for a variety of gift cards.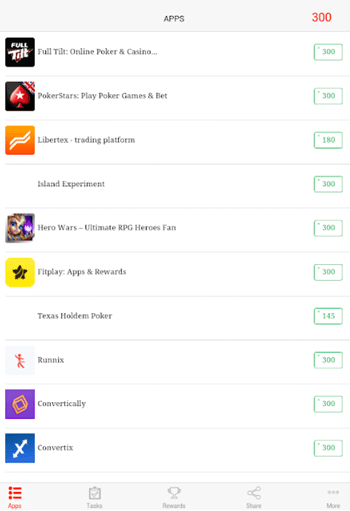 How Much Can You Earn?
First of all, it's important to mention that your points will have a high or smaller value depending on the gift card and cash amount that you chose.
For example, here are some points vs. rewards available:
$5 iTunes = 2000 points
$5 Amazon Gift Card = 1800 points
$10 Amazon Gift Card = 3000 points
$10 Google Play US Gift Card = 3300 points
Most apps that I've seen will pay between 100 to 300 points, which is approximately $0.25 – $0.75.
There are not many opportunities available, so the income potential is quite low here.
However, you should open Cash For apps regularly as new offers are always being added.
How to Earn Points?
It's not only about downloading and installing the app…
To get your points, you will also have to use the app for at least 1 minute and complete any tutorials required.
In fact, the company suggests you spend at least 5 minutes testing as each app has a different time requirement.
Also, keep in mind that you may receive your points just after a couple of hours. It can take up to 24 hours depending on the offer.
Unlock tasks
As I said, Cash For Apps will unlock tasks when you download and use 4 apps.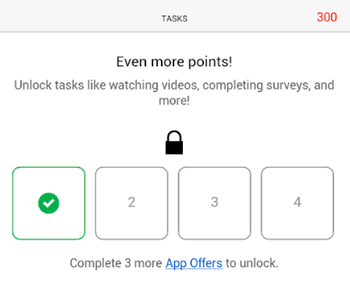 These tasks include online surveys, trial offers, and advertising videos.

You should also expect to earn a few cents per task just like you would with other GPT (get paid to) sites out there. Prizerebel is one of the best GPT sites.
Cash For Apps – Lock Screen Points
Lock Screen Points is another app created by the same company and can be used together with Cash For App.
Once you install it, you will see advertising whenever you are about to unlock your screen.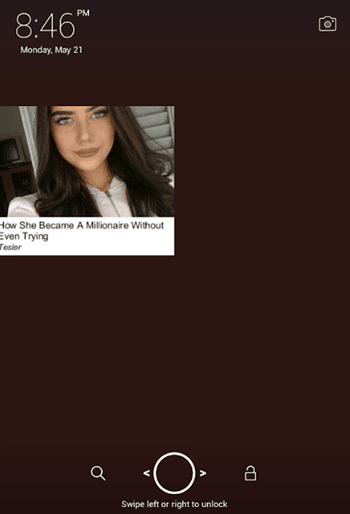 So, every time you see an ad, you get more points that will be credited to your Cash For App balance.

This reward platform is going viral! Cash out via PayPal, Visa, Gift Cards, and in-game currencies - Click here to find out how to generate an extra $10+ per day! 
In my opinion, there are better apps for this such as Slidejoy.

Share Your Code
---
You can earn extra points by inviting other people to join Cash For Apps.
When people download Cash For Apps and enter your code, they will get 20 points whereas you will receive 45 and 90 points for Apple and Android invites respectively.
Copy the code and share with your friends on social media, blog, vlog or any other communication platform.
What Can Go Wrong?
---
It's possible that a technical error breaks the communication between the Cash For Apps and the sponsor.
Unfortunately, when that happens, you may lose your points.
Yes, it can be very frustrating to waste your time with nothing to show for it.
Rewards
---
Cash For Apps doesn't have an option to redeem your points via PayPal, which is a significant drawback!
Instead, you can redeem via many Gift Cards such as iTunes, Amazon, G2A, XBOX, Steam, and more.
The minimum payout requirement is $5, and the amount of points varies by country and gift card choice.
Conclusion
---
Cash For Apps is not a bad choice for those who just want some gift cards from time to time.
It's legit, but not something capable of changing your life or even help with the bills.
Most people probably don't even reach the minimum payout. They just give up along the way in the search for better opportunities.
However, most people don't find it because they are looking for a shortcut.
Let me tell you the truth. Shortcuts don't work, and never will! So, if you were willing to put in the work, the Internet will give you the kind of freedom you have always dreamt of.
Once you build an online business and start working for yourself, you will have the power to kiss your day-job goodbye and live life on your own terms.
I am a living proof that it's possible to earn thousands of dollars per month from the Internet.
I started as a complete newbie and finally reached the $1,000/mo mark thanks to a step-by-step training developed by Kyle and Carson.
Try their free starter membership (no credit card required) and see if you like with no strings attached. You will get the first 10 lessons, 2 websites, and 7-days of 1-on-1 support.
Thanks for checking out my Cash For Apss review. If you have any questions, feel free to ask in the comment section below.