If you are reading this page is because you are not really sure if the Amazon FBA is the right strategy for you. I know, no matter what we decide to do, there will always be advantages and disadvantages waiting to be measured, right? Yet, we need to be able to make decisions and take firm actions if we want to succeed.
In this article, I would like to discuss the pros and cons of building an Amazon FBA business and give you my 2 cents if it's worth it or not. If you have never heard about it, the next section will clarify this interesting method to work from home for you.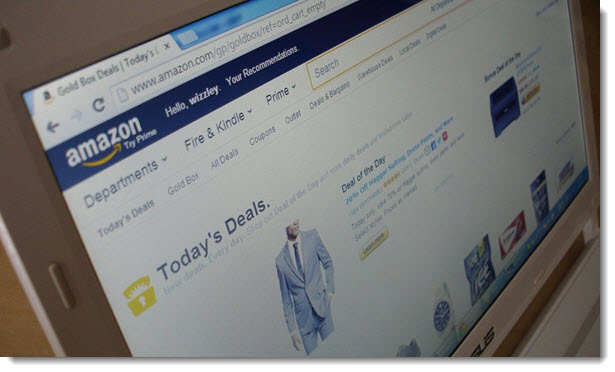 (Free Lessons Available)
What is The Amazon FBA?
---
First of all, it's important to keep in mind that Amazon is the largest online retailer in the US! It means that if you place your products with competitive prices on their website, you can rest assured all your inventory will sell like hotcakes. And the way to get your products for sale on Amazon.com is to use the Amazon FBA program.
FBA stands for Fulfillment by Amazon, which is a service that will efficiently collect, pack, ship and provide customer service for your products.
Your main job is to purchase the items with good discounts, label and ship them to one of the Amazon fulfillment centers. Next, they will do all the advertising and processing of individual orders for you. This fulfillment service will save you lots of time and allows you to scale your business to much higher levels compared to selling on eBay or Etsy, for example.
I will go into more details as I talk about the advantages and disadvantages in the next section. But before that, you may want to take a look at this interesting video that explains the whole FBA process:
The Advantages 
---
#1 – Work From Home Whenever You Want
Working from home is the first benefit that comes to mind when you think about selling products on Amazon. You want to wake up in the morning without that bad feeling of having to stay locked in a cubicle for 8+ hours. Deep inside, most people hate their jobs, and that's why the possibility to make money on our own terms is so appealing!
Selling products on Amazon can really give you this kind of freedom, as there are many people making lots of money with this business model.
#2 – Low Start-Up Costs
You probably know how expensive it is to set up a brick and mortar business! Whatever industry you look at, there will always be fixed and variable expenses such as rent, utilities, insurance, staff wages and inventory among many others. As a result, there will be a tremendous pressure in the first months or even years to attract a good customer base and thrive.
The investment necessary to start an Amazon FBA business is ridiculously small compared to a brick and mortar. Indeed, many successful entrepreneurs suggest you start with around $600 worth of in inventory and suppliers, so it's widely affordable and low-risk.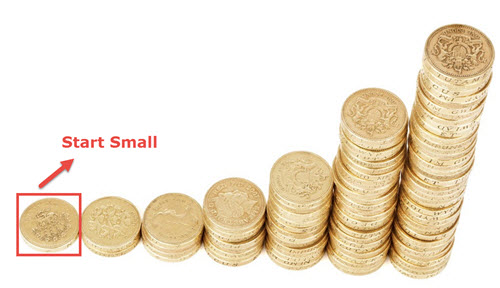 #3 – It's Scalable
A business is scalable when it's able o achieve higher and higher returns by handling increased demands.
Let's say, for example, that you have a coffee shop on a busy street with only 10 tables. Once all the tables are occupied, most people will come inside and walk away, probably to your competitor next door. In other words, you coffee shop business is not scalable as it can't keep growing.
The same limitation happens to someone selling on eBay. When sellers start getting noticed for their quality and affordable product, demand increases but the time necessary to deal with individual orders gets overwhelming. The person just can't cope!
On the other hand, an Amazon FBA business is highly scalable, as you can ship as many items as you need in one go. Since Amazon is dealing with the individual orders, you just sit back and relax… OR you can use the free time to look for more opportunities, buy more inventory and increase sales.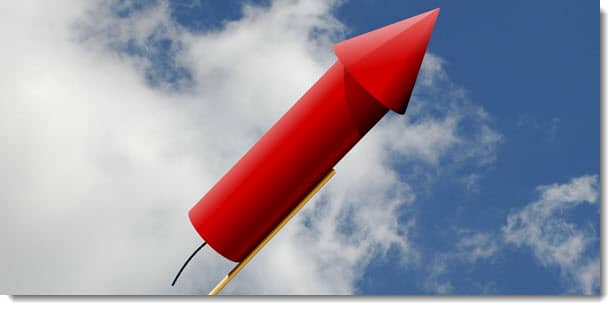 #4- You Don't Need to Go After the Customer
When you use the Amazon FBA, you don't need to worry marketing your products as you already have a strong brand behind you.
Therefore, there is no reason to wait and build trust in order to make lots of sales! People already trust and buy like crazy at Amazon.
#5 – Make Money Relatively Fast
Because you don't have many expenses, and because your products can sell fairly quickly, you should expect the first profits pretty soon.
However, it's important to highlight that you will not make lots of money overnight. With strong commitment, you can realistically expect a good return on investments after three months.

I recommend you start small and keep reinvesting all the profits in more inventory during this period.
#6- You Don't Need a Website
Amazon will give your products high visibility on their platform, so there is no need to build a website and attract an audience.
Although I believe creating a website is the best tool to make money from home, it's a fact that many people hate the idea of writing content and getting traffic.
It can also take more than a year to start making decent profits as an internet marketer.
#7 – No Customer Service
Not having to deal with customer service is another reason why this business is highly scalable. Amazon is in charge of dealing with any customer inquiries and returns once they have your products. Therefore, it frees up time to grow your business.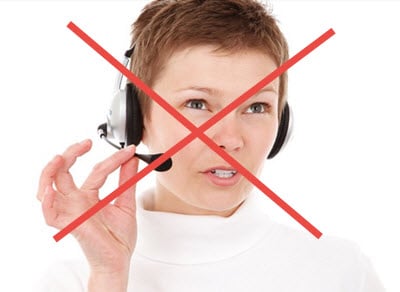 Nothing is perfect, and using the Amazon FBA program has its own set of disadvantages as well. Let's check them out!
The Disadvantages
---
#1 – There is a Cost
Yes, all this great service is not for free and can reduce your profit margin significantly if you don't choose the right products.
I'm talking about heavy, large and cheap items. Check the fulfillment fees for orders on Amazon.com here.
Check out the fees for this book: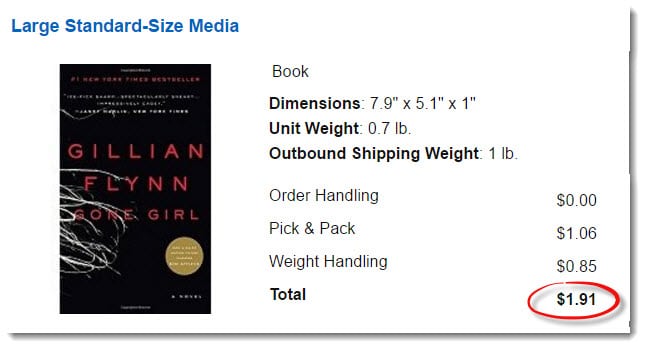 #2 – Your Need to Follow Strict Rules
There is quite an extensive list of requirements regarding product preparation, packaging, safety requirement and product restriction. If you fail to follow these rules, they may refuse, destroy or even ban you from the FBA program for life!
Check the official list of requirements here.
#3 – Choosing a Profitable Product is Not That Easy
To be successful in this venture, you need to step out of the comfort zone and keep looking for opportunities.

There are many aspects you need to consider in order to choose a good product to sell, such as price, product demand, and competition.
So, you should perform an extensive marketing research before buying your first inventory.
If you don't know how to get started, The Selling Family has is an awesome Amazon FBA training called Amazon Boot Camp. They will walk you through step by step to build a successful Amazon business from scratch.
When it comes to building a solid business, you should give high priority to knowledge before getting your feets wet. It can make a difference between success and failure.
Final Thoughts – Is Amazon FBA Worth it?
---
As you could see from this article, there are significant pros and cons of building an Amazon FBA business. Only you can decide if the benefits outweigh the negatives. But you know what? Sometimes you just have to give it a try to see if whether it suits you or not.
Personally, I am not a big fan of dealing with inventory. I prefer to write content for my website and build a 100% online business.

This reward platform is going viral! Cash out via PayPal, Visa, Gift Cards, and in-game currencies - Click here to find out how to generate an extra $10+ per day! 
I think it gives more freedom, and it's more powerful in the long-term. Besides, I believe the competition is much higher selling on Amazon than building an internet marketing business.
However, the Amazon FBA is still an excellent opportunity if you want to see quicker results and don't fancy building a website. Beware that this is like any other business with its own set of challenges.

So, YES! It can definitely be worth it for you!
All in all, the freedom of working from home is worth the time and effort, but I advise you to diversify your income streams and don't rely 100% on an Amazon Business to pay the bills.
Hey, nothing can prevent you from having the best of both worlds and combine both an Amazon business and an internet marketing business at the same time. Have you ever thought about that?
So, are you interested in building an Amazon business? What do you think about this opportunity? Feel free to leave your comments below and don't forget to share this article if you enjoyed it.
Your friend
Stefan