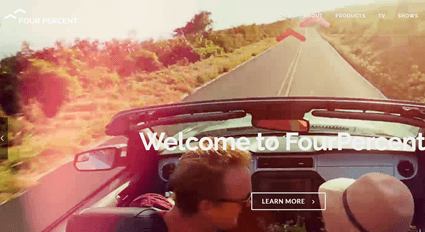 The 4 Percent Group is said to be the highest level of entrepreneurship education available on the internet. The platform is being promoted as a done for you system that helps you build a highly profitable online business.
It all sounds too good to be true, so is the 4 Percent Group a scam or legit? Let's find out!
The 4 Percent Group Review
---
Product Name: The 4 Percent Group
Website: www.fourpercent.com
Price: $49/month
Recommended? No
​
What is The 4 Percent Group?
---
The 4 Percent Group is mainly a platform that provides simple landing pages and a basic tutorial on how to set up them.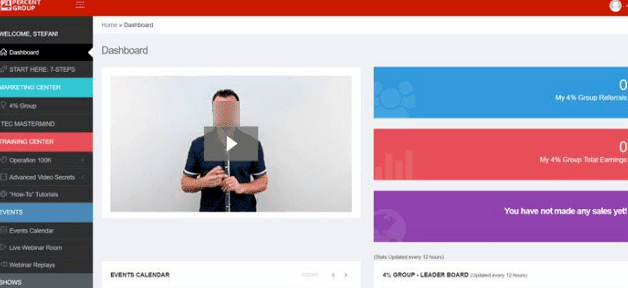 The 4 Percent Group Dashboard
The main idea behind it is that you should focus on results and simplicity to be part of the 4% of people who make a serious income online.
Plus you are led to believe that this system will do all the hard work for you. That's cannot be further from the truth!
Pros and Cons
Pros
Cons
The training is composed of simplistic tutorials to set up your landing pages
There is not much information about how to get traffic to your landing pages.
The pre-made landing pages don't rank on Google, so you can't take advantage of free organic traffic.
How Does it Work?
---
The business model used by the 4 percent group is called affiliate marketing.
In affiliate marketing, you earn commission for promoting other people's products. The most effective way is to build a website and attract visitors (traffic) to pages that have your affiliate links. So, when people click on these links and buy a product through the merchant's website, the company rewards you with a nice commission.
There is nothing special about the system. They are basically composed of a landing page (web page) with an affiliate link and an opt-in form to collect people's emails. They are also considered funnels where visitors need to take a few steps before they buy the product.
The problem here is that the funnels are specially designed to promote The 4 Percent Group itself. So you pay for a system that is only intended to recruit more people into the system.
This is one of the funnels that you will get: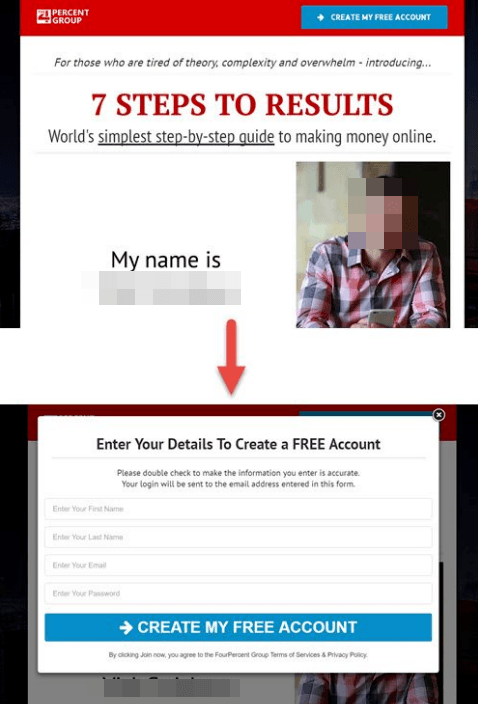 When people visit this page, click on "create my free account", and enter their details, they will become your referral. Thus, everything they buy inside The 4 Percent Group will earn you 50% commissions.
The program recommends that you purchase additional products with different companies.
The companies are TECademics, ClickFunnels, LeadPages, Click Magick, Get Response, Aweber, Udimi, and Namecheap.
When you refer people to The 4 Percent Group and they buy services from these companies, you earn a share of the commissions. These are the so-called multiple income streams that the instructor talks about.
7 Steps to Results
---
When you sign in for the first time, you will stumble across 7 steps to results that you are encouraged to follow to a tee. Here are they: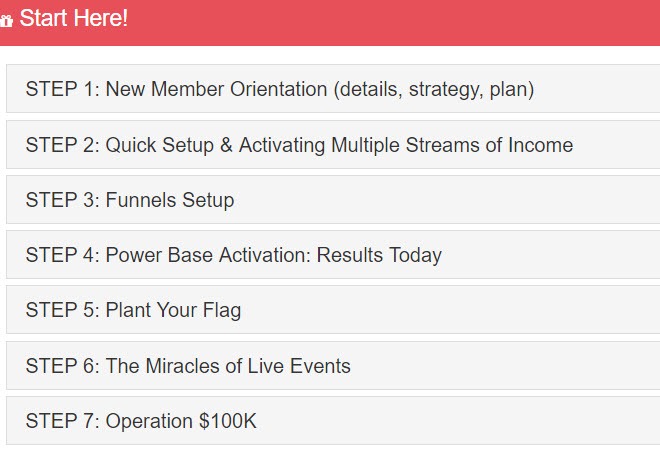 The only steps that actually get you to take action are steps 2 and 3. The rest is only motivational.

Step 2 will walk you through the process of signing up for the affiliate programs of all those companies. You are also encouraged to to buy these products by explaining how important they are.
After you get your affiliate IDs, you will have to copy and paste them into the fields provided.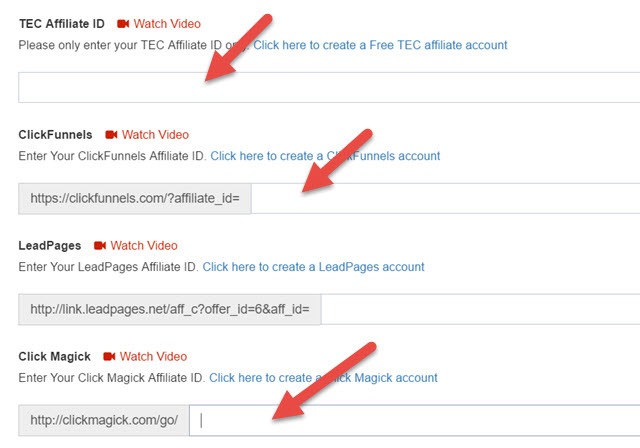 This process will ensure you get the commission from those companies in case your referral decides to purchase something.
Step 3 explains how to set up your funnels. The things is, in order to follow the training to a tee, you have to buy domain names, link tracking system, autoresponder among many other things.
No Traffic, No Money!
---
He focuses too much on what you need to buy and falls short on most important thing for your business – TRAFFIC. You need people to visit your pages. Otherwise, you have no chance!
But how can you attract a good audience to those pages?
Step 4 briefly mentions that you can take advantage of social media. Or if you have a list of emails, you can promote to them.
Below the video, there are some promotional tools that simply boils down to banners and ready-made emails. Heck, if you are just starting out, how are you supposed to have a list of emails to promote to?
There is no training on how to promote those pages effectively.
Where is The Foundation?
---
When I first started my affiliate marketing course with Wealthy Affiliate, they helped me build a strong foundation for my online business.
The foundation is this exact website, full of posts, pages, menus, comments, among other things. It provides value to the internet community because I am able to express my ideas and help people make better decisions for their lives.

A ready-made landing page will not give you the ability to rank on Google and attract lots of people looking for information on the internet. The reason being that they don't offer value to readers. Meaning that they are not intended to inform, but only to promote stuff.
​
Conclusion
---
The internet is full of such "done-for-you" systems that are promoted as highly lucrative businesses. No, that's not the way to go…
In my opinion, The 4 Percent Group is not a scam, but it falls very short when it comes to helping you build a sustainable online business.
How to Build a Serious Online Business?
Keep this in mind: Before you start making money online, first you need to provide value. How do you do that? By building a website and writing helpful articles on a consistent basis…

This reward platform is going viral! Cash out via PayPal, Visa, Gift Cards, and in-game currencies - Click here to find out how to generate an extra $10+ per day! 
Believe in yourself, you are more than capable!
Look, English is not my first language but I overcame my fears after following a good training and practicing a lot. In the beginning, I used to take 5 days to write a single 1000-word article. Now I can write 2000 words in 2 days!

If you want a serious training platform that will help you in every step of the way, check out Wealthy Affiliate. Don't worry if you are a total newbie afraid of writing. Just follow their step by step lessons, take action and you will be fine.
Wealthy Affiliate is completely different from The 4 Percent Group. It only focuses on what really matters! By the way, they have a free started membership that will help you set up the foundation for your online business.
I could have covered much more about the 4 Percent Group in this review, but this is getting too long. Anyway, I believe I covered the most important aspects of this platform. If you think something relevant is missing, drop me a message below, and I will update this post.
Also, feel free to leave me a message if you have any thoughts or questions. I am here to help you out.
Your friend
Stefan