MoneyCroc is a website with dollars signs and banner ads everywhere. It's entirely different from the platforms I've reviewed so far as there are no surveys, offer or other simple tasks. Still, they say you can earn free money. So, is MoneyCroc a scam or legit?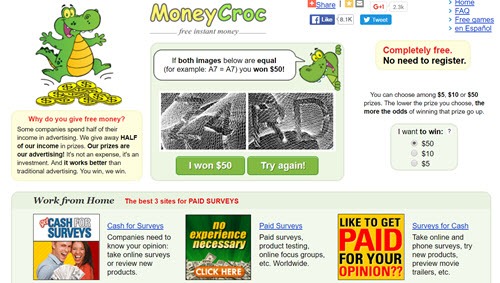 You might also want to check my #1 recommendation. It's a serious training platform that has allowed many people to quit their jobs and work full-time from home. Just bear in mind that it takes time and hard work, but the income potential is unlimited and anyone can start from scratch, with no previous knowledge.
MoneyCroc Review
Platform Name

:

MoneyCroc

Website

:

moneycroc.com

Price:

Free

Money Making Str

ategy:

View ads for a chance to win
Score:

2.3/5
What is MoneyCroc?
MoneyCroc is an advertising platform that that gives users the chance to win $50, $10 or $5.
You don't need to sign up or pay anything to participate.
The interesting fact about MoneyCroc is that it's ranked number 1 on Google for the search term "free money". As a result, it attracts an audience looking for easy money online.
The site is full of advertising, and that's how they are able to generate revenue to pay the prizes.
However, you will keep trying without knowing your chances of winning.
How Does it Work?​
The site is completely free, and you don't even need to register.
​It's very simple! Every time you open the page, 2 codes of 2 digits are automatically generated for you. If both codes are equal, you win the prize. Otherwise, you click on "try again" to load the new code. Note that there is a daily limit of 50 attempts per day.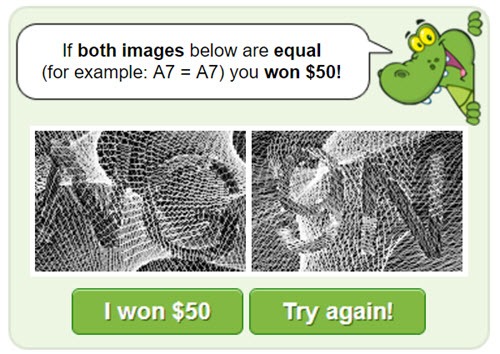 Every time you reload the page, new ad banners show up. Many people don't mind they are being bombarded with advertising. They simply hope to win the prize one day, but there are no guarantees.
Here is what they say:
"We give away HALF of our income in prizes"
Well, I believe in their good faith, but at the same time, I think it's quite hard to win.
I have found just two people in this Yahoo thread claiming they earned $50.
You can pick lower prizes of $10 and $5, which is supposed to increase your odds of winning.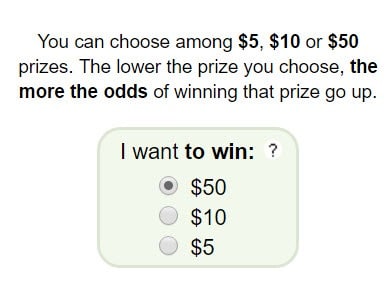 ​
Ads
As I already said, Moneycroc places ads of "make money online" products every time you refresh the page.
They used to promote lots of Clickbank products that promised work from home jobs such as:
Get Cash For Surveys
SurveysPaid
Real Writing Jobs
Legit Online Jobs
Get Paid to Draw
Most of these sites entice you to buy a list of high paying survey companies or work-at-home job opportunities. I would never recommend you buy these products.
However, Moneycroc has now stopped promoting these type of products. What they are doing now is promoting game platforms and using Adsense advertising. In my opinion, that was a good choice!
Conclusion – Is Money Croc a Scam?
MoneyCroc is a way to attract people searching for easy money online.
In my opinion, the chances to win are slim, but I don't think it's a scam!
My Recommended Strategy to Make Money Online
There is no such thing as free money online. Yes, you can win prizes here and there, but you can't rely on contests to pay the bills, right?
You have to work hard for it.
There is a reliable way to make a serious income online, and it involves the creation of websites/blogs.​
​Many people are taking advantage of online marketing by building a website and helping other people online. By doing that, you attract customers all over the world and make commissions by promoting other people's products.
​You may think that this is too complicated and that you have no knowledge or skills. But hey, everyone has to start from somewhere.
If you want to make a decent income online and work full-time from home, don't focus on your obstacles, but on your results! Take one step at a time and give your best to get there.​
So, how can you get started? I highly recommend a step by step training program with Wealthy Affiliate. They have a free starter membership that will help you build the foundation of your online business.​
I've been a member for one year and a half and absolutely love the lessons, live training, and helpful community. Thanks to Wealthy Affiliate's training and support, I now have a profitable online business earning me $1,000/month. And it keeps growing month after month!​
Click here to read my full Wealthy Affiliate review, and learn how it can help you get incredible results.​
I hope this MoneyCroc review was helpful to you. If you have any thoughts or questions, drop me a message below. I'd love to hear from you.​
Your friend
Stefan​