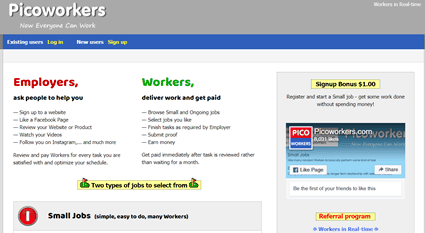 Today's review is all about Picoworkers, which is a platform where anyone can complete very simple tasks and earn some extra cash online. How much money can you make? Is it worth working for other people on this platform? Will you get paid?
Let's find out!
By the way, if you want to learn step by step the same strategy that earns me $1K+ per month from my laptop, check out my #1 recommendation.
Picoworkers Review
---
Price: Free to join
Website: www.picoworkers.com
Type: Crowdsource
LEGITIMATE
Overall Rating:

2.7/5
What Is Picoworkers?
---
Picoworkers is a crowdsourcing platform that connects employers with freelancers for relatively simple jobs.
There are many websites like Picoworkers such as Microworkers, Clickworker, Rapidworkers, and Crowdsource. However, the most popular one is undoubtedly the Amazon Mechanical Turk.
The main characteristics of these sites are the simplicity of the jobs and, as a result, the meager pay rate.
How Does It Work?
---
Joining the Picoworkers.com is 100% free and straightforward. All you have to do is complete a quick signup form, where you will write are a brief description of yourself.
You will earn $1 just for signing up!
Before you start applying for jobs, you must verify your phone, and upload both an ID/passport and a profile picture. Otherwise, they won't let you apply for jobs. You can submit the data to your "Account" section.

There are two categories of jobs available:
Small jobs
These are the easiest types of jobs, which anyone who knows how to browse the Internet and use social media can do. Literally!
The tasks within this category include giving likes on Facebook pages, following Instagram accounts, comment on blog articles, subscribe to a Youtube channel, to name just a few.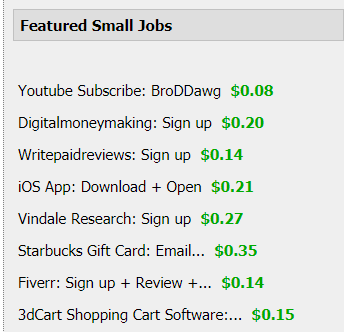 Finish the tasks required by the employer, submit proof and get paid. That's it!
Ongoing jobs
These are more complex jobs that the employer requests for long-term. Still, you may find that most tasks there are quite straightforward.
Here are some job positions open while I am writing this review:
App Promoter needed to generate subscriptions: Payment per task: $12; Expected per month $36.
Create website banners: Payment per task: $1, Expected per month: $12.
Write 150-250 word article about a travel destination: Payment per task: $1.75, Expected per month: $7.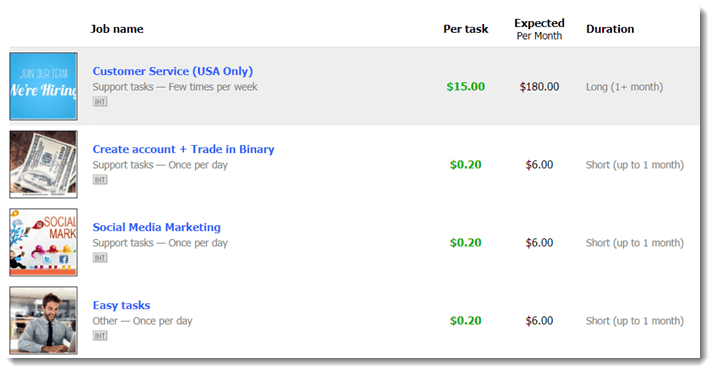 As there are not many ongoing jobs available, you will probably have to compete with other freelancers for the same position. That means you will have to sell yourself by explaining why you are suitable for the job.

The employer will then review each application, and chat with the workers he or she is interested in hiring.
You will then get paid after the employer review and rate your task as satisfied or non-satisfied.
The Importance of High Ratings
---
Like with any crowdsource or freelance platform, your success depends heavily on your overall rating.
According to the FAQ, you must maintain a success rate of above 75% at all times (Satisfied tasks). Lower than that will prevent you from performing jobs for the next 30 days.
So, always do your best to get high ratings because it affects directly your ability to get more jobs.
Does It Really Pay?
---
Yes, it does! According to my research, I haven't found people complaining about payments. In fact, there are many income proofs published by members in forums different forum. So, it's safe to assume this is a trusted site.
I think the most discouraging thing about Picoworkers or any other similar platform is that some employers may expect too much from workers for very little pay.
As employers decide how much money they pay, that means some of them will inevitably exploit cheap labour.
Withdraw
---
Picoworkers gives you many withdraw options such as Paypal, Payzaa, Skrill, Bitcoin and more.
You can redeem balance account when you have earned at least $7.

Conclusion
---
Picoworkers is a legit platform to make money online, but the question is: Is it worth your time and effort for such little pay?
Well, it depends on your circumstances and especially in the country you live in.
Workers living in third-world countries will probably like the idea as their currency is hugely depreciated against the dollar.
Now, if you are living in a wealthy world country, I would say no for micro-jobs!
Regardless of where you live, there are much better ways to make money online.

This reward platform is going viral! Cash out via PayPal, Visa, Gift Cards, and in-game currencies - Click here to find out how to generate an extra $10+ per day! 
How I Prefer to Make Money Online
---
I love the possibility of working remotely and being my own boss. Mainly because I can travel more and spend more time with my family.
Last month I made over $1,000 online while I was in Brazil with my parents. It's remarkable what one can achieve with hard work and perseverance on the internet.

So, if you are willing to work hard, don't waste your time for peanuts working for somebody else.
Learn how to build a business that allows you to sell your own digital products or promote other people's products!
I decided for the later. I have this website where I promote products as an affiliate, and I earn great commissions.
If you want to try this method, but you have no idea how to start, one of the best places for beginners is called Wealthy Affiliate.
WA is a platform that has not only an excellent step-by-step program but also a helpful community and all the tools you need to grow a profitable affiliate website.
That's it for now and thanks for checking out my Picoworkers review. If you have any questions, please don't hesitate to ask in the comment section below. I can help you out! Waiting for the acrylics