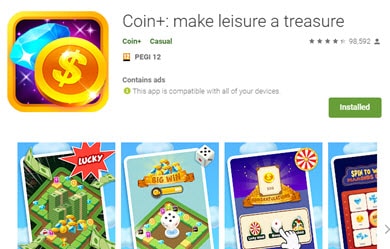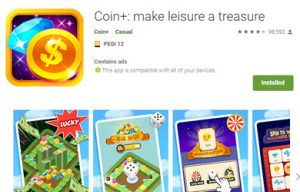 Welcome to my Coin+ App Review!
Hordes of people are installing the Coin+ app in hopes to reach $50 and withdraw the money via PayPal or Gift Cards.
This Android app claims users can win rewards quickly by playing monopoly, lucky spin, and other free games on your phone.
It's a very addictive game that will hook you for hours, and make you watch a ton of advertising before you can press the cash out button.
The question is, will you get paid? Is Coin+ a scam or a legit app?
Lots of reward apps are advertised as if users are making a killing, but the trust is that the vast majority of them are not winning to pay.
In this review, I will explain how Coin+ works and give you my honest opinion.
Before you leave this page, find out the step-by-step program that helped me reach $1,600+ per month from my laptop and quit my job. No special skills required! 
Coin+ App Review 
Name: Coin+: Make Leisure a Treasure
Company: ?
Membership Eligibility: Worldwide
Price: Free
Overall Rating:

1/5
What is Coin+? 
Coin+ is a mobile app that allows you to play three games and collect virtual dollars (coins) that you can supposedly redeem for gift cards.
The main game is inspired by the classic board game called Monopoly. You can also play the Lucky Wheel and the Knife hit to collect more coins and diamonds.
According to the app developer, you can earn a gift card when you reach $50. However, once you get there, you will discover that your virtual $50 is actually worth $5. Still, they may never let your cash out!
I discovered Coin+ after watching a video ad that implies people can make thousands of dollars and even become rich with this app.
Here is the advertising that you may have seen as well:
Is Coin+ Legit? Will They Pay You?
Coin+ is advertised as an opportunity to make real money, but it's all an illusion! 
The first thing I noticed when I installed Coin+ is that the app doesn't provide the Terms of service. Without this page, users will never know what to expect from this app unless they read reviews.
If you check the reviews on Google Play, you will find an insane number of complaints from players who couldn't cash out. People are very frustrated after playing this game for many hours with nothing to show for it.
Lots of users got a message saying the payment was closed and that they should come back tomorrow. Some people report glitches or connection errors that prevent them from cashing out.
This only proves the old saying of "If it seems too good to be true, it probably is!  

How Does Coin+ Work? 
Coin+ is only available on Android devices. After you install the app on Google Play, you can start playing immediately as no registration is required.
All you have to do is press the "Roll" button to roll the dice and move ahead.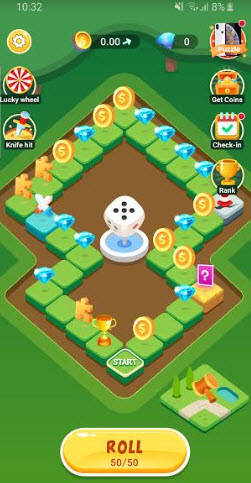 Every day, you can throw the dice 50 times for free. You can get additional dices after watching a video.
As you move around the board, you will collect coins, diamonds, and puzzle pieces. You can always get a chance to increase your reward by 1.5x, x2, and even 10x.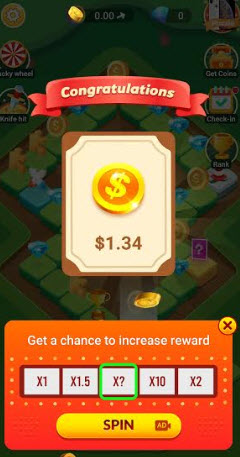 Coins
Although Coins have a dollar sign, it doesn't represent real currency value. As I mentioned, $50 in the game is equivalent to a $5 gift card.
In the beginning, you will collect coins fast, but once you reach a specific amount, you may only get $0.01 at a time. So, it takes ages to reach $50, forcing you to watch a lot more ads than you thought you would.

Diamonds
You can use diamonds to buy a house, which generates treasure chests automatically.

Treasure chests will give you the chance to win up to $10 worth of coins. The higher the house level, the faster a new treasure chest is generated. There are 3 house levels:
2 treasure chests every day: 10,000 diamonds.
4 treasure chest every day: 100,000 diamonds.
6 treasure chests every day: 500,000 diamonds.
Puzzle
You can also collect puzzle pieces of either an iPhoneXS and AirPods. Once you collect all the pieces, the company promises to give you the prize.
Unfortunately, lots of people claim that the app won't give them the last puzzle piece required to win the prize. They get a "Network error" message and the puzzle piece is never added. How frustrating!


This reward platform is going viral! Cash out via PayPal, Visa, Gift Cards, and in-game currencies - Click here to find out how to generate an extra $10+ per day! 
Other Games
As I mentioned, you can also play the Lucky Wheel and the Knife hit to win diamonds and coins.
Each spin costs 2000 diamonds and will give you the chance to win diamonds, 1 dice, and a mysterious number of coins.

As for the Knife game, you can play for "free" and unlock treasure chests as you pass the levels.
Pros and Cons
Pros 
The game is very addictive.
Cons
There is a very high probability of not getting paid.
The Coin balance doesn't represent the exact amount of cash you can earn.
The more you play, the fewer coins you will earn.
When you are about to win a prize, the puzzle pieces may give you "network error".
There are too many ads.
There are no Terms of Service and no FAQ.
Conclusion
Coin+ is another app that will make you watch a ton of ads by giving you the false expectation of making $50.
Not surprisingly, the app developers are not very keen on rewarding users. Google Play is flooded with negative reviews saying Coin+ didn't pay them.
The game is not even fun, especially due to the excessive amount of advertising. It's very annoying!
Earn a Full-Time Income Online
If you are serious about making money online, I advise you don't waste your time with any mobile application. There are not many apps you can really trust, and even the honest ones offer a very low cash incentive.
Instead, I suggest creating your own online business that has the potential to cover all your living expenses and even help you save for a rainy day.
In 2015, I built my own affiliate site thanks to this excellent step-by-step program.
I took consistent action after each lesson and over time, I was able to reach $1,600 per month in affiliate commissions!
You can reach remarkable results too if you follow their solid plan of action. The first 10 lessons are 100% free and newbie-friendly.
>> Click here and start your online business today! 
Final Words
Thanks for taking the time to read my Coin+ app review. I hope it was helpful!
If you would like to share your thoughts or ask any question about this app, drop me a comment below.
Stay safe and peace out!