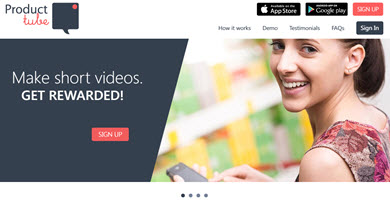 Welcome to my Product Tube Review!
Product Tube is a platform that promises to pay good money for a very simple task!
You just have to record and upload short videos about the products you use!
I know how it feels like to spend time and energy doing online jobs that don't pay.
That's why I gathered all the information you need about the Product Tube App and give you my honest opinion bout it.
Is it a scam or a legit application? Does it pay for your time and effort?
Let's check it out!
You may also want to check out the step-by-step training that helped me reach $1,300+ per month working from my laptop (no tech skills required).
Product Tube Review
---
Name: Product Tube
Website: https://producttube.com/
Company: Motions Research Limited
Contact: [email protected]
Membership Eligibility: Most, if not all projects are exclusive for US residents.
Price: Free
LEGITIMATE
Overall Rating: 

3/5
What is Product Tube?
---
Product Tube is an app and website that rewards members for submitting short videos about the products they buy and use.
It's very similar to other apps that I reviewed such as Easyshift,  BeMyEye, and Premise.

This reward platform is going viral! Cash out via PayPal, Visa, Gift Cards, and in-game currencies - Click here to find out how to generate an extra $10+ per day! 
The only purpose of these videos is to help retailers identify consumer needs and enhance their products.
The cool thing about Product Tube is that you can record and submit your videos using your smartphone.
Therefore, you don't need to have any specific software or editing skills.
Besides, you don't need to show yourself in front of the camera if you don't want to.
According to the company, you can earn between $50 to $80 for 1 hour of work per month.
But as you will see later on, that is an overestimation as most projects are located in big cities.
Is Product Tube a Scam?
---
It's legit, but as with most apps, there are many complaints!
Some people complain about technical issues and unrealistic timeframes to complete the projects.
For instance, one user claimed that he was asked to visit multiple locations and answer lots of questions in a short time.

Hence, he feels like the company wants him to fail as an excuse to reject the project and avoid the payment.
In this review, a user reported errors after uploading videos.

Unfortunately, there is no guarantee that you will get paid because of technical problems and mistakes from both sides.
They can reject your projects after you spend your time, energy and even money on transportation.
RECOMMENDED: Click here to see my no.1 recommendation for making money online.
Pros and Cons
---
Pros 
Receive your payment within 48 hours.
There is no minimum amount required to cash out.
Easy job.
Cons
The company usually gives a very short time to complete the projects.
Your project can be rejected if you don't follow all the instructions.
Many users report technical problems.
There are few projects available depending on your location.
Get paid only via Amazon gift cards.
How Does Product Tube Work?
---
Installation and Registration
Product Tube is available for Android, iOS, and desktop devices.
To create your account, simply visit the website or app, and fill up the short registration form.
You must provide your name, email, gender, age, and postcode.

Next, check your email and click on the link provided to verify your account.
How to Complete the Projects
If any project is available, you will see them on your dashboard as soon as you log in.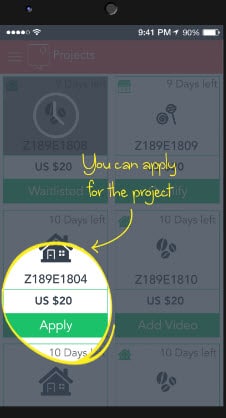 You will also receive an email notification whenever a new opportunity arises.
Once you get a project, tap to see the details and read all the instructions carefully.
Sometimes they may require you to visit a store and record a video on how you select a product in a specific category.
Another type of project is the one in which you have to record a short video using the product in your home. You should also tell the company about your experience.
For example, they may ask what you like and dislike about the product.
To record your video from your phone, simply press the record button at the bottom of the instructions whenever you are ready.
If you are using the website, click on "upload video".

They will tell you the minimum length that your video should be, but most of them range from 2 to 5 minutes.
Many people report technical issues while trying to upload videos.
If you are struggling to upload videos from the app or website, another option is to upload Youtube videos. Check the FAQ for instructions.
In addition, you may also have to answer some questions about your shopping experience.
Once you finish, wait for your project to be checked and approved.
Payment
---
There is no minimum amount required to redeem your rewards.
After Product Tube approves your project, you will receive an Amazon gift card within 2 business days.
How Much Money Can You Make?
---
Most projects pay anywhere from $5 to $25, depending on their length and complexity.
Some projects pay $50 or even $70, but those are rare to find and the competition is usually very high.
One member said she earned $55 after completing 2 projects within her first week.
Another person claimed that he made $885 since he was installed the app in 2017.

That's very encouraging to hear!
The problem with Project Tube and other similar apps is that most opportunities are concentrated in big cities.
So, depending on where you live, you may earn very little or nothing at all!
Conclusion
---
Product Tube is a legitimate platform, but there are mixed feelings about it on the internet.
Some people get paid without any issues while others struggle to make money!
So, you can give it a try and see if it works for you.
In the beginning, give preference to projects that be done at home or at least from a short walking distance.
You don't want to waste a lot of time and money on gas only to get rejected in the end!
Also, if you have any issues trying to upload your video, contact the company and let them know
They will probably try to solve your problem!

Verdict: Legit
How to Earn $1,300+ Per Month
---
Lots of people all over the world are living off of building profitable affiliate sites. 
It's a proven business model that anyone can use to generate a substantial income from home
Affiliate sites are capable of providing significant freedom for those who provide helpful content regularly.
But that's not enough. You need to know how to apply effective strategies to attract visitors ready to buy what you are promoting.
This excellent program helped me build an internet business from the ground up and reach $1,300 per month. 
It does require a lot of time and effort to build a lucrative site, but it's attainable.
As long as you work consistently and patiently, you're going to make it happen!
My advice? Watch the first 10 free lessons and start today!
Final Words
---
Thanks for taking the time to read my Product Tube review. I hope it was helpful!
If you have any questions or want to share your experience with this platform, feel free to leave us a comment below!
All the best
Stefan