Welcome to my Friendz app review!
Do you like taking photos and sharing with your friends on Facebook or Instagram?
With the Friendz app, you can not only share your creative pictures with the World but also earn credits redeemable for Amazon gift cards.
It seems like a great opportunity to turn your photos into cash, but is it worth the time and effort?
Is Friendz a scam or a legit application?
Check out my honest review to find out!
You may want also want to discover the step-by-step program that helped me reach $1,300 per month from my laptop. No special skills required!
Friendz App Review
---
Name: Friendz
Company: Friendz SA
Website: https://web-app.amazing-friendz.com/
Membership Eligibility: Worldwide
Price: Free to join
LEGITIMATE
Overall Rating: 4/5
What is Friendz? 
---
Friendz is a mobile app that allows you to complete campaigns and earn credits that you can spend on Amazon.
The app works like a social media network as well, where members can follow you and like your content.
Most campaigns involve publishing nice pictures based on specific requirements.

This reward platform is going viral! Cash out via PayPal, Visa, Gift Cards, and in-game currencies - Click here to find out how to generate an extra $10+ per day! 
In addition, you can also take part in campaigns where you will be required to share links, take surveys or do other tasks.
Is Friendz App a Scam?
---
There is nothing suspicious about the way Friendz operates. So, I am confident that it's a legit app!
From what I can see, the company is rewarding users who reach the minimum number of credits required to cash out.
However, it's important to know that they can terminate your account at any time.
It's still unclear whether they can ban you for any or no reason like many apps do.
Pros and Cons
---
Pros
The campaigns are not difficult to get approved.
It's easy to sell your pictures.
There is an active community.
It's available Worldwide.
Cons
Friendz pays very little money for your pictures.
It doesn't process payments via PayPal.
It takes a long time to cash out.
The app consumes a lot of battery.
How Does Friendz App Work?
---
Installation and Registration
Friendz app is available for residents of more than 140 countries.
Currently, the app is only available on Google Play for Android devices.

If you have an iOS device, you will soon be able to run Friendz on the Web app.
Once you install the app, you should create your account via email, Facebook or Instagram.
Then, you will be asked to complete a short profile with some personal information such as age,  gender, city, etc.
Campaigns
When you log in, you will see a list of all the latest campaigns and challenges.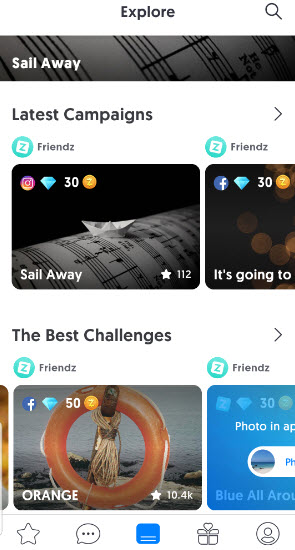 Select the ones you wish to participate in and read the instructions carefully.
Don't forget to tap on "suggestions" and read all the things you have to do as well as all the things you shouldn't do.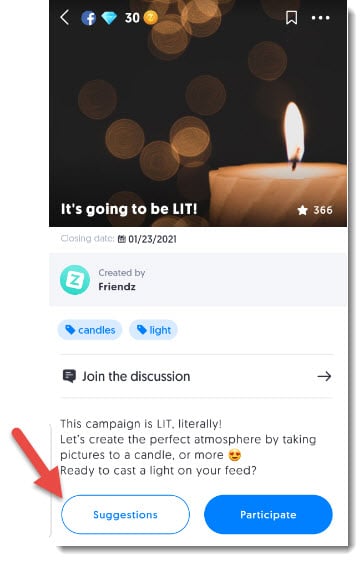 Also, read the general rules that apply to all Friendz' campaigns before participating.
For example, you should not delete pictures or content after you have received the credit.
If your content is approved by moderators, the app will automatically share it on your Facebook or Instagram feed.
Keep in mind that the company will have the right to the economic exploitation of your picture.
Therefore, they can sell it to third parties or use it for advertising purposes.

Once they accept your picture and give you the reward, you won't be able to sell it to other companies or use it on your personal blog.
If your content is rejected, Friendz will explain what was wrong and you will be given a second chance.
The cool thing about Friendz is that depending on your performance, you can become a brand ambassador and work closely with companies.
So, how do campaigns look like?
I participated in a campaign called "Blue All Around", in which I had to submit a creative photo where the color blue was prevalent.
As I didn't have any creative picture in hand, I simply submitted a beautiful picture of a beach in Thailand.
The campaign was accepted after just 2 hours!
As a result, I earned 30 credits.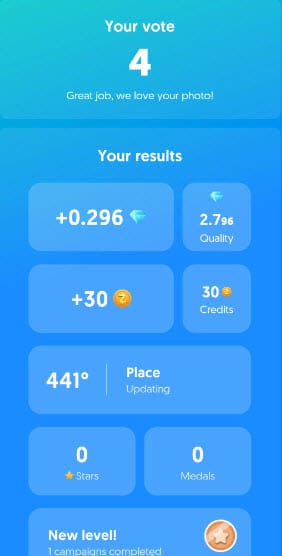 RECOMMENDED: Click here to see my no.1 recommendation for making money online.

Credits vs Rewards
---
Once you accumulate 1500 credits, you can cash out 10 Euros in Amazon e-gift cards.
As most campaigns will give you 30 credits, that means you are making 0.20 Euros per campaign.
Another option is to save 5800 credits and cash out 45 euros.
In that case, the cash reward for each campaign will increase to 0.23 euros.
That's not bad!
However, I think the minimum requirement is too high considering users must complete around 45 – 50 campaigns in order to cash out.
What Do Users Think About The Friendz App?
---
Most users highly recommend Friendz as it's very innovative and fun.
I haven't seen anyone complaining about missing credits or payments, which is remarkable!
Most app developers make it difficult for users to cash out by banning their accounts, which is a disgusting business practice!
Fortunately, the Friendz app seems to be operated by honest individuals!
Conclusion
---
Friendz is a legitimate mobile application that reward user mostly for taking creative pictures.
The company is trusted, so you should expect to exchange your credits for e-gift cards without any issues.
The downside is that Friendz pays only 0.20 Euros (30 credits) for each approved campaign. Besides, it takes a long time to reach cash out!
Another popular app that allows you to sell your photos is Foap.
It's a cool app, but Friendz is much easier to have your pictures approved and receive rewards.
The reason is that unlike Foap, you won't enter a competition for the best photo. You will get credited as long as you submit pictures that meet the requirements.
Verdict: Legit
How to Earn a Full-Time Income From Home
---
Apps like Friendz don't require much effort, but…
Maybe you would like to open up your phone and see commissions that can really change your life!
Here are some commissions that I receive every month as an affiliate.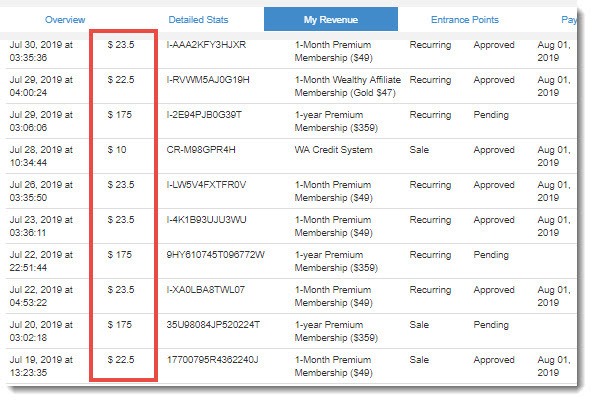 Would you be willing to learn affiliate marketing and build a website capable of generating high commissions?
If so, you should definitely check out my #1 recommendation and follow the simple steps provided. The first 10 lessons are free!
I can assure you that the quality of the program is excellent!
Many members (including me) were able to quit their jobs and work 100% remotely after creating profitable affiliate sites.
You can reach remarkable results too if you dedicate 1 – 3 hours per day to your online business.
Final Words
---
Thanks for taking the time to read my Friendz app review. I hope it was helpful!
So, do you like Friendz? Did you receive your gift card?
Feel free to leave us your honest Friendz review in the comment section below to help other people out!
All the best
Stefan