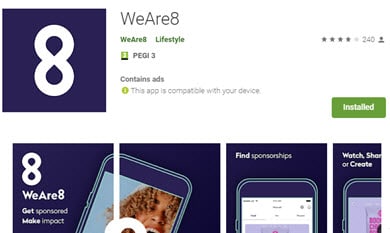 Welcome to my WeAre8 app review!
Thousands of influencers are joining WeAre8 in hopes of making easy money from social media.
The app will connect you with brands and pay you for posting promotional content on Facebook, Instagram, or Twitter.
It seems like an excellent opportunity to get sponsorships and make extra income. But can you really trust WeAre8?
Is WeAre8 legit? How much money can you make?
In this review, I will cover everything you need to know about this app and give you my honest opinion.
You may also want to discover the step-by-step program that helped me reach $2,000 per month from my laptop. No special skills are required!
WeAre8 App Review
---
Name: WeAre8
Company: WeAre8, Inc
Website: www.weare8.com
Membership Eligibility: Worldwide
Price: Free to join
Similar apps: Brandbassador, MNFST, and Influenster
LEGITIMATE
Overall Rating: 3.1/5
What is WeAre8? 
---
WeAre8 is a mobile app that offers a simple way to connect with major brands and get sponsored.
In short, you will get paid to advertise trusted products on your Facebook, Instagram, or Twitter account.
At first, I thought WeAre8 rewarded influencers only for posting ready-made ads.
It turns out they will encourage you to create your own content based on specific requirements.
The job involves taking pictures, recording videos, and writing about products and services.
WeAre8 works on Android and iOS devices and is available Worldwide.
Another important thing about WeAre8 is that 5% of brand investments go to charity, which is honorable.
Who is it For?
---
WeAre8 app is open for anyone over 13 years old who has over 100 followers on social media.
Keep in mind that creating marketing tasks for companies requires some time and effort.
Therefore, WeAre8 is ideal for beginning influencers who don't have many followers.
If you have thousands of followers, you are better off working directly with brands instead of joining a platform like WeAre8.
The reason is that you will make more money without creating content.
Is WeAre8 a Legit App?
---
Yes, it's 100% legit!

However, some people report technical issues and even missing payments.

Many people are unaware that funds will become available only after 30 – 45 days.
One person claimed that the sponsor rejected his post even though they used the advertisement for three days.

If that is true, WeAre8 should monitor these ads and make sure sponsors don't break any rules.
Pros and Cons
---
Pros
A simple way to find sponsorships
It's a decent opportunity for people who don't have many followers.
Some sponsorships don't require you to post on social media.
Receive payments via PayPal.
It's available Worldwide.
WeAre8 supports charities.
Cons
Some sponsorships don't pay very well.
There are not many sponsorships available.
You have to create the content and hope that it gets approved.
After approval, funds will be available only after 30 – 45 days.
Many people complain about technical issues.
You may not have a second chance.
How Does WeAre8 Work?
---
Installation and Registration
You can download the WeAre8 app for free on Google Play or App Store.
To sign up, simply provide your name, email, and phone number.
After clicking "next," the company will send you an SMS with a code.
Insert the code in the space provided and answer a few more profiling questions.
Next, connect your social media accounts (Facebook, Instagram, or Twitter) and wait.
WeAre8 will then review your profile and match you with their brand partners.

How Can You Get Sponsored? 
You can find all the sponsorships available on the "feed" tab.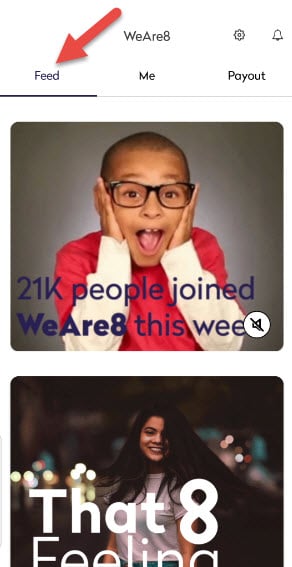 This tab also features community spotlights, product deals, surveys, and more information.
There are three distinct types of sponsorships on the WeAre8 app:
Share: Brands provide you with a piece of content. You have to create the caption and share it with your social media account via the app.
Create: Create your content and submit it to the app for brand use. Usually, you will also have to share your content with your followers on social media.
Watch and respond: Watch a short video for a brand and take a quick survey.
To learn more about the sponsorship tasks, tap on the feed image, and scroll through the brief.

This reward platform is going viral! Cash out via PayPal, Visa, Gift Cards, and in-game currencies - Click here to find out how to generate an extra $10+ per day! 
The brief includes all the information you need to provide your creative content and payment and donation details.
To complete your sponsorship, tap on "accept" and follow all the steps provided in the brief section.

Keep in mind that you will have a deadline to complete your sponsorship.
Once you accept the sponsorship, check out the timer in the "Me" tab and complete all the tasks before the deadline.
Most of the projects pay you anywhere between $3 to $10. 
Offers that only require you to watch a video and answer a few questions pay less than $2.
Sponsorship Example
Sometimes you may have to purchase a product and publish a short video or picture.
In that case, the payout is usually higher than the cost of the product.
However, you may be left with very little money in your pocket, depending on the product's price.
Still, many users appreciate the opportunity to earn a little extra money and a free product.
What If Your Content Gets Declined? 
If the content is not good enough or doesn't meet the requirements, the brand may request changes.
Sometimes, they will also decline your work if they think it's unoriginal or offensive.
In that case, you will have a deadline of 3 – 7 business days to resubmit a new piece of content.
Content Approved. Now What? 
If WeAre8 approves your project, they will use it for marketing campaigns on websites, social media, YouTube, etc.
How Much Money Can You Make?
---
Weare8 should never be considered a primary source of income because the pay is low, and there are few sponsorships.
The amount of money you can make depends on the complexity of the tasks and your ability to provide creative content.
I read some user reviews on the App Store and found people who made over $1,000.
Another person claimed she made $200 within 3 – 4 months.

How Do You Get Paid? 
Once WeAre8 approves your sponsorship, incoming funds will take 30 – 45 days to become available.  
And, you can only request your payment via PayPal.

What Others are Saying About WeAre8
---
There are mixed feelings about the WeAre8 app on the internet.
Many users report technical problems such as connection errors and login issues. 
People also complain about the lack of sponsorships and that it takes 45 days to receive the payment.
One person expressed his frustration for getting rejected with no explanation or second chance.

As I mentioned, the brand can decline your content if they think it's not good enough.
However, they should at least explain the reason for rejection so the person can improve.
Well, there are many positive comments too!
Many users praise the app for offering an excellent opportunity to engage with brands.
Some people also like that it's straightforward to create sponsored posts and make money.

Conclusion
---
WeAre8 app makes it easy for influencers to get sponsored by brands and earn extra money.
Most people think it's worth it even though the pay rate is not very high.
Unfortunately, many people struggle with technical issues.
Users also criticize the app for the lack of sponsorships and the long waiting for payments.
WeAre8 is a decent app, but it's more suited for influencers who have hundreds of followers.
If you have over 1000 followers, I advise you to hunt companies willing to pay for your shoutouts.
You can make much more money by working directly with big brands!
To give you an idea, the average price for a sponsored Instagram post is $300!
Verdict: LEGIT
How to Earn a Full-Time Income From Home
---
WeAre8 is a legitimate app that you can use to make money with social media.
Unfortunately, the amount of money you can earn is dismal!
If you are struggling to grow on social media, I suggest creating helpful content for the internet.

By building affiliate sites, you can earn $1,000 – $10,000+ per month without having to expose your personal life.
In 2015, I created an affiliate site that pays for my living expenses!
The business model involves publishing helpful articles/reviews and promoting other people's products.
It's not complicated, but you can waste time and even money if you listen to the wrong people.
I recommend you follow a reputable training program that will guide you step by step.
Many successful members (including me) quit their jobs and are now enjoying time and location freedom.
My advice? Join for free and start your first ten lessons today!  
Final Words
---
Thanks for taking the time to read my WeAre8 review until the end. I hope it was helpful!
If you have any questions or want to share your experience with this app, feel free to leave us a comment below.
Till next time!