Foap App Review – Turning Photos Into Cash. REALLY?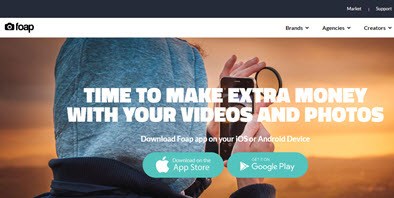 If you love taking pictures from your smartphone or camera, the Foap app can help you turn this hobby into some extra cash.
It's indeed a great opportunity not only for professional photographers but also to anyone without any expertise.
In this review, I am going to explain how Foap works and how much money you can make.
If you want to discover the same method that earns me $1,000+ per month from my laptop, check out my #1 recommendation.
Foap App Review
---
Name: Foap
Website: https://www.foap.com
Overall Rating: 4.4/5
Strategy: Get paid for your photos
LEGITIMATE
[yasr_overall_rating size="medium"]
What is Foap App?
---
Foap is a mobile application that allows you to upload pictures and videos that can be purchased by agencies, brands and individuals.
You can create a portfolio with as many pictures as you want, and if any of them is selected, you will share the price in half with Foap.
In addition to uploading any pictures of your choice, you can also participate in missions for Brands that need a specific type of content.
Pros and Cons
---
Pros
Excellent pay rates and rewards.
Cash out via Paypal.
Selling photos through Foap is a great way to earn passive income.
Cons
It can be hard to sell photos when you are competing with hundreds of professional photographers with top-notch cameras. Nevertheless, I have seen normal and not so profession photos in the "sold" section. So, it's possible for anyone to sell on Foap.
Installation and Registration
---
Foap app is available for iOS and Android devices. Therefore, you can install it from the Google Play or App Store, respectively.
Once you install the app, you can sign up for free using your email or Facebook account
You can use the app to upload pictures and participate in picture missions. However, you can only join video missions through their website www.foap.com.
Getting Started
---
The first thing I recommend you to do is confirm your email (if you sign up using your email) and connect your PayPal account in Settings > Cash out settings.
Then, you should complete your profile by taping "me". I mean, the tab "me"… 🙂

By uploading a profile picture and giving more details about yourself, you will gain more trust among buyers.
Next, you can tap "manage photos", or the "+" button to start uploading pictures to your portfolio.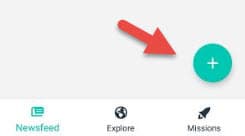 Earning Money With Foap
---
There are 4 ways to make money with Foap:
1. Simply Add Photos to Your Portfolio
Add as many photos as you want and don't forget to caption and tag each one of them appropriately.
Tags are essential as they identify your pictures to buyers when they are doing searches. So, use as many related tags as possible to increase your chances.
If someone or some company wants to buy your photo, you will get 50% of its selling price.
Individual photos for sale at Foap usually costs $10, so you will get $5 per photo, which is not bad at all!
2. Complete Missions
You can increase your chances of selling your photos and earning nice rewards by uploading pictures to missions.
Foap is continually releasing new missions that require amazing photos that meet specific requirements.
Next, I present some types of photos from different missions that are currently available:
Self-employed professional.
Couples and families enjoying moments together.
Packing Christmas presents.
Preparing snacks for Santa.
Winter activities outdoors.
There is a maximum number of photos they will select for each mission. You will get $5 for each photo that costs $10, or $30 for exclusive photos that cost $60.
By the way, they also select the best photo to win a nice prize of $100, $200, $500 or more!
3. Photo Recommendation
Another interesting way of earning money with Foap is by adding photos of other members to your profile.
If a buyer finds the photo through your album, you will get $0.25, which works as a small commission.
4. Uploading Videos
Some missions require a video instead of photos, and as I mentioned, you can only upload through the website.
At the time of writing this review, there was only 1 video mission available. The company wanted a 10-15 min video of you saying how annoying ads are when listening to music.
Community
---
Foap is not only a place to sell your photos. It's also a community where you can follow other photographers and have a look at their work.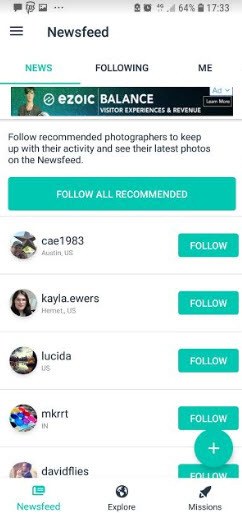 Tap "explore" to browse all the bestselling photographers and their pictures.
Also, you can find all the amazing pictures taken by the winners of each mission in the Winners tab.
How Difficult Is It to Sell Your Photos?
---
This is a difficult question to answer because it depends on many factors including the number of photos you have and your skills.
In my opinion, it's crucial that you put yourself in the shoes of buyers and understand what they really want.
Think of how you can innovate on a particular theme and stand out from the crowd. If you do exactly what others are doing, you will probably not see meaningful results.
It's not easy, but many successful people make good money with Foap or other stock image platforms. So, why not you?
Final Thoughts
---
Foap is not only legit but a great app you can use to sell your photos and earn passive income.
However, you may not earn a consistent and substantial income as competition is pretty high. That's why I recommend using other platforms and even different strategies to make money online.
My No.1 Strategy to Make Money Online
---
In my opinion, affiliate marketing is one of the best ways to create an alternative source of income.
With affiliate marketing, my job is to attract an audience through my website and promote other people's products. You don't handle inventory or customer service!
I have been using this business model for 3 years and made over $20,000 already. But it took me 1 year to start making some great commissions as it's not one of those "get rich quick" schemes.
Therefore, it's important to mention that it takes a lot of time and effort, especially in the beginning.
After creating lots of content though, it's possible to start making passive income that resulted from all your previous work.
I can go on holidays for over 1 month and still make money! How cool is that?
In 2015, I discovered an excellent training program that showed precisely how to build this type of business from scratch and with excellence!
So, if you are interested, I recommend you check out my full review of this program here.
Thanks for visiting my site and checking out my Foap app review. If you have any questions, please let me know in the comment box below.
All the best
Stefan