I was browsing Google Play yesterday when I discovered another reward app called GiftPanda.
There are hundreds of similar apps that allow people to earn cash doing easy tasks from their phones.
However, most of them don't live up to the hype, creating lots of frustration and anger!
For example, Money Cube and App Flame get lots of complaints, mostly because of missing payments.
So, can you trust GiftPanda? Is it a scam or a legit app? Does it pay?
I've put up this review to explain how it works and give you my honest opinion about it.
You may also want to check out the step-by-step program that helped me reach $1,000+ per month working from my laptop (no special skills required).
GiftPanda App Review 
---
Name: Giftpanda
Website: https://www.giftpanda.mobi/
Company: ayeT-Studios GmbH
Type: GPT (get paid to)
Income potential: very low
Price: Free
Membership Eligibility: Worldwide, age 18+
Overall Rating:

2/5
What is Giftpanda?
---
GiftPanda is an Android app that allows you to earn coins (points) by taking surveys, completing offers, trying apps, and inviting friends.
Ten coins have an equivalent value of 0.01 USD and can be redeemed for PayPal, SEPA transfer and gift cards.
GiftPanda was developed by ayeT-Studios, the same company that operates CashPitare.
Both apps are somewhat similar to as AppKarma, App Bounty, FeaturePoints and many others.
GiftPanda used to work for iOS devices in the beginning, but not anymore. If you visit the official website, you can only see the Google Play option.
Is GiftPanda a Scam?
---
I have no proof to call GiftPanda a scam, but there are many negative reviews on Google Play.
And, curiously, a large percentage of those who give positive feedback don't hesitate in asking people to use their referral code.
Too many people complain that they didn't receive points after completing offers.
So, before joining GiftPanda, it's important to be aware that there is no guarantee that you will get credited for your time and effort.
If you are looking for a reliable GPT site that pays, I highly recommend Prizerebel and Offernation.
Both platforms will give you enough tasks to earn $100+ per month.
Pros and Cons
---
Pros
It's available worldwide.
There are many offers in the UK.
Cons
It provides very few offers and surveys in most countries.
Only works on Android devices.
Many complaints involving missing points.
Low pay rates.
No signup bonus.
Some people report technical problems.
How Does GiftPanda App Work?
---
First, you should know that GiftPanda is funded by advertisers and market research companies.
This means whenever you complete a survey or offer, they get paid by these partners, and you earn a tiny slice of the pie.

1 – Installation and registration
The app is available for free on Google Play. After you install it, read and accept the Terms of Service and privacy policy.
Then, you can register with your email, Facebook or Google+ account.
You can only use Gift Panda if you are at least 18 years old. Besides, you are not allowed to use multiple accounts, proxies, VPNs or emulators.
2 – Earn Coins
On the dashboard, you see today's top offer at the top and 3 different categories to earn coins:
Offers, Survey and Invite Friends.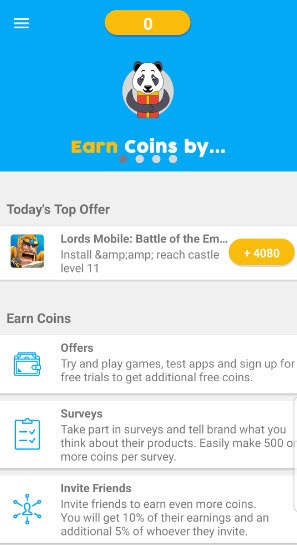 Offers
In the offer section, you will find opportunities to earn coins by playing games, trying apps, and signing up for free trials.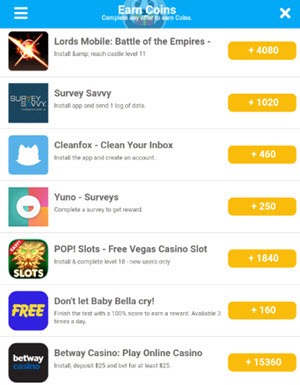 Read the description of the offer in small letters and make sure you meet all the requirements. Otherwise, you won't get credited.
Here are some offers currently available for UK residents:
MobileXpression – Register, install and keep installed for at least 7 days. + 2560 coins
Lords Mobile – Install, and play until you reach level 11. + 4080 coins.
Survey Savvy – Install app and send 1 log of data. + 1020 coins.
Cleanfox – Install and create an account. + 460 coins.
Moolabag – Install, register and reach 50 points. +700 coins.
Cashkarma – install and reach 850 points. +720 coins.
In this offerwall, you can also find surveys through routers such as Speak Up, Yuno, and Your Surveys.
Keep in mind that if you have already installed and registered with the app before, you won't get credited. You must be a new user.

You can check the reward status of your completed offer, which can be "Rewarded", "Pending" or "Rejected".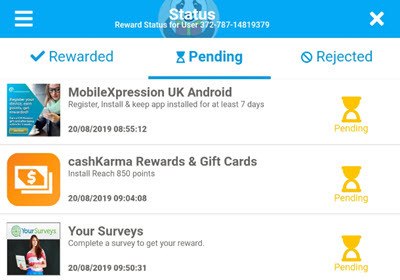 The offer will remain as pending until the Giftpanda receives a confirmation that you have fully completed it.
Wait for a few days, and if you don't get the points, you should contact the support team at [email protected].
WARNING: I highly advise avoiding offers that require a deposit. The reason is that you may not receive the coins for completing any offer, so you can actually lose money.

This reward platform is going viral! Cash out via PayPal, Visa, Gift Cards, and in-game currencies - Click here to find out how to generate an extra $10+ per day! 
Surveys
In the survey section, you can take part in marketing research studies and get paid for your opinion.
GiftPanda will connect you with Pollfish, a legit and highly reputable marketing research company.

To get access to their survey list, you must answer a few profiling questions.
You will also have to complete a pre-qualification questionnaire before each survey so they can make sure you are the ideal candidate.
If you don't qualify, you will be invited to take another survey, but you won't get paid.
Unfortunately, there was an error, and I couldn't access Pollfish to have a look at their surveys.
However, it's safe to assume that you will earn, on average, $1 per survey. Sometimes more, sometimes less depending on the survey length.
Invite Friends
You can also invite your friends to join Giftpanda and earn commissions.
All you have to do is share your referral link or invite code with people on social media such as Facebook, Tweeter, and WhatsApp.
You will get 10% of all the coins that your friends earn, plus 5% of all the coins that their referrals earn.
To convince people to join GiftPanda through your link, you may tell them they will get 500 bonus coins when they reach the first 1000 coins.
3 – Cash Out
The payment type and the minimum payout threshold will depend on your country.
If you live in the US, there are many redemption options such as Paypal, Visa Prepaid, Amazon and other gift cards.
In the UK, Germany, France, Spain or Italy, there are four options: Paypal, Visa Prepaid card, Amazon Gift Card and Mobile charge.
If you live in a different country (global), you can redeem coins for PayPal and mobile charge.
The minimum payout requirement in all countries is $5 (5000 coins) via PayPal.
How Much Money Can You Make With GiftPanda?
---
It's very difficult to estimate how much money you can earn with GiftPanda or any other similar app.
One thing is for sure, though. You will earn less than the minimum wage and waste a ridiculous amount of time trying to qualify for surveys.
The truth is that most people get discouraged and try to find opportunities that pay more.
Affiliate marketing is actually one of the few methods that allow people to earn a full-time income from home. 
User Reviews – Complaints
---
Despite being rated 4+ stars, GiftPanda has disappointed many people as you can see in the review section of Google Play.
People are angry because they spent a lot of time completing offers without anything to show for it.
This person said he played an app for an entire week and didn't get any points.


There are many 5-star reviews, but those can be purchased from sites like Mopeak.com, ReviewRolster or Reviewapp4U.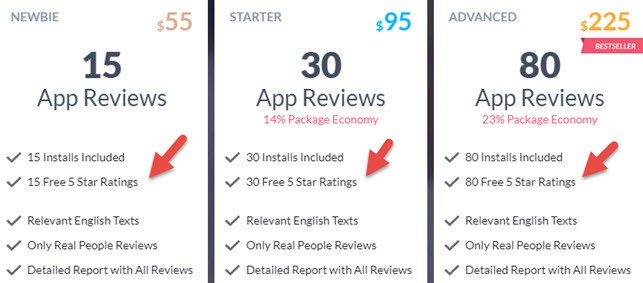 Conclusion
---
There is nothing more frustrating than wasting time with apps that don't pay!
Unfortunately, many people report missing points after completing surveys and offers with GiftPanda.
I don't use apps to make money, but if I had to pick one, GiftPanda would be at the bottom of the list.
It's tough to find GPT apps that you can really trust!
The reality is that app developers are making a lot of money at the expense of people's desperation to make money.
At the same time, they have no responsibility for your earnings.
Verdict: Not Recommended
My #1 Strategy to Make Money Online
---
In 2015, I promised myself that I would work hard to build an internet business and make money on my own terms.
I was sick and tired of working in a soul-crushing environment only to pay my bills.
Earning the minimum wage and sharing a house with 7 other housemates in London wasn't fun at all.
I had to put an end to this situation asap!
Luckily, I found a step by step program that gave me a proven roadmap to succeeding as an internet marketer.
They helped me create a website, rank on the first page of google and earn affiliate commissions.
Since then, I've made over $25,000 working part-time on my website, which would probably take me 50 years as a survey-taker.
This strategy has stood the test of time and has helped content creators to work remotely and enjoy a life out of the 9-5 routine.
It's great, but I have to be upfront with you. It does take time and determination to grow like any other business.
If you are prepared to make a change, check out my #1 recommendation and get started today!
Final Works 
Thanks for taking the time to read my GiftPanda app review. I hope it was helpful!
I'd be glad to hear your honest opinion about Giftpanda. Did you get paid?
Let us know in the comment section below.

I wish you all the best!
Your friend,
Stefan