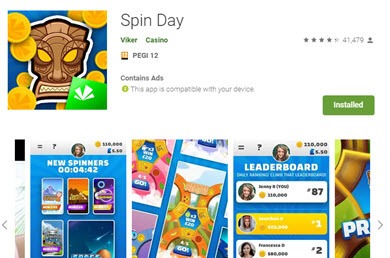 Welcome to my Spin Day App review!
Who doesn't like free cash?
Everybody, right?
That's why over half a million people have already downloaded the Spin Day app in hopes to earn easy money from their phones.
In the last year or so, lots of sweepstakes applications have flooded the App Store and Google Play.
For sure, it's a new and highly profitable market for advertisers!
From first glance, these apps seem legit and harmless because they are entirely free.
However, I can tell you from experience that most of them don't pay and, therefore, are a complete waste of time for those who wish to make money.
In this review, I am going to uncover everything you need to know about Spin Day and give you my honest opinion about it. Is it legit? Does it pay?
You may also want to check out the step-by-step program that helped me reach $1,000+ per month working from my laptop (no special skills required). 
Spin Day App Review 
---
Name: Spin Day
Website: https://viker.co.uk/
Company: Viker Limited.
Price: 100% free
Type: Entertainment with no financial risk
Membership Eligibility: Worldwide (+17)
LEGIT
Overall Rating: 1.5/5
What is Spin Day?
---
Spin Day is a free slot game that allows players to win real cash rewards by spinning.
The app was developed by Viker Limited, a UK-based company that runs many other sweepstakes games such as Scratch Day, Scratch Royale and Scratch Royale.
You will get new spinners 3 times a day for a chance to win prizes ranging from £5 to £60 as well as tokens.
It's a simple game! Just Tap "Go!" and if you match 3 symbols, you will win cash or tokens.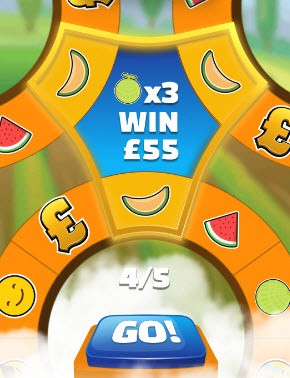 It's possible to earn more tokens by completing simple tasks and inviting friends to join through your invite code.
When you reach 5,000,000 token, you can redeem for £5/$5/€5 via PayPal.
Be aware that you can only use Spin Day if you are 17 or older.
If you are younger, you need to show the App's terms and conditions and privacy policy to your parents or guardians and ask for their consent.
Pros and Cons
---
Pros
Redeem via PayPal.
Available for both Android and iOS devices.
There are not many ads compared to other apps.
Some people enjoy the game.
Cons
Your chances of winning a decent prize are pretty slim.
It takes "ages" to reach the minimum cashout requirement.
Some players complain about missing rewards.
You may not get paid after playing the game for months.
Some people experience technical issues, and if you uninstall the app, you will lose all your cash and tokens.
The app consumes lots of internet data.
How Does Spin Day Work?
---
Spin Day is a game entirely funded by advertising, meaning you will have to watch lots of sponsored clips.
That's how Viker can operate a free game and reward players like you.

Installation and registration
You can download and install Spin Day on the App Store or Google Play. It's free, and there are no in-app purchases.
After the installation, you have the choice to accept or reject targeted advertising.
If you choose to accept, the company will use your data to show you personalised ads.
You can learn more about personal data collection and usage by reading the app's Privacy Policy.
Next, you must select your currency and register using your email address or Facebook account.
The Game
Spin Day will give you more than 10 new spinners 3 times a day.
After playing the first game, a countdown to the next update will be displayed at the top of your screen.
Each spinner will give you 5 chances of winning prizes that range from £5 to £60 or more.
To win the prize, you must tap "GO!" and match 3 winning symbols that will appear on each rotating reel.
If you don't match 3 winning symbols, you can still earn tokens by matching any other symbol.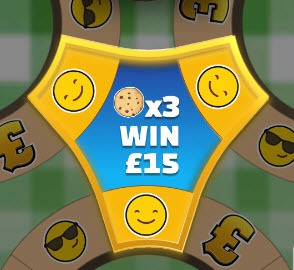 In that case, you will get anywhere from 200 to 1,500 tokens.
After you play 3 or 4 times, the app will display a video that lasts for a few seconds.

RECOMMENDED: Click here to see my no.1 recommendation for making money online.
Other Ways to Earn Tokens
Spin Day allows you to earn more tokens for your achievements and for completing different tasks.
The complete list is huge, so here are just a few examples:
Rate Spin Day – 10,000 tokens.
Invite a friend – get him/her to use your invite code – 100,000 tokens.
Like on Facebook, and Tweeter – 10,000 tokens.
Follow on Instagram – 10,000 tokens.
Download and Play Scratch Day – 50,000 tokens.
First spin – 1,000 Tokens
Complete a whole set of Spinners – 1,000 tokens.
Spin two days in a row – 1,000 tokens.
And more!
Cash Out
There are two requirements to cash out.

This reward platform is going viral! Cash out via PayPal, Visa, Gift Cards, and in-game currencies - Click here to find out how to generate an extra $10+ per day! 
You must either accumulate $10/£10/€10 in your cash balance or 5,000,000 tokens that can be redeemed for $5/£5/€5.
Both targets can only be achieved after months of gameplay, so many people will eventually give up before meeting the requirements.

Once you request the payment, expect to receive the money within 3 – 7 days in your PayPal account.
What Are Your Chances of Winning?
---
Every player wants to know their chances of winning a sweepstake prize.
After all, they are spending a significant amount of time in front of their phones.
Unfortunately, it's impossible to know the probability of winning the jackpot on Spin Day or any other slot machine.
I had a look at the Terms and Conditions and didn't find any information about how they select winners.
Are they selected by a random number generator?
We don't know!
What I can tell you is that matching 3 winning symbols is extremely difficult.
Winners Gallery
---
Spin Day has a gallery with some winner's names, pictures and prizes.
From my mobile, I can see that all of them have won less than £20, which is weird considering many spinners also offer £25, £40 up to £60 prizes.
Besides, Spin Day doesn't show us the winning dates, which would help us determine how frequently people hit the jackpot.
How Much Money Can You Earn With Spin Day?
---
At this point, you already know that you have to be VERY lucky to win the jackpot.
So, let's forget about it and focus on your tokens!
Most of the time, you will collect tokens that are worth fractions of a cent.
Sadly, you need 5,000,000 tokens to redeem for £5 or $5.
Now, let's assume that you will get on average 1000 tokens per spin. I'm overestimating!
In that case, you would have to play 5,000 spinners to reach the minimum payout threshold.
Divide 5,000 by 33 (spinners/day), and you will get the number of days you need to play this game to cash out £5.
As a rough estimate, you should play for 151 days or 5 months.
Tired of making pennies online? Learn how to grow passive income sites here. No tech skills required!  

No Guarantees! 
According to the terms and conditions:
"Viker does not guarantee and does not promise that the app and all app materials and information provided through it will live up to your expectations."
In other words, there is no guarantee that you will make money with Spin Day app.
User Reviews – Complaints
---
Despite the 4.2 out of 5 ratings, a large percentage of people who took the time to write a review didn't like Spin Day.
On Google Play, I see many people having to uninstall the app due to technical issues.
The problem is that once you uninstall the app, all your cash balance and tokens will be lost.
Can you imagine losing all your points after spinning thousands of times?
Besides, lots of people complain about how difficult it is to reach 5 million tokens or $10 to cash out.
This person reported making $0.50 after playing for 3 weeks.

Another person said that after playing for 2 months, he stopped winning prizes and tokens.
During this period, he just made £5.35 and 1.6m tokens.

It seems that most money games apps gradually reduce earnings as people approach the minimum payout.

One viral game that doesn't seem to pay anyone is the Happy Phishing.
After reading more than 50 reviews on Google Play, I found only one person who cashed out.
BUT…
How can we be sure if this is a real review?
Conclusion – Is Spin Day a Scam or a Legit App?
---
Spin Day appears to be legit, but it probably takes more than 5 months to cash out.
Winning the jackpot is only for the luckiest.
So, if that's not you, you will rely mostly on tokens to reach the minimum payout threshold.
The problem is that you will need 5 M tokens to redeem a paltry £5!

Not only that, but you may never get this money due to technical issues or something that you can't control.
The reality is that most people will get discouraged when they realise how difficult it is to squeeze real money out of this app.
That being said, I don't recommend Spin Day for those who are serious about making money online.
Verdict: Legit – Not Recommended
My #1 Strategy to Make Money Online
---
Back in 2015, I used to complete surveys and other time-consuming tasks for less than the minimum wage.
Luckily, after reading a blog post, I discovered a much better way to make money online, which is called affiliate marketing.
Thanks to this program, I learned ropes and started building my affiliate site from scratch.
I was so motivated to succeed that I dedicated many hours per day before and after my job.
All the hard work paid off, and I've recently quit my job!
After following this training, many people around the world were able to earn a full-time income from home.
You can achieve remarkable results too is you take consistent action towards your goals.
The good news is, you can start today for free!
Final Words
Thanks for taking the time to read my Spin Day app review! I hope you find it helpful! 😉
If you have questions, or you want to share your experience using this app, let me know in the comment section below.
I wish you all the best.
Your friend,
Stefan