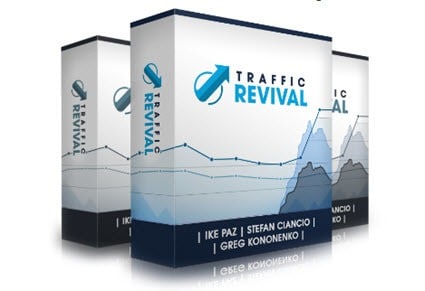 In this Traffic Revival review, I am going to show you what is behind this $10.14 course for sale on JVZoo and give you my honest opinion about it.
Is Traffic Revival a scam or can it really help you get free traffic and passive commissions?
Let's find out!
By the way, if you want to become better prepared to build your $1,000+/mo internet business, check out my #1 recommendation. (the first 10 lessons are free!)
Traffic Revival Review
---
Name: Traffic Revival
Website: trafficrevival.com
Price: $10.14 (Frontend) + Upsells
Strategy: Affiliate marketing
Authors: Stefan Ciancio, Ike Paz, and Greg Kononenko
LEGITIMATE
Overall Rating:

3.4/5
The Sales Page
---
Traffic Revival has been promoted as a case study that will reveal secret traffic sources able to generate $5,000+ per month in affiliate commissions.  

The creators claim that you can work just 20-30 minutes per day and set up as many free visitors as you want!
They also claim that it requires little to no maintenance after initial set up.
There is no need to create your own product or pay for advertising. It's all about attracting free visitors to your site and promoting other people's products.
I have to say that the creators will teach you strategies that work. Yes, they are legit!
However, if you work only 30 minutes per day and abandon your website after a few months, you will certainly FAIL.


They are subtly giving you the idea that building an internet business doesn't require a lot of work IF you use their "secret" methods.
Well, unless you create something magnificent that will be shared by millions around the world, you will probably have to create content for years to reach $1,000/mo.
What is Traffic Revival?
---
Traffic Revival is a 5-module course that will show you a few different strategies to get free traffic (visitors) to your internet business and generate affiliate commissions.
These are traditional long-term strategies. So, you should not expect quick results as competition is fierce and you need to build trust.
Pros and Cons
---
Pros
It's a well-structured course that will help you build the foundation for your internet business.
It's very affordable.
Learn free traffic strategies that have been working for years.
Cons
The course is not in-depth. You will certainly need more information.
There is no community to interact with other internet marketers and ask for help.
The sales page gives people unrealistic expectations. It's highly unlikely that you will get meaningful results working just 20-30 minutes per day.
How Does it Work?
---
The course focuses on the following 3 ways to get free traffic (visitors) to your business:
Blogging
Youtube videos
Pinterest
You will make money by promoting other people's products as an affiliate.
That means when visitors click through your link and purchase the product, the merchant will pay you a commission.

The Training
---
The course consists of 5 modules, which I will explain briefly below.
Module 1 (3 videos) – Overview and basics
In this module, Ike is going to show you how much traffic and money he is making with using the same strategy.
Also, he is going to teach the right mindset to succeed and explain the basics of choosing a niche market.
Module 2 (5 videos) – Your Site to Catch Traffic and Leads
In this module, you will learn how to set up a WordPress site, install an autoresponder, squeeze pages, lead magnets, and push notifications.
Module 3 (2 videos) – Post Traffic
 Learn how to perform keyword research and how to structure your posts to make sure it's optimized for high rankings.
Module 4 (3 videos) – Image Traffic
This module is all about getting traffic through Pinterest. You will learn about pins, Pinterest SEO, group boards, and other essential tips to grow your Pinterest account.
Module 5 (3 videos) – Video Traffic
Learn how to set up your Youtube account, create your videos, and grow your channel.
My Honest Opinion About Traffic Revival
---
Traffic Revival is a legitimate product for those who want to make passive income with a website and a Youtube channel.
However, there is absolutely no secret about the strategies you will learn. People have been blogging, creating videos and earning affiliate commissions for 15+ years!
The course is well structured and, in my opinion, it's worth the price tag of $10.

It's very affordable! Just bear in mind that you will also have to get hosting, domain name and autoresponder for your site.
A domain name is just under $15 per year, but a quality hosting costs more than $15/mo, and an autoresponder costs $19/mo.
I don't like the sales page because it doesn't mention what exactly you will learn.
Another reason I dislike the sale page is that they make it seem easy and fast! 

NO. It's very hard!

This reward platform is going viral! Cash out via PayPal, Visa, Gift Cards, and in-game currencies - Click here to find out how to generate an extra $10+ per day! 
Not in a sense that is complicated, but because you will have to grind for months without any traffic and have faith that it will eventually get traction.
I don't want to discourage you, but if you dream about earning a job replacing income as an online entrepreneur, you will have to jump in with realistic expectations.

Is There a Better Choice?
---
If you are prepared to invest a bit more in your knowledge and business, I encourage you to check out Wealthy Affiliate.
This program has been around for 12 years and has all the knowledge you need to start and grow a successful internet business.
There are live classes every week, support from a community of thousands of members (live chat, forums, etc.), web hosting, keyword research tool, and much more!
Wealthy Affiliate is the platform that I used to grow my internet business, which is now generating over $1,000 per month. I am still a member after 3 years, and it gets better and better!
The first 10 lessons are completely free, no credit card is required.
Check Out My Full Wealthy Affiliate Review HERE
Thanks for checking out my Traffic Revival review. If you have any questions, let me know in the comment section below.
Stay safe and peace out!