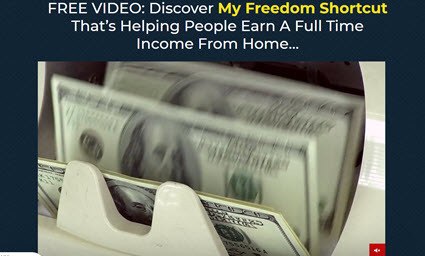 Before asking you to open your wallet, the owners of The Freedom Shortcut want to convince you that shortcuts are essential in every aspect of our lives.
Why? Well, because they want to sell you the idea that some people are using shortcuts to make a fortune on the internet.
In doing so, they attract more customers as most people want the result without the hard work that is always required.
But what if The Freedom Shortcut is different? What if there is really a shortcut to making $1000s/mo online?
In this review, I am going to show you the system behind The Freedom Shortcut and give you my honest opinion about it. Is it a scam or legit?
Let's find out!
By the way, if you want to become better prepared to build your $1,000+/mo internet business, check out my #1 recommendation. (the first 10 lessons are free!)
The Freedom Shortcut
---
Name: The Freedom Shortcut
Website: http://thefreedomshortcut.com
Price: $49 ~ $1,000+
Strategy: Internet marketing
Overall Rating:

1.3/5
The Hype
---
The sale page of The Freedom Shortcut is all about presenting you the fairy tale of achieving financial freedom quickly and easily.
Jordan, the narrator of the video, tells you a story of when he met Jeff at a coffee shop and discovered the different method he was using to earn a fortune online.
According to him, the method is real shortcut that doesn't require much time, money, or technical skills.
To make the story short, they are using every possible tactic to make you open your wallet and pay $49 without showing you the business model behind.
You must trust their word and pay the price.
What is The Freedom Shortcut?
---
The Freedom Shortcut is a program that offers step by step training, support, and marketing tools designed to help you make money online.
There are thousands of products on the internet that claim to be game-changing, but everything that you will learn inside the course is no secret.
I have seen it all during the past 3 years, and I can guarantee you there are no shortcuts.
Saying that Mark Zuckerberg and Steve Jobs took shortcuts to build their empires is an offense. Seriously!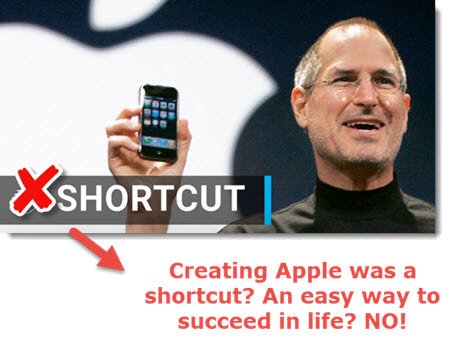 How Does it Work?
---
The business is like the one offered by MOBE (My Online Business Education) and Digital Altitude, both of which were shut down by the FTC earlier this year.
They will sell you a $49 product that includes the following:
6 Steps To Freedom.
Access To 1-on-1 Business coach.
Access To Private Community.
Premium Support.
BONUS: New Money Playbook.
The problem is that as you progress through the training, your coach will entice you to purchase more expensive levels that amount to thousands of dollars.
You may think that you will get 100x more value if you invest that much, but that is not the case.

The high price is charged so that the affiliate who referred you earn a big fat commission.
In return, you will be able to promote the same tier and earn high ticket commissions too.
So, you are primarily dealing with an overpriced program that will entice you to promote the same thing to other people.
Usually, these programs recommend you invest in paid traffic because it means free advertising for the owners.
Yup! You take all the risk!
Let's Talk About Results!
---
There are a couple of testimonials on the promotional video.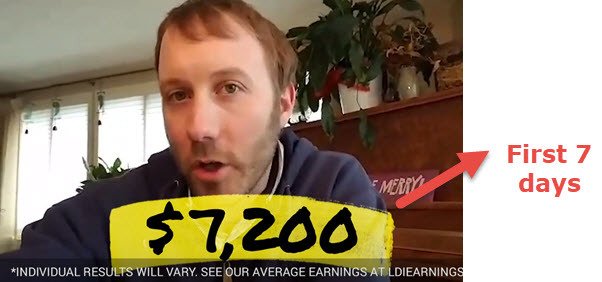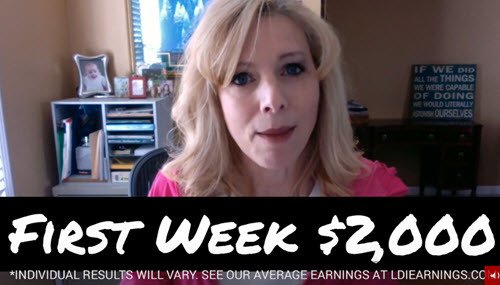 All these people are claiming to have made thousands of dollars in the first few days or weeks.
At the bottom of the video, there is a disclaimer that says individual results vary and that you can check average results at ldiearning.com.
I visited the page and discovered that those results should be considered exceptional, and therefore, not applicable to the average person.
In their own words:
Expect that you will not achieve exceptional results. You may not even recoup the amount spent on our products and services. Your results depend on various factors, including your business experience, effort, dedication, resources, and individual capacity as well as demand for what you sell in your primary business. 

Approximately 3.1% of our students are LDI affiliates and receive revenue from promoting LDI's products. For the month of July, 2018 the average affiliate received $288.42. 
Also, if you scroll down to the bottom of the sales page, you will discover that all the results stated in the promotional video are personal results.  

Besides, the author confesses that he has the advantage of having 10+ years of experience.

If shortcuts take 10+ years of experience, do I really know the meaning of this word?
In other words, the owner is giving you unrealistic expectations about his system and hiding the truth in areas of the site that are usually ignored by the visitor.
Conclusion
---
I don't recommend The Freedom Shortcut to anyone who wants to learn about internet marketing and build an online business.

This reward platform is going viral! Cash out via PayPal, Visa, Gift Cards, and in-game currencies - Click here to find out how to generate an extra $10+ per day! 
It's not a scam, but in my opinion, the business opportunity is not designed in your best interest. Its misleading sales page is a good indication of what lies ahead.
They make it seem so easy, but it's not!

It takes time and hard work, so you don't want to invest a lot of money into overpriced memberships just to earn high ticket commissions.
When people realize how difficult it is to get traffic and sales, most of them quit. That's the reality, folks.
So, the less you invest in the beginning, the less pressure you will face during the time your business is growing.
Verdict: Not Recommended
My #1 Strategy To Make Money Online
---
In 2015 I discovered it was possible to replace my income by working 100% online.
I was doing my master's degree at that time, so I decided to quit and pursue my dream!
My dream was not to buy a Lamborghini or a $3,000,000 mansion. My dream was to have the freedom to set my own hours and decide to go on vacation whenever I wanted!
Although I haven't quit my job yet, I am now making over $1,000/mo online. That was definitely not an easy ride, but I am glad I started 3 years ago.
With this extra income, I could afford to travel with my parents for the entire month of August to Italy, France, Slovenia, and Germany.
Even though I didn't work a single day during my trip, commissions kept coming day after day. This is true passive income!
If you want to learn step by step how to create a website, attract visitors and earn passive income, check out my #1 recommendation.
It's the same training program that I joined 3 years ago to build my site from scratch.
This is a great course that will not promise shortcuts, but a realistic and effective method to build a long-lasting online business.
Click Here and Check Out My #1 Recommendation Review
I hope you find this Freedom Shortcut review helpful. If you have any questions, just ask in the comment section below.
Peace!