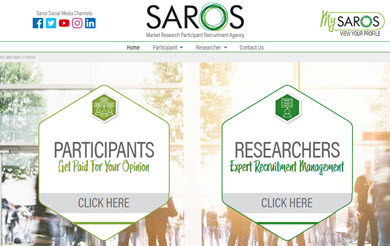 Welcome to my Saros Research review!
If you live in the UK, you may have found the opportunity to join Saros Research and earn £30 – £50 per group discussion.
Depending on the length of the study, users can earn over £100, which is such an amazing opportunity!
As a member, you may also be invited to complete simple questionnaires and participate in usability testing.
Saros Research is not a very popular place for survey takers, so there are not many reviews on the internet.
My mission with this post is to explain how Saros Research works and give you my honest opinion about it.
While you are still here, don't forget to check out my top recommendation, which is the same program that helped me reach $1,600/mo from my laptop. No special skills required!
Saros Research Review
---
Name: Saros Research
Website: https://www.sarosresearch.com/
Company: Saros Research Ltd.
Membership Eligibility: UK residents
Price: Free to join
Similar sites: Hiving, Pureprofile, Branded Surveys
Overall Rating: 4.2/5
What is Saros Research?
---
Saros Research is a marketing research company and user testing company based in the UK.
As a member, you participate in group discussions (focus groups) and one-on-one interviews where you can share your opinion about products and services.
In some studies, manufactures may send you a product sample so you can test and review it.
In return for your time and insights, you will get paid via PayPal or BACS within a few days after your participation.
How Can You Join Saros Research?
---
It's simple! You can register for free by filling up a quick questionnaire.
You must provide some basic details about yourself such as your full name, address, date of birth, nationality and phone number.
Also, you have to select the place where you'd be able to attend the market research.
How Often Can You Participate?
---
Different than other marketing research agencies, you can't be involved in more than 2 group discussions per year.
Besides, you will never be invited to participate in a study on the same subject to one you have done before.
This restriction is to ensure the company gets responses that are representative of the general public.
Researchers know for a fact that participants who don't take as many surveys are able to provide fresher opinions than those who do.
Therefore, they can add more value to the research.

Types of Studies
---
Most studies involve qualitative research and user testing (user experience research). 
In qualitative research, the company will answer very specific questions to a small sample of the population.
The aim is to understand why people behave in certain ways and how they make purchase decisions.
As for User Testing, the Saros wants you to test and provide feedback on a piece of equipment or software.
For example, you may be asked to visit a website and simulate an online purchase.
You may also be invited to takes shorter online surveys, but they are not common.
How Much Money Can You Make?
---
Because Saros Research is focused on high-quality and in-depth marketing research, they offer a generous hourly pay.
According to the FAQ, the typical consumer group discussion pays £40 and lasts for 90 minutes.
However, there are lengthier studies that pay over £100.
The problem is that it can be very hard to qualify as researchers will be looking for a specific group of the public.
Pros and Cons
---
Pros
Excellent rates of pay.
Get paid via PayPal or BACS after
There is no minimum payout threshold.
Quick sign up.
Cons
You can't take part in more than 2 marketing studies per year.
It can be hard to qualify for a study.
Conclusion
---
Saros Research is an excellent opportunity to participate in focus groups and earn good money for your opinions.

The downside is that it's very hard to qualify.
Not only that but you won't be allowed to participate in more than 2 discussions per year.
Therefore, you should not rely on Saros Research to make a consistent income from home.
Excellent Alternatives to Saros Research
---
There are other similar sites that don't restrict the number of opportunities such as Respondent.io, and Engage in Depth. Some of their projects pay over $200!
If you want to take part in usability testing, some popular options are Validately, User Testing, TryMyUI, and UserFeel.

This reward platform is going viral! Cash out via PayPal, Visa, Gift Cards, and in-game currencies - Click here to find out how to generate an extra $10+ per day! 
All of these sites offer excellent pay rates, but you may struggle to find consistent work.
Therefore, I highly recommend signing up with as many sites as possible.

In the meantime, you could also complete multiple-choice surveys at reliable GPT sites like Prizerebel or Offernation.
Both of them can help you earn an extra £100 per month by taking surveys and completing offers.
How to Earn a Full-Time Income From Home
---
By now, you already know that Saros Research doesn't provide a regular source of income.
If you dream about working from home and quitting your day job, I have good news for you!
Lots of people, including me, have built profitable affiliate sites that generate over £1,000 per month. 
As an affiliate, your main job is to provide helpful content and promote other people's products in exchange for commissions.
The cools thing about it is that you can grow your affiliate site in your spare time and at your own pace.
It takes time and hard work, but there are lots of affiliates who have reached over $10,000 per month within 3 years of hard work.
If you want to build your own income-generating website, I advise learning from successful entrepreneurs.
This excellent step by step program will give you the training, support, and tools you need to grow a profitable online business.
You can join today and start your first 10 lessons for free!
Final Words
---
Thanks for visiting my blog reading my Saros Research review. I hope it was helpful!
If you have any questions, feel free to ask in the comment section below.
All the best
Stefan