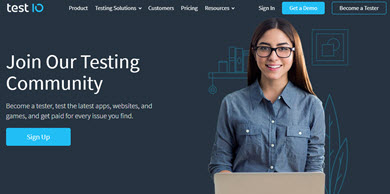 Welcome to my Test IO review!
You may have found a website called Test IO and the opportunity to earn an extra income from home.
Many people are doing the same due to the current health and economic crisis.
Test IO claims you can earn up to $50 for every bug that you identify on websites and mobile applications.
Although you will be responsible for testing, you don't need to have any technical skills or previous experience to join.
Test IO has been used by major brands like Soundcloud, BuzzFeed, EatStreet, and LonelyPlanet. So, it's a very reputable company!
However, you are probably wondering if Test IO is really worth your time and effort. Does it pay or not?
In this review, I am going to cover everything you need to know about Test IO and give you my honest opinion about it.
IMPORTANT: If you want to work remotely and earn a full-time income online, check out my #1 recommendation. This is the same program that helped me reach $1,600 per month and quit my job in 2019. 
Test IO Review
---
Name: Test IO
Website: test.io
Company: test IO GmbH
Membership Availability: Worldwide
LEGITIMATE
Overall Rating:

1.5

/5
What is Test IO?
---
Test IO is a leading crowdtesting platform where you can get paid for testing websites and apps.
I said "can" because as you will see, there is no guarantee!
Companies "hire" QA (Quality Assurance) testers to make sure their software is bug-free and ready for launch.
As a tester, your main job is to identify functional, visual, usability and content issues.
You can also get paid to review the latest apps and complete scripted tests.
Who is Test IO For?
---
Anyone over 18 years of age can join Test IO and become a tester.
You don't need to have any previous experience or professional qualifications to become a tester.
The only requirement is that you go through a short quiz and at least one internal training test.
Before I explain how Test.IO works, let's have a look at the pros of cons.
Pros and Cons
---
Pros
Work whenever and wherever you want.
Cons
Lots of work in exchange for little pay.
You won't get paid if there is no Bug. So, you can work for many hours for free!
At Glassdoor.com, only 88% of freelancers don't recommend Test IO.
Many testers complain that Test IO rejects bugs without a reason.

How to Become a Tester?
---
Create your account
The first step is to create a free account.
Simply visit the official site (test.io), click on "become a member" and then "Sign up".
Then, complete the short questionnaire and follow the instructions to set up your password.
Before you can start testing as a full member of Test IO, you have to create a free account go through the Onboarding workshop.
This workshop consists of a multiple-choice quiz and a practice test.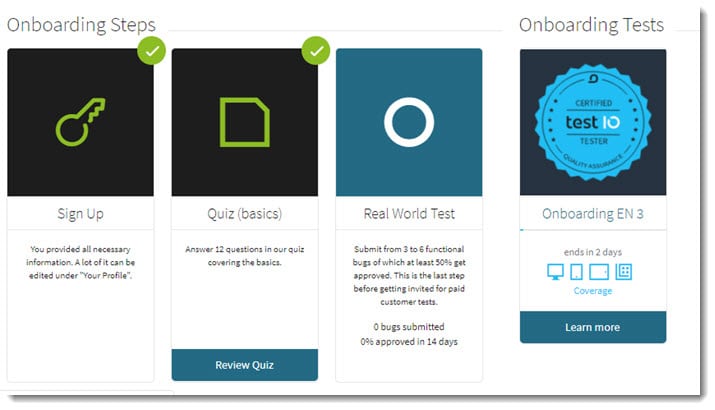 The quiz
Once you create your account, the Test IO team will give you proper guidance on how to report bugs and prepare you for your first test.
You must answer a 12-question Quiz and get at least 8 right.
The practice test
This is the last step before getting invited to paid customer tests.
In the practice test, you will learn how to properly document functional bugs according to specific standards.
There are many guides that you are advised to read in order to pass the test.
You must submit 3 to 6 functional bugs of which at least 50% get approved.

Your reports will be checked by an experienced Team Leader, who will let you improve your bugs.
How Much Money Can You Make?
---
Unfortunately, it's impossible to answer this question because Test IO pays by bug.
You can earn anywhere from $5 to $50 per bug depending on how it is.
So, as you can see…
Regardless of the amount of time you work, you won't make any money if there is no bug.
This is definitely not a win-win situation!

This reward platform is going viral! Cash out via PayPal, Visa, Gift Cards, and in-game currencies - Click here to find out how to generate an extra $10+ per day! 
In my opinion, it's a bad deal for freelancers because you risk working for free!
Recommended: Learn how to build an affiliate site that generates a full-time income online. 

Rejected Bugs
---
Another big problem is rejection.
As expected, Test IO will reject your work if it doesn't comply with the standard.
However, some people at Glassdoor.com are claiming that most bugs get rejected without a good reason.
One freelancer reported that from 200 tests he submitted, only 20 of them were accepted!
From what I've read, Test IO seems to have unrealistic standards and usually ask testers to resubmit the reported buys many times.
In a tester's own words:
"They will request more and more information until you sculpt a bug report masterpiece. This is not smart and it's not viable in the real world."
You can see all the negative comments here. 
Will You Get Paid?
---
At Glassdoor there are two testers who complain about missing payments.
But in this regard, I can't judge the company without proof.
If your work is accepted, then it's likely that you will receive the payment without any issues.
How Do You Get Paid?
---
Test IO process payments once a month as long as you have earned a minimum of $25.
You can choose to get paid PayPal, Skrill, Payoneer or bank transfer.
Conclusion – Is Test IO a Scam?
---
Test IO is not a scam, but if you value your time, I advise searching for freelance jobs somewhere else.
It must be very frustrating to spend hours in search of bugs and don't get paid just because there aren't any.
You worked hard to find a problem, so in theory, you should get paid for your time and effort.
Not mention that Test IO staff are trained to spot every little mistake in your bug report.
It's not difficult to understand why…
The more mistakes they find on your submission, the more money the company will save.
If you want to earn money by testing websites and apps, I recommend you check out some top usability testing sites here. 
Verdict: Legit / Not Recommended

How To Earn a Full-Time Income From Home
---
You probably know there are lots of people making a living off of the internet.
There is no shortage of opportunities!
Well, after studying most business models and different remote jobs, I still believe that affiliate marketing is the best choice for most people.
Here are the main reasons for that:
It's very affordable to launch and operate.
The more traffic you have, the money you will make.
You don't need to report to a boss or a customer.
Work from your laptop whenever and wherever you want.
Earn passive income – After you get enough traffic, you can keep making money even if you stop working for months!
If you want to build this type of business, you need to make sure you are focusing on strategies that will push you in the right direction.
Also, you need the information in a structured format so you don't get lost in the process.
My advice?
Check out about my #1 recommendation and take your first steps today.
This is an excellent step by step program that helped me build my affiliate site (myroomismyoffice.com) from scratch and reach $1,600 per month.
Go through the training, take consistent action, and remain persistent.
Whenever you need a hand, I will be there to help you out!
Final Words
Thanks for visiting my blog reading my Test IO review. I hope it was helpful! 😉
Feel free to ask any questions or share your thoughts about this app in the comment box below!
Your honest opinion is very important for this blog!
Stay safe!