Welcome to my Crypto Pop App Review!
I've recently discovered Crypto Pop, which is another addictive game that is promising to pay via two cryptocurrencies: Ethereum (ETH) and Popcoin.
The game is very similar to Candy Crush, except the developers are sharing the ad revenue with players.
As you play Crypto Pop, you will earn points that you can later convert to ETH via your Coinbase account.
Another option is to redeem your points via Popcoin, which is another crypto traded on Saturn Network.
The app has been installed by over 500,000 users, and it has been rated 4.5 on Google play.
At first glance, it seems like a great game, but does it actually pay?
Is Crypto Pop a scam or a safe application
I've put up this full review to explain how this game works and give you my honest opinion about it.
TOP RECOMMENDATION
If you want to work remotely and earn a full-time income online, check out my #1 recommendation. This is the same program that helped me reach $1,600 per month and quit my job in 2019. 
Crypto Pop App Review
---
Name: Crypto Pop
Website: https://www.cryptopopcoin.com/
Company: Vweeter Limited
Income potential: Extremely low
Membership Availability: Worldwide
Similar apps: Bitcoin Blast, Fish Blast
LEGITIMATE
Overall Rating:

2.1/5
What is Crypto Pop?
---
Crypto Pop is a free, match-two game launched by Vweeter, a Limited company based in Hong-Kong.
The game is very similar to candy crush, but it can be way more addictive because points can be converted to cryptocurrency. Crypto Pop is also very similar to this addictive puzzle game by Bling. 
It's important to note that crypto is a very volatile asset, meaning it can grow or drop in value just like stocks.
Before I explain exactly how Crypto Pop works, let me address this very important question:
Is Crypto Pop a Scam?
---
I have to confess that I was very skeptical when I first heard about Crypto Pop.
After testing lots of reward apps, I learned that most of them do everything in their power to avoid payments.
They usually start well, but after an update, they ruin the user experience and make it harder to cash out.
Many apps on Google Play don't pay at all!
Well, after playing Crypto Pop for about 10 minutes and hitting the "claim" button, I immediately received a payment to my Coinbase account.
Here is the proof: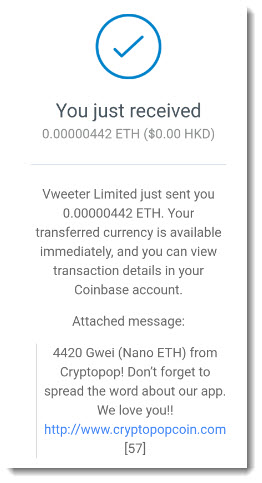 Crypto Pop has been excellent so far, and the number of positive reviews on Google Play can only confirm that.
There are many reports of people who have received the payment without any issues!
So, the answer is no, Crypto Pop is not a scam!
Pros and Cons
---
Pros
Earn while having fun.
No minimum cashout.
Get paid instantly via Coinbase!
Cons
Extremely low rate of pay – You will earn fractions of a cent worth of ETH per hour.
You can only cash out once every 2 days.
There are lots of ads, but that's the only way the company can generate revenue to share with players.
There are fees if you want to exchange ETH to fiat.
How Does Crypto Pop Work?
---
Crypto Pop app is available for free on Android devices.
After the installation, select Wallet and provide your Coinbase account to receive Ethereum (ETH).
If you don't have a Coinbase account, it's very easy to create one. Just visit the website www.coinbase.com and follow the instructions. You will need to verify your identity and phone number.
Alternatively, you can create a wallet on Saturn Network and trade Popcoin from there.
In my opinion, it's better to cash out via Coinbase.
How to Earn ETH
The main goal is to group the largest number of identical coins together.
All you have to do is Tap on the coins twice to destroy them.

You can match 2 or more identical coins, but the more coins you group together, the more points you will earn.
Here are some examples:
2 coins = 20 points
3 coins = 45 points
4 coins = 80 points

This reward platform is going viral! Cash out via PayPal, Visa, Gift Cards, and in-game currencies - Click here to find out how to generate an extra $10+ per day! 
In the game, points are also known as "coins mined".
The amount of Etherium (ETH) that you will earn will be proportional to the number of coins mined and is represented by Gwei.

1000 Gwei = 0.000001 ETH.
You will earn bonuses when you blast many coins at once.
TIP: A good strategy to maximize your earnings is to choose one type of coin and destroy them only when you approach the end.
Crypto Pop runs ads while you play the game, which is how the company can afford to pay users.  
How Much Money Can You Make?
---
I played Crypto Pop for the first 10 minutes and earned 0.00000442 ETH (4420 Gwei).
Considering 1 ETH is currently being traded at $143.10, that means I made the equivalent of 0.0006 USD.
So, currently, I would have to play Crypto Pop for 27 hours to earn 0.01 USD.
Not to mention that Coinbase will charge a fee to exchange ETH to cash into your bank account.
How Can You Cash Out?
---
The best thing about Crypto Pop is the fast payment!
As you know, you will get paid via ETH to your Coinbase account or via CoinPop to Saturn Network wallet.
I highly recommend getting ETH paid directly to your Coinbase account.
The downside is that you can only cash out once every 48 hours.
Conclusion
---
Crypto Pop is a legit and very addictive app for people who enjoy playing this type of puzzle game.
Yes. It does pay out quickly!
The main problem is that you will earn a microscopic amount of ETH, which is worth fractions of a cent.
The big number that you see represented by Gwei can give you the false idea that you are making fast progress.
But when you convert ETH to USD, you will realize how little money you have made.
At the current pay rate, you should not expect to earn more than $1 worth of ETH within 1 year!
If you want to play Crypto Pop just for fun, then by no means do it because it's a nice game.
But if you are only playing to earn Ethereum, don't waste your time!
Verdict: LEGIT

How to Earn a Full-Time Income From Home
---
Lots of people are making a full-time income from home as content creators!
In my opinion, one of the best strategies to generate revenue online is to build an affiliate site and promote other people's products.
It's a great business model that has been proven to work for decades!
Currently, my affiliate site is covering all my living expenses during the current health and financial crisis.
If I hadn't built this alternative source of income in 2015, I would probably be unemployed and struggling to pay my bills right now.
I love playing games, but I am glad that I focused on my future instead of wasting time on games.
Now that we are at home and with lots of time on our hands, there is no better time to create an online business and finally, stop relying on a day-job! 
I would never have achieved my goals without proper training and support from expert marketers.
This excellent step by step program helped me set up a website, rank high on Google and get lots of traffic.
Keep in mind that I had no skills in web design, coding or marketing.
If you are prepared to pull up your sleeve and build a thriving online business, sign up for free and start today!
>> Click here to learn more about my #1 recommendation and start today! 
Final Words
Thanks for visiting my blog and checking out my Crypto Pop app review. I hope it was helpful! 😉
If you want, feel free to ask any questions or share your thoughts about this game in the comment box below!
Your honest opinion is very important to us!
Stay safe!