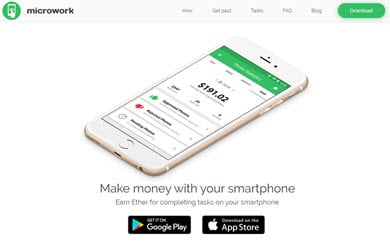 Welcome to my Microwork App Review!
Millions of people around the world are searching for online jobs to pay the bills. For many, it's not only a matter of "extra cash" anymore but instead, a means of survival!
After a quick search on Google Play, I discovered a crowdsourcing application called Microwork.
Microwork a popular app where you can complete easy tasks from your smartphone and get paid in Ether. Now, you are probably skeptical, and wondering if Microwork is a scam or a legit opportunity.
Does it pay? And if so, how much money can you make? It's always prudent to do thorough research before joining any money-making app or website.
That's why I am here for! In this review, I will show you everything you need to know about the Microwork app and give you my honest opinion.
TOP RECOMMENDATION
If you want to work remotely and earn a full-time income online, check out my #1 recommendation. This is the same program that helped me reach $1,600 per month and quit my job in 2019. 
Microwork App Review
---
Name: Microwork
Website: https://www.microwork.app/
Company: General Blockchain Inc
Income potential: Low
Membership Availability: Worldwide
Similar apps: Hive Work, Clickworker, Streetspotr, Mobeye
Overall Rating:

2.4/5
What is the Microwork App?
---
Microwork is an app that pays you to complete simple tasks (AKA micro-tasks) from your Android or iOS device. As a Microworker, your main job is to snap photos used to train artificial intelligence (AI). 
The company has been providing annotation services for AI since 2015. Image annotation is essential to the development of vision technology used in facial recognition, and self-driving cars.
They use the photos as raw material for image annotation, which involves drawing boxes around objects and classifying them. But it's important to understand that with the Microwork app, you are only responsible for taking photos.
If you want to make money with bounding box and image classification tasks, you may want to check out Remotasks, Spare5, and Clickworker.
The Microwork app is available worldwide, but the number of tasks varies from country to country. Residents in the US and the UK will always find a lot of opportunities daily.
Pros and Cons
---
Pros
Easy tasks.
The minimum payout is $1.
It's available worldwide.
Ideal for crypto lovers.
Cons
Low rates of pay.
Many people complain about login issues.
It doesn't process payments via PayPal.
You have to pay fees to exchange Ether to fiat (your country's currency).
How Does Microwork App Work?
---
Installation and Registration
Download and install the app via either Google Play or App Store. Then, allow Microwork app to access your device's location so they can identify missions close to you. Next, create your free account and click the link to verify your email address.
Completing Tasks
After you log in, you will see a list of the tasks with a brief summary of what you should expect from each. Select the task and complete all the requirements carefully.
Most Microwork tasks involve taking photos of objects, logos, furniture, clothing, and more. These photos will become part of a vast database that will be used to improve computer vision.
It's very straightforward! Here are two photo-task examples:

Litter – Plastic Cutlery
Take a clear photo of litter – plastic, cutlery (knives, forks, spoons).
There should be only one object per image.
Don't take close-up images.
Take different images.
Make sure your feet are not visible in the frame.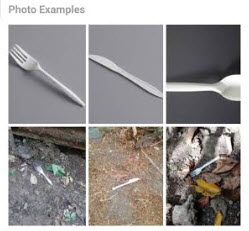 Photos of cigarette brands
Take 2 photos of a specific brand of cigarette butt with a visible logo.
Don't capture just the logo, capture the whole object on which the logo is seen.
Photo 1: Cigarette butt on the ground.
Photo 2: Cigarette butt on the palm of your hand.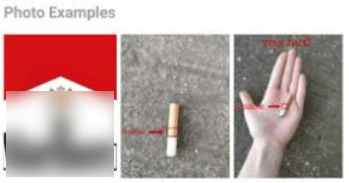 Fashion Images
Microwork app is also collecting images of shoes, bags, clothing, and accessories. These pictures help develop apps capable of recognizing whether a specific product is original or fake.
Apps will also be able to identify fashing products and tell where users can buy them! For example, you may have to visit a shopping mall and take photos of Nike shoes.
In-store Insights
The Microwork app also has location-based tasks that require you to visit grocery stores and other businesses. Don't forget to enable location services so you can find nearby tasks on the map.
Your main job here is to report on the visibility and availability of products in-store. In that case, you will take photos and submit information about products and promotions.
You may also complete secret shopping tasks with the aim to provide feedback on customer service. Other popular apps where you can complete location-based missions are Observa (US only),  Gigwalk, BeMyEye, and Premise.
With the Microwork app, you may also get paid to complete surveys and reviews.
How Much Money Can You Earn?
Just like all micro job sites and apps, Microwork app pays per task. You can earn anywhere between $0.05 and $0.10 per photo. It's possible to earn $1 – $5 for more complex and time-consuming tasks.
According to the company, some people can earn $80 per week depending on the type and number of tasks available. Keep in mind that the equivalent dollar amount will be converted to Ether using the current exchange rate.

How to Avoid Task Rejection
They can reject your mission if it doesn't meet all the requirements or doesn't pass the quality check. For example, they will reject tasks that have blurred and duplicate photos.
The best way to get approved tasks is to follow all the instructions carefully. If you are taking surveys, avoid answering in a rush and make sure you always provide complete and relevant information.
How Do You Get Paid?
---
What I like about Microwork is that the minimum payout threshold is just $1, which means you don't have to wait for a long time to withdraw the money.
Keep in mind that the company uses blockchain technology to process payments. That means they will convert your cash balance (dollar) and pay you the equivalent in Ether. If you want to get paid in crypto, then this is good news for you! However, I think most people (me included) would rather receive cash paid via PayPal.

This reward platform is going viral! Cash out via PayPal, Visa, Gift Cards, and in-game currencies - Click here to find out how to generate an extra $10+ per day! 
To receive Ether, you must create a Coinbase or get a wallet such as MyEtherWallet and Jaxx. Then, you can exchange Ether to USD or your own currency via Coinbase or another crypto exchange platform.
In my opinion, it's a rather inconvenient process. Not to mention that you will have to pay steep fees to exchange Ether for fiat currency.

Users Reviews – Login Issues
---
I noticed there are lots of people who are experiencing technical issues while they are trying to log in. Despite entering the correct email and password, the app may not give access to your account. Also, some users say the app keeps on loading forever!
One person claimed that Microwork logged him out when he finally reached $1. Then, there was a constant error, and he couldn't access his account anymore

This is problematic because if you can't log-in, you won't be able to complete tasks and withdraw your funds.
The company responded to a complaint in 2018 saying that they were experiencing a sign-in issue and that it was solved. However, some users are still struggling in 2020 as you can see below.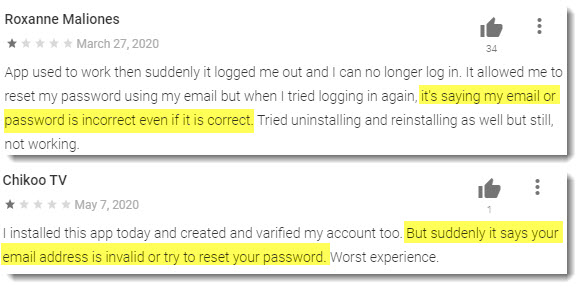 Some people think the Microwork app is selling your personal data, such as email, to third-party companies. Well, I don't think they would do that without your consent because that would put the company in big trouble!
If you are having a login issue, try to contact the company at [email protected].
Conclusion – Is the Microwork app Legit?
---
I am confident that Microwork is a legit and paying app. However, the number of people complaining about technical issues is alarming. If you uninstall the app or log out, there is a risk you won't be able to login back again.
Let's hope the company solves this problem, but in the meantime, try to cash out as soon as possible to avoid losing money.
The Microwork app offers a simple way to earn money from your phone, but the problem is that you can waste a lot of time only to earn a few pennies.
Verdict: Legit
Is There a Better Alternative to the Microwork App?
---
There are many micro-job platforms that offer more opportunities to make money. For example, Hive Work and Remotasks pay you to draw polygons around objects among other things.
Clickworker is is another site where you can get paid for data categorization, image tagging, app testing, and more.
If you are more interested in mystery shopping missions, then I recommend the Roamler app, which is only available in a few European countries, the UK, Chile, and Turkey.
How to Earn a Full-Time Income From Home
---
As you already know, apps like Microwork are only used to earn a little extra money in your spare time.
If you are serious about making money from home, I can't recommend affiliate marketing highly enough. With affiliate marketing, you can make a lot of money by promoting other people's (company's) products.
In my opinion, this is the best business model for most people because…
It's beginner-friendly and very cheap to operate.
You don't need to create your own product or service.
Unlike e-commerce, you don't have to handle shipping, payments, and refunds.
Earn passive income after you get enough traffic.
Unlimited revenue growth.
My affiliate site is covering all my living costs during the current global crisis.
My advice? Don't try to reinvent the wheel!
Learn from people who have been building profitable affiliate sites for many years! That's the only way you can focus your time and energy into effective strategies and reach significant results.
Click here and discover the exact step-by-step program I used to build a $1,600+ per month website.

Final Words
Thanks for visiting my blog and checking out my Microwork app review. I hope it was helpful! 😉
Feel free to ask questions or share your thoughts about this app in the comment box below. Your honest opinion is very important to us!
Stay safe!