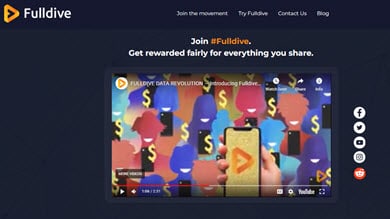 Welcome to my Fulldive app review!
I have recently stumbled upon Fulldive, which is an internet browser that promises to reward you for the data you share.
You probably know that companies have been collecting valuable data from your device without paying you a dime.
Well, with Fulldive, you can supposedly get a slice of the pie!
It seems like an interesting opportunity to earn passive income while you surf the web.
Now, I understand you may be skeptical and wondering if Fulldive is really a safe browser to use.
Does it pay or not?
In this review, I will explain how Fulldive app works and give you my honest opinion about it.
IMPORTANT
If you want to work remotely and earn a full-time income online, check out my #1 recommendation. This is the same program that helped me reach $1,600 per month and quit my job in 2019. 
Fulldive Review
---
Name: Fulldive
Website: https://www.fulldive.com/
Company: Browser by Fulldive Co.
Minimum Payout: $5
Membership Eligibility: Worldwide
Similar: Brave
LEGITIMATE
Overall Rating: 2/5
What is Fulldive?
---
Fulldive app is an internet browser that allows you to earn cash rewards as you visit websites, watch videos and read the news.
The browser can be installed on Android, iOS, desktop, and even VR (virtual reality) devices.
So, you can maximize your earnings by syncing across all your devices.
When you install the Fulldive, you agree to share your data with different sites and apps that you use on your device.
In return, you will earn coins that you can redeem later for cash rewards, gift cards, and even Cryptocurrencies.
Fulldive has been rated 4.5 stars on Google Play, but I noted there are lots of complaints. More on that later.
For now, let's have a look at the pros and cons.
Pros and Cons
---
Pros
Passive earnings.
Lightweight and fast browser.
There is an in-built adblocker, but you will still see ads from partner companies.
Cons
Very low rates of pay.
It takes "ages" to cash out.
The lockscreen feature drains your battery a little bit.
It places ads in the header, which can be annoying.
How Does Fulldive Work?
---
Installation
If you want to use Fulldive on your mobile device, you must download the app via Google Play or the App Store.
As for desktop users, you need to download the Chrome extension via the official website.

First Steps
If you are using the app, the first step is to create a free account.
You can do so quickly with your Facebook account or mobile number.
Fulldive is a very simple and lightweight browser.
The first thing you should do is visit the profile tab and tap on your coin balance.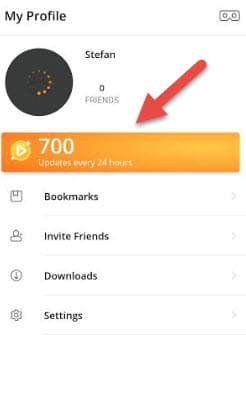 You will see lots of earning opportunities which I will explain briefly below.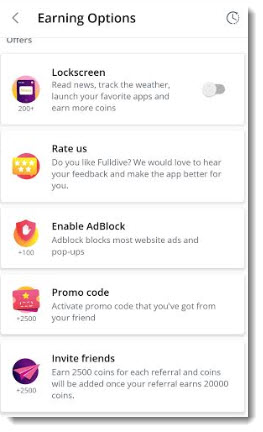 Earn Coins
This option allows you to earn coins while browsing the internet.
You will get rewarded for browsing sites on the news feed and any other website.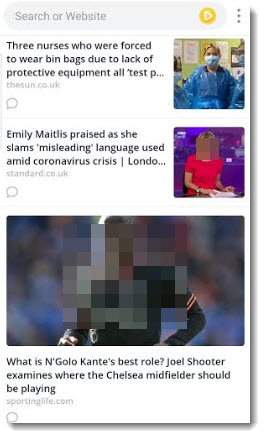 Your coin balance will be updated every 24 hours.
Enable Ad blocking
With the Ad block on, Fulldive will block most website ads and pop-ups, except the ones that earn you coins (partner ads).
You will earn 100 coins for enabling the ad blocking feature.

Lockscreen
You can earn extra coins for activating the lockscreen feature.
Swipe right to read top news, swipe up to access your apps, or swipe left to unlock your screen.
Default Browser
Make Fulldive your default browser and earn an extra 200 points.

This reward platform is going viral! Cash out via PayPal, Visa, Gift Cards, and in-game currencies - Click here to find out how to generate an extra $10+ per day! 
Promo Code
Enter a promo code that you have got from a friend and earn 2500 points. You can use mine if you want: PGNLK

Invite Friends
Invite your friends and earn 2500 coins per referral.
Keep in mind that coins will be credited only when your referral earns 20000 coins.
Verify Your Phone Number
Earn 500 points just for verifying your phone number.
Payment
---
You can redeem your points via Amazon gift cards, Bitcoin cash, and Etherium.
Another option is to donate your rewards to Red Cross, UNICEF or World Vision.
The minimum payout for Amazon is $5 (49,750 points), and for cryptocurrency, $10 (100,000 points).
As for all donation options, the minimum is $2 (20,000 points).
How Much Money Can You Earn?
---
Unfortunately, Fulldive does not tell users how much money they will earn per day.
In my opinion, they should give you at least an estimate based on the amount of time people use the app or browser.
But they don't!
In theory, the number of points should be proportional to the number of ads you see while browsing.
That would be a fair reward!
One the review section on Google Play, a user said he was initially collecting 16 points per day.
But after a few days, the app stopped crediting even though he continued browsing.

That could have been caused by a technical problem. Who knows!
However, if you earn just 16 coins per day, you will cash out only after a decade!
Conclusion
---
Fulldive is a lightweight and safe browser that you can use to accumulate points (coins).
It would be awesome if the payout was higher and the minimum cashout requirement was lower.
But unfortunately, it's the opposite, and it takes "forever" to cash out.
The platform was launched a few months ago, so it's very unlikely that someone has accumulated enough coins to cash out.

So, whether Fulldive pays or not, only time will tell!
Verdict: LEGIT
How To Earn a Full-Time Income Online
---
Lots of people all over the world are working remotely in the current global crisis.
There are lots of opportunities out there, but in my opinion, affiliate marketing is the best choice. Especially for beginners!
Here is why…
You can work whenever and wherever you want.
It's very cheap to set up and you don't need to pay for ads.
You will earn passive income after you get enough traffic.
It's scalable, so there is no limit to the amount of money you can earn.
Currently, my affiliate site is covering all my expenses while I'm traveling throughout Sout East Asia.
My advice?
Learn from people who have been building profitable sites for many years. Here is my top recommendation.
Then, apply all the strategies, rinse and repeat until you reach your financial goals!
Final Words
Thanks for taking the time to read my Fulldive review. I hope it was helpful!
If you have any questions, feel free to ask in the comment box below!
I will be more than glad to help! 😊
All the best
Stefan