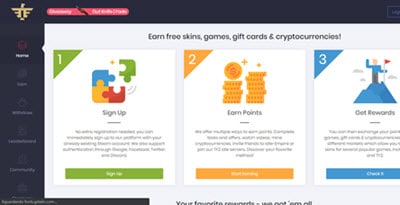 Welcome to my Idle-Empire review!
In today's post, I will be reviewing Idle-Empire, a platform where you can supposedly earn money by completing simple online tasks.
Now, you may be skeptical of joining Idle-Empire and wondering…
Can you really make money or it's just another scam?
In this review, I am going to show you exactly how it works and answer all the questions you might have.
In the end, I am going to give you my honest opinion, but ultimately, it's up to you to decide whether it's worth joining or not.
You may want also want to discover the step-by-step program that helped me reach $1,300 per month from my laptop. It's free to get started and 100% newbie-friendly!
Without further ado, let's get started!
Idle-Empire Review
---
What is Idle-Empire?
---
Idle-Empire is another GPT website where you can get paid to complete offers, take surveys, watch videos, invite friends and even mine crypto.
Here is my "never-ending" list of GPT sites! 
Launched in 2015, the platform has partnered with different marketing research companies that are willing to pay for your opinions
There are also lots of offerwalls, where advertisers reward members for trying out their products and services.
Another great opportunity to make money with Idle-Empire is by taking advantage of their referral system.
For every person that you invite, you will earn extra points plus 20% Lifetime commissions on your referral's earnings.
This is one of the best strategies to build a significant source of passive income from home.
I've been earning over $1,600 per month by inviting people to trustworthy platforms through my website.
But first, you need to learn how to build an online audience first. My #1 recommendation is the best place to do that!
As a member of Idle-Empire, you will earn points that you can redeem via PayPal, gift cards, Bitcoin, and other cryptos.
Pros and Cons
---
Pros
Earn 500 points as a signup bonus.
There are lots of opportunities to make money.
Get paid in Crypto, PayPal, and many gift cards.
Low minimum payout.
It's available worldwide.
You can complete tasks on the go from your smartphone.
Cons
How Does Idle-Empire Work?
---
Registration
The registration is very straightforward.
You just need to provide your name, your email address and you are in.
When you log in, they will offer you 500 points if you use the coupon code START in your User Panel.

Points Vs Cash Rewards
​Just like most GPT sites, Idle-Empire operates a point-based system where 1000 points equal to $0.10.
The minimum number of points for each payment method is as follows:
PayPal: 30,000 points = 3 USD
Payeer: 1,000 points = 0.10 USD
Amazon gift card: 54,600 = 5 USD (USA); 127,050 points = 10.00 EUR (Germany)
Bitcoin, Litecoin, Ethereum: 1,000 points = 0.10 USD
Steam: 46,410 points = 4.27 USD
Earning Points
As I mentioned, there are different ways you can earn points with Idle-Empire.
Next, I am going to explain briefly the most common tasks available and the amount of money you can expect to earn.
Let's start with the most common method to make money online, which is online surveys!
Online Surveys
Before you start completing surveys, I advise you to visit the "profilers" tab and answer all the questions to receive more survey opportunities.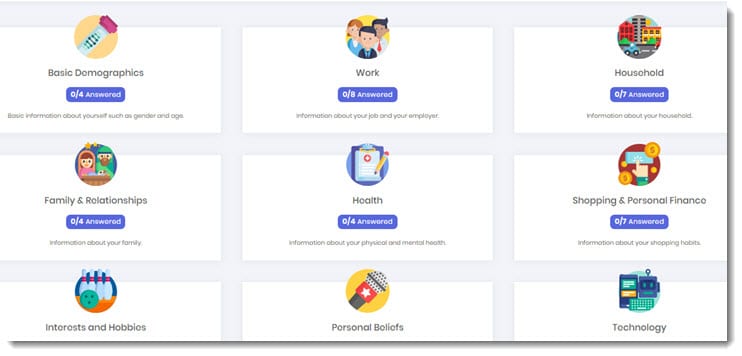 Market research companies are always looking for people with specific qualifications.
Therefore, filling out your profilers helps them find more surveys for you and reduce your disqualification rate.
Idle-Empire has partnered with lots of leading marketing research companies such as TheoremReach, Pollfish, Speak UP, Cint, Your Survey, and more.
You can choose any platform and follow the instructions.

What I like about Idle-Empire is that they show you the average reward and the length of each survey.
For example, Cint surveys pay on average 7,100 points and take 17 minutes to complete.

As for TheoremReach, surveys pay on average, 3,600 points and take 9 minutes. So, they are shorter, but pay less!
 Before you start taking surveys, you must answer a few qualification questions.
You should always answer them honestly and consistently to avoid being screened out.

This reward platform is going viral! Cash out via PayPal, Visa, Gift Cards, and in-game currencies - Click here to find out how to generate an extra $10+ per day! 
It's normal to get rejected because you are not a good match.
So, be prepared to waste some time while trying to complete surveys.

OfferWalls
You will find 13 offerwalls inside Idle-Empire, so there is no shortage of opportunities including:
Signing up to websites.
Signing up for free trials.
Entering sweepstakes.
Downloading apps.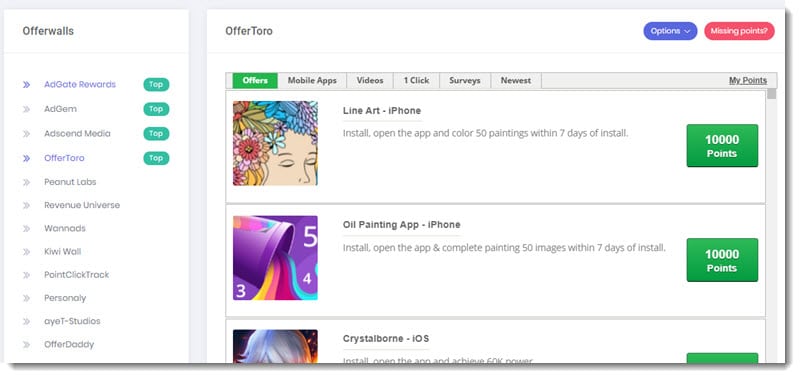 Be careful when signing up to offers that require your credit card details.
After completing lots of offers, many people lose track and forget to cancel the subscriptions before the trial ends.
You want to earn, not lose money!
Videos
Here is the place where you can earn extra points for watching videos from a platform called Hideout.tv.
First, you have to create an account on Hideout.tv and link to your Idle-Empire account
Hideout.tv will automatically link to your Idle-Empire account if you are logged in.
Before you start watching videos, make sure it's linked by visiting your Profile > Loyalty Reward Program.
Now, you can start selecting your favorite category and play the video.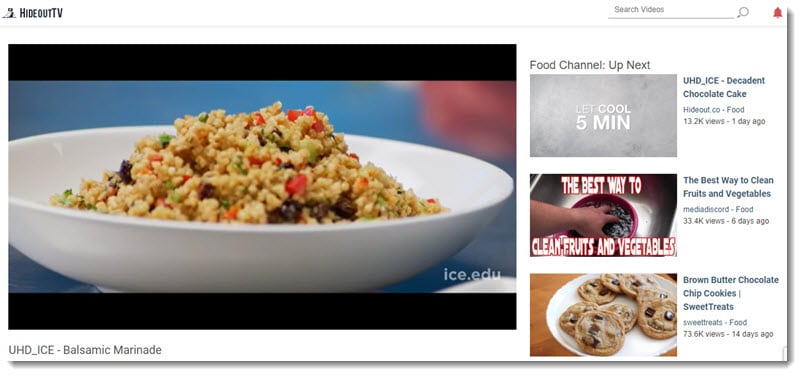 You will earn 80 points for every 3 ads.
Mining
Idle-Empire also allows you to earn points for mining cryptocurrencies.
You will have to download a software (Idle-Empire Miner) and run it on your computer.
The reward that you will get depends on your computer's processing power (CPU) or your graphics card (GPU).
With an average 1293 H/s, you can expect to earn around 22 points per hour.
Conclusion
---
Idle-Empire is a legit and pretty decent GPT platform.
The company has gone the extra mine in partnering with different survey and offer providers.
Therefore, users from most countries can benefit from a vast array of opportunities.
What I like the most about Idle-Empire is the low minimum payout, which is $0.10 via Crypto and $3 via PayPal.
That will allow you to cash out very quickly!

But…
As with all GPT sites, you can expect to earn less than half of the minimum wage in your country.
In the US, the UK and Canada, that would be approximately $2 – $4 per hour.
Verdict: Legit
How To Earn a Full-Time Income Online
---
In the current health and financial crisis, lots of people are searching for alternatives to work from home.
Although GPT sites like Idle-Empire helps with a little bit of money, it's not near enough to pay for your monthly groceries.
In my opinion, affiliate marketing is one of the best business models for most people.
It's a very powerful strategy whereby you earn commissions by promoting other people's products.
Currently, my affiliate site is earning me around $1.6k a month while I'm traveling throughout South East Asia.
The potential is huge, and there are affiliates making well over $10k a month.
My advice?
Learn from successful online entrepreneurs who have been building profitable sites for many years!
Here is my top recommendation. (the first 10 lessons and 7 days of support is totally free – no strings attached)
Then, take massive action, rinse and repeat until you reach your financial goals!
Final Words
Thanks for taking the time to read my Idle-Empire review. I hope it was helpful!
If you have any questions or thoughts about this site, feel free to drop a comment below.
I will be more than glad to help! 😊
All the best
Stefan