Are you struggling with your finances? Do you want to achieve your dream lifestyle? 2 Day Profits seems like the perfect solution to start making money online TODAY with a few minutes of simple work!
But, can you trust Mark Barrett's new money making strategy? Is 2 Day Profits a Scam or Legit?
Yes, the step by step training only costs $2, but you will have to spend a lot of money to put this system to work. So, check my review and understand the risks before you jump in!
By the way, If you want to follow the same strategy I am using to earn 900/mo on the side, check out my #1 recommendation.
2 Day Profits Review
---
Product: 2 Day Profits
Website: 2dayprofits.com
Price: $2 + Upsells (OTO 1: $27; OTO 2: $27; OTO 3: $197)
Owners: Paul Prissick and Mark Barrett
Score:

5/10
What is 2 Day Profits?
---
2 Day Profits is a step by step video training developed by Mark Barret, an experienced internet marketer and author of many other courses such as 5 Day Fix, 8 Minute Profits, 20 Minute Results, and Daily Profit Machines.
Mark claims that this is a brand new method doesn't require any prior experience and is so powerful that you can start making money within 24 hours or less.
The strategy consists of promoting a platform called Yoonla by sending traffic (visitors) to their CPA offers.
How Exactly Does it Work? 
---
After you start the course, Mark will quickly introduce you to a digital platform called Yoonla. According to the official website, Yoonla provides knowledge and tools so you can become a Successful Digital Entrepreneur.
Mark says that this platform is completely free to join and will pay you $2 – $5 every time someone joins for free through your affiliate link.
This commission is known as CPA (cost per acquisition), which is an advertising pricing model where companies pay for new sign-ups.
Yoonla also pays a 60% commission when your referral purchases the upgrade (Yoonla VIP Partner Program) within the system.
This is a screenshot from Mark's commissions: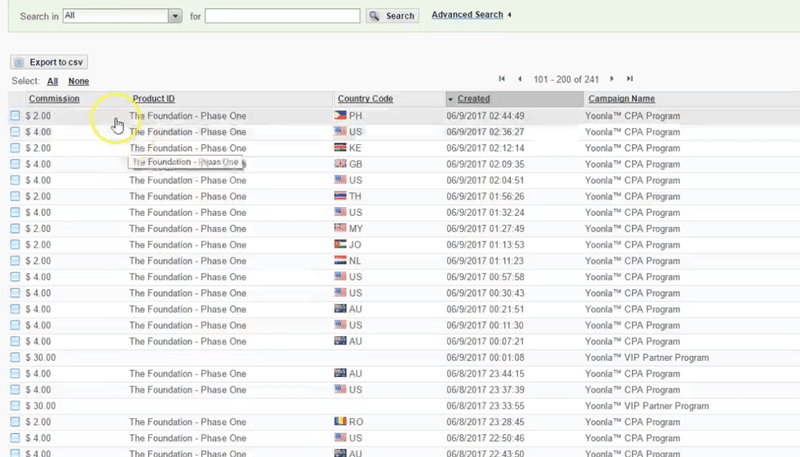 Basically, you have to set up a squeeze page and integrate with your autoresponder (automated email provider).
Here is a squeeze page example: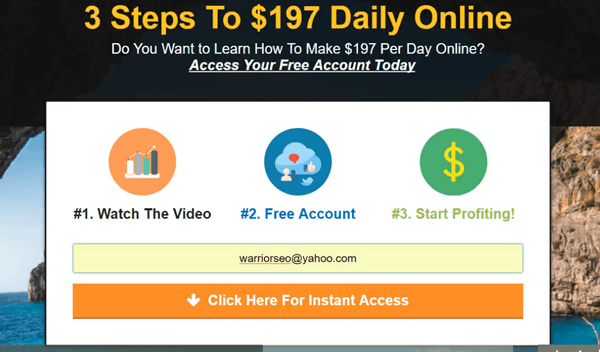 The next crucial step is to get traffic to those pages. The course will teach you both paid and free traffic methods that you can use.
When people subscribe to your email link, you will have to begin mailing them, and promote the Yoonla platform.
When people click on your Yoonla affiliate link and sign up, you get a CPA commission of $2 up to $5 per lead.
Mark also encourages you to send emails promoting offers from WarriorPlus, making you more money!

The Big Issue With 2 Day Profits 
---
As Mark said Yoonla was free to join, I decided to go ahead and sign up.
Great! The training is really free, but as I was watching the first lessons, I realized the whole course is purely designed to show you how to promote Yoonla itself.
The big problem here is that you can't get their affiliate links to promote unless you become part of the VIP Partner Program.

And here is the trick. In order to become a partner, you will have to purchase the Yahoo Aabaco "Advanced Hosting Plan," which has specific features that are necessary for the integration. If you pay monthly, this hosting package costs $9.99/month.
The integration means they will set up 3 websites that promote 3 Yoonla internet marketing products. Here is one of them:
Also, you will have to pay at least $15/month for GetResponse (autoresponder), which is the service allows you to send automated emails to people that have subscribed.
Although not mandatory, it also entices you to purchase LeadPages Pro, which costs $49/month. With LeadPages, you will be able to edit your squeeze pages so that you can make them more appealing and increase sales.
Needless to say, Yoonla is earning massive commissions when people purchase all these services. That's exactly why they can afford to pay $2-$5 CPA.
It's important to mention that when you become part of the VIP program, you will get access to the same 3 products you are promoting. These include basic courses in Tweeter, Youtube, and Email marketing.
I consider these courses as bonuses because the main training is all about promoting the same business opportunity to other people, forcing them to purchase the same services.
Can You Make Money Quickly With 2 Day Profits?
---
Yes, it's possible to make money within 24 hours. However, consider yourself extremely lucky if that happens!

From what I can see, the system is expensive to keep running. Bear in mind you also need to purchase solo ads or advertising if you want to get instant traffic.
The problem is that not every person that sees your landing page will sign-up, which means you don't know if the sales will cover all the costs and still make a profit. It's a risk!
You can use the free traffic methods, but in this case, you can't expect quick results.
Upsells (Upgrades)
---
2 Day Profits has the following three upsells:
20 message follow up sequences: According to Mark, these are top converting email that you can use to entice people to buy your offers. Price: $27.
High converting funnel: You will get the exact sale's funnel that Mark is using to "make a killing" with this method. If you don't buy it, you will have to purchase LeadPages to develop your own squeeze pages or use the three free pages provided by Yoonla. Price: $27.
Coaching from Mark and Paul.

Price: $197.

This reward platform is going viral! Cash out via PayPal, Visa, Gift Cards, and in-game currencies - Click here to find out how to generate an extra $10+ per day! 
Pros and Cons
---
Pros
You can make money with this method. But probably not so fast!
The lessons are easy to follow.
There is a 30-day money back guarantee.
Cons
You are forced to pay for specific services to be able to promote Yoonla as an affiliate.
There are substantial risks involved.
The sale's page is full of exaggerated claims.
3 Upsells – Unless you are an experienced marketer, you need to purchase the first two upsells if you want to increase your chances to make profits.

Conclusion – Is 2 Day Profits a Scam? 
---
2 Day Profits is not a scam because you can actually make money with this method. But the question is: Can you make consistent profits?
If you want to make money fast, you will have to spend a lot of money, and there is a significant risk you won't make enough commissions to cover the costs. To be honest, I don't think this is an easy task!
I don't like the idea of promoting Yoonla. This platform offers a free tutorial, but you have to spend money on services if you want to become an affiliate. Besides, as the training focuses primarily on promoting the platform itself, there is not much intrinsic value in it.
In my opinion, 2 Day Profits is not a safe and effective strategy to earn passive income online. The sale's page is overhyped, and you should never expect instant results.
Verdict: Legit 
What I Recommend
---
There are many scams and ineffective methods out there. I agree!
Most people get frustrated in the process of trying to make money online because they come across unscrupulous internet marketers who just care about their bank accounts.
Well, there are still a small number of programs out there that can help you build a solid online business!
In 2015 I discovered a step by step course that helped me grow a blog that ranks high in Google and earns me over $900/mo in affiliate commissions.
A blog is one of the most powerful tools to attract free traffic and earn affiliate commissions.
So, if you want to follow the same steps, even if you have zero experience, check out my #1 recommended training.
This is an all-inclusive platform (no upsells or extra services required) where you will get proper training, essential tools, and 24/7 support from experts! By the way, there is a free trial account with no strings attached.
Click the link below if you want to learn more about it.
Check Out My #1 Recommendation Review!
Thanks for reading and I hope this review helps you make an informed decision. If you have any thoughts or questions about 2 Day profits, feel free to leave a comment below.
See you next time!
Stefan