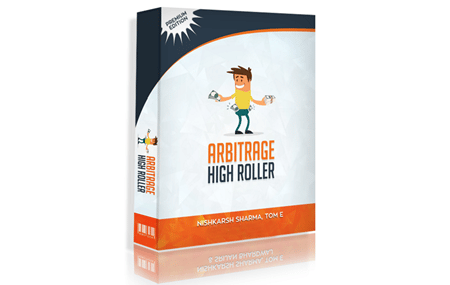 Why not make other people work for you and make $167 every single day? Is Arbitrage High Roller a scam or legit?
As you could see from the sale's page, the authors are not willing to explain what the training is all about. All they do is show you screenshots of earning, which doesn't prove anything.
Also, you find it hard to search for an honest review because most articles are written by affiliates who just care about their commissions.
So, check my review below as I am going to show you all you need to know about Arbitrage High Roller and give my honest opinion about it.
If you want to follow the same strategy I use to earn 900/mo on the side, check out my Top Ranked Platform.
Arbitrage High Roller Review
---
Product: Arbitrage High Roller
Website: arbitragehighroller.com/live/
Price: $5.95 + Upsells (OTO 1: $27; OTO 2: $37)
Owners: Nishkarsh Sharma (Nish) & Tom E
Score:

5/10
What is Arbitrage High Roller?
---
Except for the word "arbitrage," there is no other evidence as to what the method entails, and that's why you are reading this review. So, here is the truth:
Arbitrage High Roller is a step by step training on how to outsource videos on demand and sell them for a nice profit.
How Does it Work?
---
The first thing you have to do is announce your video services in specific freelancer platforms. When people accept the price and buy your gig, you just have to go and hire a freelancer that is will do the work for a lower price.
So, in a nutshell, you are acting as the middleman between the freelancer and the customer. You buy low and sell high. It's simple as that!
Arbitrage works and people have been doing this for a few years now. In fact, there are lots of similar training for sale on WarriorPlus and even software that searches customers on Craiglist and matches with similar services on Fiverr. Arbitrage Underdog is a cool example.
The question now is…
Can You Really Make Lots of Money?
---
Yes, you can! However, I have to warn you that succeeding with your arbitrage business may not be as easy as they claim to be.
At first, you may think that you won't have to put in the time and effort and everything will be done for you. But as I said, you will be acting as the middleman, which is not free of responsibilities and headaches.
Remember, when you are selling your services on a freelancing platform, you get reviews from real customers. And considering bad reviews can destroy your business, you need to make sure you deliver a high-quality service.
So, if you are charging $600 for a service that costs you $200, it's clear that your customer will expect the perfect job!
Perhaps the service you get for $200 is not that good, and then your client may request some revisions.
Now, you will find yourself contacting the freelancer and demanding that the changes this and that, and do a better job.
Well, it doesn't mean the freelancer will be willing to work harder for the same $200. Maybe he will charge more because he knows how much the marketplace pays him. He knows what's the fair price for his job! 
You see. To make decent profits and at the same time get positive feedback, you need to find unwary customers.
You also need to build a solid reputation and market yourself very well so you can charge more. And all that takes time!
By the way, your potential customers will definitely want to see examples of your previous work! Without anything to show for it, how can they trust you in the first place?

The Training
---
Arbitrage High Roller consists of 7 video modules:
1: Introduction
2: Overview Of The Method
3A: Setting Up Your Portfolio
3B: Setting Up Your Marketing Machines
4A: Marketing With LinkedIn
4B: Marketing With Quora
4C: Marketing With Fiverr
4D: Marketing With VeedMe and Facebook
5: Outsourcing and Dealing With Freelancers
6: High roller Forever
7: Wrapping Up
The course is well laid out, and you will learn all the essential steps to profit from this arbitrage strategy.
Upsells
---
After you purchase the front end product for $5.95, Nish will try to upsell you twice.

Upsell #1 ($27): The first upsell is a done for you package that consists of custom templates. According to the owners, these templates are extremely valuable as they will help you save hours of work and double your profits.
Upsell #2 ($37): Here you will get Nish's case studies where he is going to show you everything about the process he uses to cash in big.
Upsells are so annoying, especially when they hide all the information about the product.
Pros and Cons
---
Pros
You can make money with this method.
The lessons are thorough and easy to follow.
There is a 30-day money back guarantee.
Cons
Lack of basic information on the sale's page. You have no idea what the strategy is unless you purchase.
Overhyped – You probably won't make $167/day as easily as they claim.
It can be hard to find customers when you are just starting out.
Being a middleman may not be so glamorous.
2 Upsells
Final Thoughts
---
Arbitrage High Roller is not a scam, but the sale's page is overhyped.
To be honest, it doesn't feel right taking advantage of cheap labor and charge more for a service that you know that costs less.
At the end of the day, you can make more money than the person who worked hard to deliver that service. I know this happens all the time in the offline world, but I prefer to provide value instead of being a lazy middleman.
Besides, just because you are a middleman, it doesn't mean you won't have to solve problems.
In my opinion, Arbitrage High Roller doesn't offer a safe and effective strategy to make an online income. It's not bulletproof, and I know many people fail miserably trying to follow this route. 

Verdict: Legit
What I Recommend
---
It's possible to earn a full-time income online, but you should avoid strategies that are supposed to get you quick and easy results.
One of the best strategies is to build a blog in your chosen niche and earn commissions by promoting products as an affiliate.
If you want to follow the same steps that I used to build my own business and reach $700/month, then check out my top recommendation platform. 

This reward platform is going viral! Cash out via PayPal, Visa, Gift Cards, and in-game currencies - Click here to find out how to generate an extra $10+ per day! 
You will get proper training, essential tools, and 24/7 support from a massive community of online entrepreneurs! By the way, the starter account is free of charge. So, you have nothing to lose!
Check Out My #1 Recommendation Review!

Thanks for reading and I hope this review helps you make an informed decision. If you have any thoughts or questions, feel free to leave a comment below.
See you next time!
Stefan