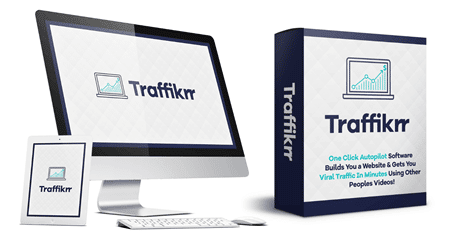 Marketers and software developers know there are hordes of people desperate for a shortcut to get traffic and make money on autopilot. Traffikrr is another WP plugin that supposedly gets you free unlimited traffic with a click of your mouse. Does Traffikrr work as it is supposed to? Is it a scam?
Check my unbiased review and discover all you need to know about it. Just to let you know, I am not promoting Traffikrr.
UPDATE: Traffikrr has just been rebranded as Tube Traffic Machine. If you are looking for information about this new product, what you will read below applies to Tube Traffic Machine as well. In my opinion, it's a lazy method that is only designed only for those who are not willing to provide quality and unique content on the internet. As a result, it may not give you the results you expect.
If you are prepared to become a real internet marketer and do whatever it takes to succeed in your niche, check out my #1 recommendation here.
Traffikrr Review
---
Product: Traffikrr AKA Tube Traffic Machine
Website: traffikrr.com
Price: Lite – $22.95; Pro – $32.95 + LOTS of Upsells!
Owners: Glynn
Score:

1.7/5
Check out my Top Ranked Platform and build a reliable source of passive income online.
What is Traffikrr?
---
Traffikrr has been promoted as a powerful plugin designed to get you a ton of free traffic to your website on autopilot. And as you probably know, the more traffic you have, the more money you can make.
This software will search for new videos on Youtube and post them on your website and social media instantly. All you have to do is select the Youtube channels and let the software do all the work.
How Does it Work?
---
If you don't have a WordPress website, you will need to purchase a domain name and a hosting plan so you can install Traffikrr. The installation is easy and takes just a few minutes.
Once installed, you have to select the Youtube channels and the frequency you want the plugin to search and post the videos on your site.
The plugin is going to find the newest videos on Youtube and embed them into new blog posts.
 This is how your blog posts will look like: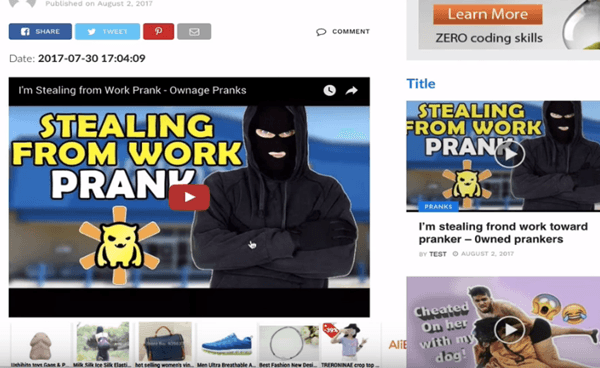 As you can see, it doesn't have any written content in it.
There is a spinner that modifies the video titles to make your titles unique and help your pages get faster Google rankings.
Then, at the very same time, Traffikrr will create a post on your Facebook fan page to get traffic back to your site.
Monetization Methods
The owners are claiming you can get viral traffic just by sharing videos on your website and Facebook fan page. But how can you make money?
Well, when people start watching your videos, you will be able to display advertising overlays with links to any kind of offer you want, such as:
Affiliate offers
CPA offers
eCommerce products
Opt-in forms (Gold version required)
Your own products
Here is one example:

When people click the image advert (affiliate link), they will be directed to the Amazon store where they can purchase GoPro5, earning you a commission. This is just one example.
It's possible to customize your ad overlays with a cloud based Ad builder that comes with Traffikrr. You can include call to actions, images, buttons, etc.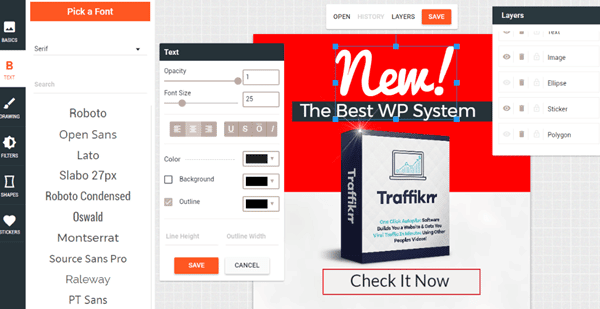 You can also monetize your website by placing ads on your sidebar, although the conversion might be higher with the video overlay.
Can You Build a Profitable Website With Traffikrr? 
---
I need to be 100% honest with you here. You can't turn this plugin on and expect to make money on autopilot. Let me explain why your traffic problems won't be solved.
You have to understand that free traffic should come both from Google search and Social Media.
When people post a video on Youtube, Google will rank it based on various factors such as video quality, watch time, view count and many others.
When you take that same video and share it as a blog post on your site, what happens is that Google won't rank it easily unless you write unique content on the same post. The video should be a complement rather than the only content of that post.
Why? Well, in order to get traffic, you want to rank for keywords that lots of people are searching for in Google. It means they are highly competitive because there are currently many websites targeting keywords with unique and high-quality content.
So, it will be extremely hard to rank just by sharing an existing video. Thus, traffic from Google search will probably be scarce if you use Traffikr and don't bother creating content.
Now, your only hope is social media. If you can get lots of people to see your posts on Facebook, that's great! You will have many people visiting your website and watching the videos from there.
But what if you don't have a huge number of followers? People won't see your posts and as a result, you won't get traffic to your site.
Therefore, your traffic still depends on how active you are in social media, and Traffikrr can't do anything about it. You still have to do the hard work of attracting an audience to your Facebook group/page.

Bonuses
---
Traffikr comes with a few bonuses:
Live Training Webinar – They will show you the secret to make your Traffikrr websites earn multiple six figures per year.
Product & Lead Magnet Vault – You will get lifetime access to a product vault that will help you build your email list.
Mystery Box
Price and Upsells
---
Traffikr has two versions – Lite ($22.95) and Pro ($32.95).
The main difference that I see is that the pro version allows you to install the plugin on unlimited websites. It also allows you to create unlimited adverts on unlimited videos.
After you purchase this product, the owners will try to sell you another 4. OMG! 4 other upgrades that amount to over $300  plus $47 per month. 

This reward platform is going viral! Cash out via PayPal, Visa, Gift Cards, and in-game currencies - Click here to find out how to generate an extra $10+ per day! 
Here is a brief overview of each upsell:

Upsell #1 – Traffikrr Gold (Lite version: $37, Pro version: $47)
It allows you to add opt-in forms to the overlays on the videos and integrate with your autoresponder. It also includes custom designed call-to-action buttons that are proven to convert.
Upsell #2 – Traffikrr Elite (Lite version: $37, Pro version: $47)
The elite version consists of a viral add-on theme that increases the functionality of your site. It's mobile responsive, and it is packed with social media and share buttons.
Upsell #3 – Traffikrr Platinum (Lite version: $47, Pro version: $67)
This is a traffic training course that will show you how the owners create successful campaigns. It includes 10 Money-Making Video Series, 10 Fast Track Cheat Sheets and much more.
Upsell #4 – Traffikrr Reseller Agency Licence (Lite version: $197,  Pro version: $297)
The right to resell Traffikrr and keep 50% ( LITE version) or 70% (PRO version) of all the money. By the way, you can only sell 50 copies if you have the lite version and 200 if you have the Pro version.
To be honest, this doesn't make sense! If you are paying for the reseller's right, you should be able to earn 100% and not just 50%!
If you signup for JVzoo you can promote Traffikrr for free and still get 50% commissions.
You also get a done for you email sequence, a done for you setup and access to further traffic training.
Upsell #5 – Traffikrr Done for You Traffic Upgrade (Lite version: $47/mo,  Pro version: $97/mo)
This upgrade will provide 50 Clicks (lite version) and 100 clicks (pro version) to your chosen link within 48 hours.
In other words, you pay an expensive monthly fee for a ridiculous amount of traffic per month. And my question is:
If Traffikrr is so awesome to get you free traffic, then why are they selling you traffic now? Interesting…
It means if you fail with the first product, they can offer you another solution to your traffic problem. But the reality is that 100 clicks per month are probably 1% of what you need to make decent profits.
Conclusion 
---
Traffikrr aka Tube Traffic Machine is not a scam, but it's trying to convince customers that they will make lots of money without significant effort.
The software automates the process of searching for new videos and creating new posts on your blog, but you will probably struggle with traffic.
The reality is that you can only attract visitors by providing unique content and/or actively promoting your site. Google won't give preference to your blog if all you do is copy and paste other people's videos. You need to create high-quality content around them.
In my opinion, the upgrades are costly and ineffective when it comes to getting traffic.
Verdict: Not Recommended
My #1 Strategy To Build A Money-Making Website
---
If you want to create a lucrative website, you need to avoid shortcuts and establish a solid foundation.
So, I encourage you to get proper training on how to properly grow a blog that ranks well in Google. When you get high rankings with multiple keywords, you will be able to attract a large audience and start making sales.
Writing blog posts is not difficult, but it requires research and the willingness to help other people. The more value you provide, the more you grow your online business. It takes time to get traffic, but that's how things work!
If it were easy and quick, everybody would be working from home and living the good life.
I started my online business journey with a  Wealthy Affiliate. They gave me excellent step by step program, support and all the essential tools to grow my website. So, I highly recommend it.
Wealthy Affiliate is 100% free to join and start your first 10 lessons! They also allow you to start building your subdomain site for free, so you can get a taste of how everything works. No credit card is required.

Thanks for reading my Traffikrr review. If you have any thoughts or questions about it, feel free to leave me a comment below.
See you next time!
Stefan