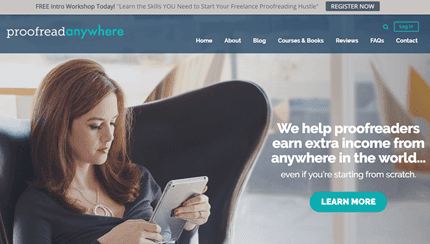 Are you sick and tired of relying on a day job to make ends meet? Proofread Anywhere can be the answer. Is it a scam or a great course to become a successful proofreader and work anywhere?
Let's find out!
Proofread Anywhere Review
---
Product Name: Proofread Anywhere
Website: www.proofreadanywhere.com
Type: Proofreading

LEGITIMATE

Overall rating:

 4.8/5
What is Proofread Anywhere?
---
Proofread Anywhere is a comprehensive online course that will give you the knowledge and skills to become a freelance proofreader. Not only that, but it will also help you create your business, market yourself to clients, have the right mindset, deal with taxes, and more!
Having worked since 2007 as a proofreader, the author is an expert in the field and has been featured in well-known online magazines such as Forbes, Business Insider, and The Penny Horder.
Is Proofread Anywhere a Scam? 
---
Considering the staggering number of scams involving work from home programs, it's natural that you feel skeptical.
Well, I've been reviewing online opportunities since 2015, so I can identify a scam from miles away.
The author is not promising you will start making a lot of money and go full-time within a short period. In fact, she is very clear that you must have the feet on the ground and work hard to achieve your goals. In her own words:

Furthermore, she is being totally transparent regarding the content of her courses and has a solid reputation within the proofreading industry.
That being said,  you can rest assured this a legit and reputable course.
Who Is It For?
---
The course is aimed at anyone who wants an extra income or even becomes a full-time proofreader.
If you like the idea of working independently from your computer and have close attention to detail, then this might be an excellent option for you.
You don't need any previous experience. However, as the course will train you to work for American-English court reporters, it's essential that you are highly familiar with the American English. Thus, if you are a non-native speaker, you may struggle.
The Training
---
There are currently 2 courses available:
1.General Proofreading: Theory and Practice
General proofreading helps you proofread blogs and books, and it's more basic compared to Transcript Proofreading. It's also less technical and, therefore, recommended for those who are brand new to proofreading.
The course lasts approximately 1 month and comprises over 40 lessons in 8 modules, 8 grammar-specific worksheets, and 20 real-life job examples.
These are the modules:
 Introduction to General Proofreading
 Get into the Proofreading Mindset
 Get into the Proofreading Mindset
Proofreading Methods + Practice
Turning Proofreading into a Business
Looking for Jobs
Once You Get the Job
Getting the Most Out of the Freelancing Life
You will also get lifetime access to updates, lifetime access to PA proofreaders Facebook group, and cool bonuses.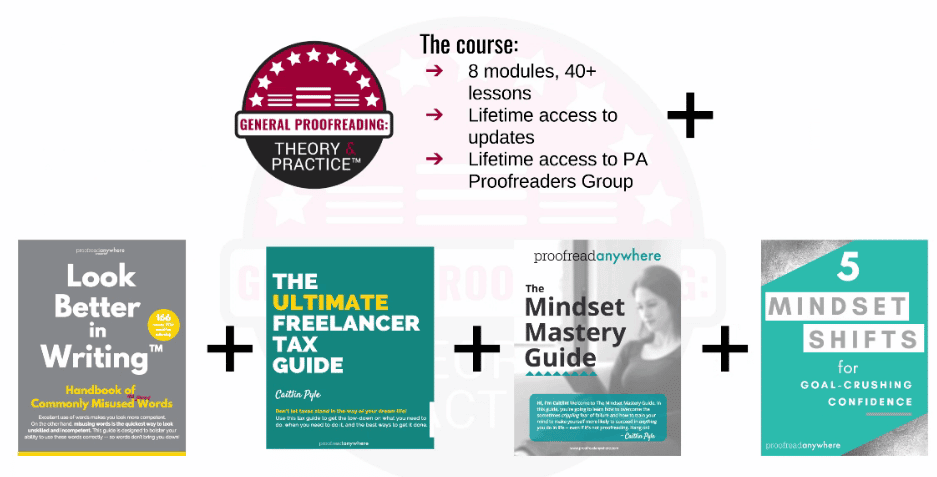 Price
There are 2 packages available: Ignite for $497 and Ignite Plus for $597.
The fundamental difference is that the Ignite Plus has a hand-graded exam and a certificate of completion.
2.Transcript Proofreading: Theory and Practice
This is a more intense and technical course, designed for those who want to target a specific niche, such as court reporters.
Many people choose this course instead of the general one because they might already have some experience, but want to get more technical in order to target a more lucrative market.
You should take approximately 2-4 months to complete the entire course, which is divided into 9 modules and 55 units.
There are many units in each level, so I encourage you to visit official website to check all the details.
Price
The price is divided into 4 levels:
1 – Basecamp ($77): Access to module 1 for 7 days.
2 – Jumpstart ($197): Access to modules 1 and 2 for more 30 days.
3 – Nexteps ($400): Access to modules 1-6 for more 60 days.
4 – Launch + Earn ($500): Access to modules 1-9 for LIFE.
IMPORTANT: At the end of the Jumpstart level, you will have to take the Word Skills Test. This test is a great opportunity to confirm that you have the skills necessary to proceed with the rest of the course. If you score less than 80%, it's recommended that you don't move on to the other levels.
Testimonials
---
One thing that stands out is the incredible amount of positive reviews that students gave to this course.
There are many success stories as well!
Check out this page to see over 30 inspiring success stories.

Conclusion 
---
Proofread Anywhere will give you proper education, and practical skills that will undoubtedly help you succeed. But ultimately, you will have to put in the time and effort as in any other business.
The training not only covers the technical aspects of proofreading but also critical knowledge to create your business, market yourself, search for jobs, and more.
The value you are getting from all of that is incredible, and I have seen no other course that covers all the aspects of this freelance career.
If you have the motivation and drive to make money on your own terms, Proofread Anywhere is an excellent choice.

This reward platform is going viral! Cash out via PayPal, Visa, Gift Cards, and in-game currencies - Click here to find out how to generate an extra $10+ per day! 
Verdict: Legit – Recommended

How I Make Money Online
---
Proofreading is a great way to make money online. There is no doubt about it.
I won't pursue this path because, unfortunately, English is my second language, and I still make a lot of mistakes. Heck, I am also bad at Portuguese, my native language, so what's left for me?
Well, there are many ways to make money online. So, I decided to build a website and promote products as an affiliate marketer. This is like any other business, except I don't have to look for clients or report to a boss.
I write what I want, and how I want, so I am in total control of what I earn. Of course, this is also not an easy method, but it can be very profitable with hard work and perseverance.
If you are interested in learning about the strategy and excellent training platform I use, check #1 recommendation below.
Thanks for reading! If you think this article was helpful to you, please share it with other people. Also, if you have any questions, feel free to leave a message below.
Your friend
Stefan