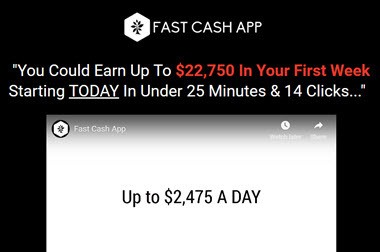 The founder of Fast Cash App is trying to convince you that his insanely profitable system could make you money everyday for the rest of your life.
According to him, you can work just 25 minutes per day and generate over $2,000!
So, now you are probably wondering, is Fast Cash App a scam or legitimate? Will I make real money online to quit my job and finally work whenever I want?
Read this post carefully to understand how this system works!
By the way, if you want to learn the proven method that earns me $1,000+/mo from my laptop, check out my #1 recommendation!
Fast Cash App Review
Name: Fast Cash App
Website: https://fastcash.click/
Price: $37 + Upsells
Founder: Robert Fisher (fictitious?)
Overall Rating:

0.4/5

Recommended? 

No
The Hype
---
I have lost count of how many similar overhyped programs I have seen over the past 3 years.
Fast Cash App is no different.
Instead of providing useful information, all they do is create the false idea that the system will help you make quick and easy money.
To be more precise, they are claiming "You Could Earn Up To $22,750 In Your First Week Starting TODAY In Under 25 Minutes & 14 Clicks…"

Everybody wants to achieve fast results and live life to the fullest.
Unfortunately, it's unlikely you will reach your financial goals working just 25 minutes per day.
I have seen all the different ways to build an internet business, and I can guarantee there are no shortcuts to success.
In fact, most people who start with this mindset eventually give up because they don't have the patience to work consistently for a few months.
What is Fast Cash App? 
---
Fast Cash App is another internet marketing program for sale at Clickbank, a digital marketplace where you can find many other "make money online" products.
Clickbank is a legit place, but they allow many unscrupulous product creators to use misleading advertising to sell poor quality products.
The creator of Fast Cash App doesn't explain what this system really is or what you will be doing.
I reviewed lots of info products with the same sales tactic such as:

That is a HUGE red flag because legitimate and reputable companies will never hide key information about their courses.
In fact, if the product is of high quality, the more information they provide, the more sales they will make!
The reality is that Fast Cash App is a basic internet marketing training and a sale's funnel.
These products are overpriced and won't eliminate the hard work required to build a lucrative internet business.
You will spend a lot of money on information you could get for free on the internet. But because you have no idea what the system is, there is no way of searching for it.
Tired of internet scams? Check out my Top Recommended Program here >>
Pros and Cons
---
Pros
There is some valuable information.
The membership will help you make money online. Just not as fast as the website makes you think you will.
You can get a refund within 60-days.
Cons
Unrealistic income claims.
There is no information about the owner. He also doesn't show his face.
There is no income disclaimer.
Expensive upsells.
How Does Fast Cash App Work? 
---
After you register by providing your name and email address,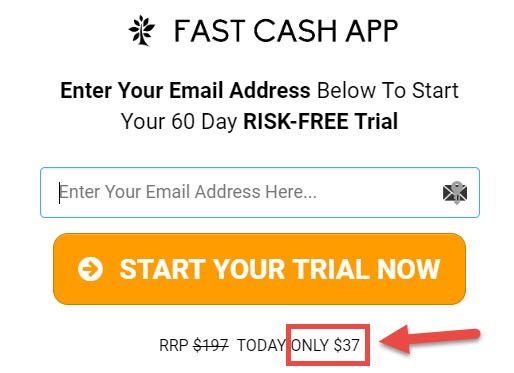 You may think this is a no-money-down trial, when in fact, you will have to purchase the frontend product for $37.
If you don't like the product, you can ask your money back within 60 days.
After you place the order, they will try to push you 3 expensive upsells that will supposedly help you accelerate your earnings.

Here are them:
Fast Cash 2.0: $197
Fast Cash Pro: $177
Fast Cash Social: $97
The question you should ask yourself is: If the initial Fast Cash App offer would help you earn $22,000+ per week, why would you need to buy more stuff?
It doesn't make any sense!
I bought a similar program in the past, and was extremely frustrated when I discovered my initial investment was not enough.
Now, I want to know beforehand what I will learn and all the memberships available before I purchase any digital course, 
If I notice thet are trying to hide information, they don't deserve my money.

This reward platform is going viral! Cash out via PayPal, Visa, Gift Cards, and in-game currencies - Click here to find out how to generate an extra $10+ per day! 
Plain and simple!
Another important information is that when you buy any Fast Cash App product, their affiliates (promoters) will earn a whopping 75%.

It doesn't surprise me that affiliates are spamming people's email with all those ridiculous income claims.
Here is one example of the exact email their affiliates use: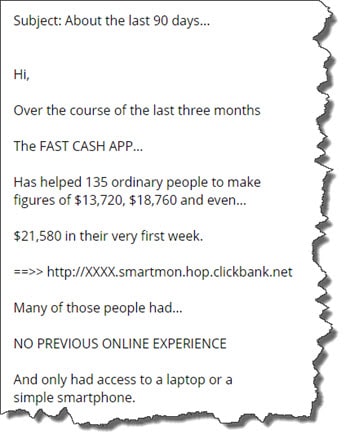 Red Flags
---
Pay close attention to these red flags below. It doesn't mean Fast Cash App is a scam, but these are important things to consider before buying any e-business course.
#1- Insane Income Claims 
I have already mentioned the unrealistic income claims, but it's important to make this clear.
The owner of Fast Cash App is trying to convince that you can start making money in just 25 minutes, which is total BS!
It's possible to make thousands of dollars per week with an internet business, but it's not as quick and easy as they advertise.
Their system is not unique, and thus, you will find a lot of competitors doing precisely what is they are suggesting you should do.
That's why you won't be able to make a lot of money unless you outperform in your niche.
#2 – Who is the Owner? 
The spokesperson in the video, Robert Fisher, claims to the owner of Fast Cash App.
However, after searching extensively on the internet, I couldn't find any information about him on the internet.
Trust me. If this system worked exactly the way it was advertised, this guy would be more famous than Mark Zuckerberg.
We can't even be sure whether his real name is Robert or if he is using a fictitios name.
#3 – Where is the Income Disclaimer? 
Another big red flag is the fact that Fast Cash App has no income disclaimer.
This page is essential in every website which sells or promotes online business or investment opportunities.
It tells people that there are no guarantees and results depend on various factors.
Most product creators have the decency to include that essential page.
Well, the owner of Fast Cash App hasn't. He couldn't care less!
#4 – No Income Proof
Robert tells you about 3 members who made thousands of dollars, but doesn't show any proof that these people exist!
That's fine if they can't provide a screenshot from their bank accounts. In fact, very few people would do that anyway.

The problem is that they don't provide a photo or even the full name of these people.
So, it's hard to believe these success stories are true.
Conclusion – Is Fast Cash App a Scam? 
---
There are no legal grounds to call Fast Cash App a scam because they are not promising you will earn any money.
For example, they say you can earn up to $22.750 in your first week.
Pay close attention to the word "can" and "up to".
It doesn't mean you will earn that amount of money, but it's a possibility, albeit highly unlikely.
The problem is they don't explain what you will get, and how you will make money.
The sales page PURE HYPE, folks!
You can make money by following their strategies, there is no doubt about it.
However, regardless of the business model proposed, you will have to work hard to achieve your financial goals. That's for sure!
I know what it takes to succeed online, and I can guarantee it takes much more than 25 minutes per day and a few clicks.
Many people will fall for the hype and purchase Fast Cash App with the wrong mindset of making a full-time income overnight.
It doesn't work like that!
Verdict: Not Recommended
How I make Money Online
---
In 2015, I discovered an excellent step by step program that showed me the proper way to build a website, attract an audience and make money as an affiliate.
Since then, I have made over $25,000 in affiliate commissions! Not enough retire I know, but I am happy it covers all my living expenses in London.
That means I don't need to rely on a job to pay my bills. Besides, I can travel to cheaper places and live a digital nomad lifestyle.
In fact, my journey to South East Asia starts in November 2019!
The reason why I chose this platform was that there were 100% transparent and upfront since the beginning.
They didn't promise me I would make a lot of money quickly and easily.
Instead, they gave me proper education, support and mindset to face the challenges of building an online business.
I was a complete newbie when I joined, and I have met many members who are now making a full-time income from home too!
The first 10 lessons are completely free, and with the starter membership you also get:

2 Free websites
Support from me, the owners and the entire community.
It's a great place to build passive income sites! But of course, it's not for everyone. So, sign up for free and see if that business model appeals to you.
Check Out My TOP Recommended Program HERE >>
I hope this post about the Fast Cash App was helpful to you. If you have any questions, feel free to leave me a comment below.
Stay safe and peace out!