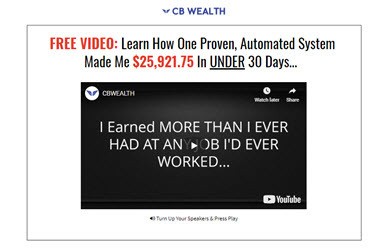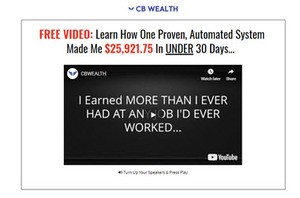 James Roberson, the creator of CB Wealth, is claiming his revolutionary done-for-you money making system can earn you up to $25,921.95 in the next 30 days.
According to CB Beath sales page, you don't need any previous experience to copy his system and make easy money online.
So, is CB Wealth a scam or legit business opportunity? Can it really help you earn a life-changing income from home?
Let's find out!
By the way, if you want to learn the same method that earns me $1,000+/mo from my laptop, check out my #1 recommendation!
Newbie friendly and free to get started! 
CB Wealth – Scam or Legit? 
Name: CB Wealth
Website: https://cbwealth.net/
Price: $37 + Upsells
Founder: James Roberson (fictitious?)
Overall Rating:

0.5/5

Recommended? 

No

[yasr_overall_rating size="medium"]
The Hype
---
I have reviewed lots of overhyped programs in the past, and CB Wealth is no different.
Instead of providing useful information about the system, they prefer to tell you everything you want to hear – that CB Wealth is done-for-you, and highly profitable.
James said 157 students have made over $10,000 in their very first week!

However, there is not even proof that these people exist!
I have seen all the different types of online businesses, and I can guarantee there is no "copy and paste" system to make money on autopilot.
There are no shortcuts to make hundreds of thousands of dollars per day.
So, right of the bat, I can see CB Wealth is trying to hide the harsh reality of building a successful internet business.
As a result, many people can buy this product with unrealistic expectations and feel like a complete failure if they don't make a single cent in their first week.
But guess what? That is completely normal!
What is CB Wealth? 
---
CB Wealth is an internet marketing program that will help you build an online business and earn affiliate commissions.
This product is for sale at a digital marketplace called Clickbank, which is a legit platform where independent product creators sell info products.
The problem is that it allows many creators to use overhyped sales page to entice visitors to buy their products.
CB Wealth gives people false expectations of the work required to achieve $10,000/week.
In fact, they say CB Wealth is a done-for-you system, which can mislead people into thinking all, or most of the heavy lifting is already done.
Other products like Cash Formula, Explode My Payday, Million Dollar Replicator and Fast Cash App also use this marketing tactic.

Note the staggering similarities between CB Wealth's homepage and Fast Cash App's: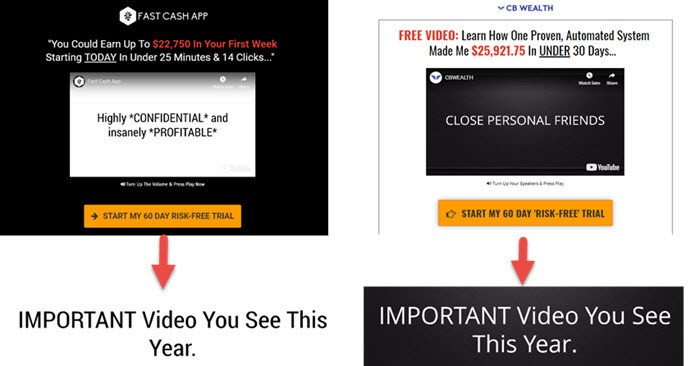 Tired of internet scams? Check out my Top Recommended Program here >>
Pros and Cons
---
Pros
It will help you make money online, just not as fast as the website makes you think you will.
60-day money back guarantee.
Cons
Unrealistic income claims.
There is no income disclaimer.
There is no information about the owner.
Expensive upsells.
How Does CB Wealth Work? 
---
After inserting you insert your name and address, you will be taken to the checkout page, to pay a one-time fee of $37.
However, this is just the front-end product of a sales funnel that has 3 other expensive upsells:
1: CB WEALTH 2.0. Price $197
2: CB WEALTH Pro. Price $177
3: CB WEALTH Social. Price $97
These hidden upsells will supposedly accelerate and increase your earnings, but still, they won't eliminate the hard work required to get traffic to your site.
You will probably get a done-for-you landing page, but the challenge is to attract visitors to it.
Visitors will only come to your site if you provide them with valuable content or you use paid traffic method, such as Facebook ads.
That's why there is no 100% done-for-you systems.
CB Wealth will give you some training, which is fine! But in my opinion, they should inform potential customers what exactly they will learn before they take the plunge and open their wallets.
The good news is that if you don't like the product or you think the strategies are flawed, you can ask for a refund within 60 days.

Red Flags
---
CB Wealth has many red flags and reminds me of a typical get-rich-quick scheme.
Red Flag #1- Insane Income Claims 
The owner of CB Wealth is trying to convince you that you can make over $15,000 in your first week.
Although it's possible to reach that income level with an online business, you should not expect quick and easy results as advertised.
It's not easy to earn thousands of dollars per month, not to mention per week.

This reward platform is going viral! Cash out via PayPal, Visa, Gift Cards, and in-game currencies - Click here to find out how to generate an extra $10+ per day! 
Keep in mind CB Wealth is not a unique system, and thus, you will find a lot of competition.

Red Flag #2 – Who is the Owner? 
Usually, the owners of those overhyped Clickbank products are not willing to expose their identities.
Therefore, many of them create pseudonyms and use stock photography to stay anonymous.
The creator of CB Wealth is probably not called James Roberson, and we don't know any information about him.
Think about it. If this system worked the way it was advertised, why is he afraid to show his face and real name to the World?
Red Flag #3 – No Income Disclaimer
I couldn't believe my eyes when I discovered CB Wealth had no income disclaimer.
An income disclaimer is essential to every website that sells or promotes business or investment opportunities.
Red Flag#4 – No Social Proof
James told us about 3 of his students who made thousands of dollars with his system.
However, he doesn't provide the full name or even a photo of these students. So, how can he trust him?
Conclusion – Is CB Wealth a Scam? 
---
I have no proof to call CB Wealth a scam.
You can make money with all the strategies you will learn inside the member's area, but it's not a unique system, and there are no guarantees.
Most importantly, you are unlikely to make money in your first week, unless you spend some money on advertising.
When it comes to paid traffic methods, experience in internet marketing is crucial to your success. That's why I recommend you stick with free traffic methods in the beginning to avoid unnecessary risks.
I don't like the way CB Wealth was advertised because the site hides key information and make people believe in quick results.
Also, I despise hidden upsells because they make the first offer look insufficient, enticing us to spend more money.
Verdict: Not Recommended
How I Make Money Online
---
In 2015, I discovered an excellent training and community that gave me the proper guidance to build a website, attract eyeballs and earn affiliate commissions.
I was a complete newbie, but I was able to grow my site with confidence thanks to their complete step by step program.
Thanks to my internet business, I don't need to rely on a job to pay my bills anymore. I can set my own schedule and work wherever I want from my laptop.
The first 10 lessons are completely free, and with the starter membership you also get:
2 Free websites
Support from me, the owners and the entire community.
It's a great place to build affiliate sites! But of course, there are no shortcuts so you will need to put in the work.

I hope this post about CB Wealth was helpful to you. If you have any questions, feel free to leave me a comment below.
Stay safe and peace out!