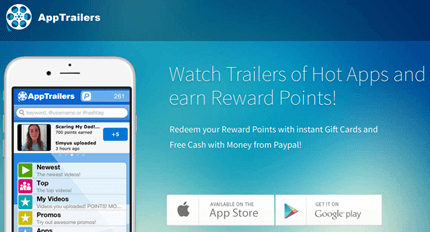 There has been a surge in the development of money making apps in the last two years, and among hundreds of options, you can find App Trailers.
In this review, you will discover all you need to know about App Trailers and whether its a scam or legit opportunity.
Dreaming of time and location freedom? Learn step by step how to build an affiliate business that allows you to be your own boss and work anytime, anywhere!
App Trailers Review
---
Platform: App Trailers
Website: www.apptrailers.com
Developer: AppRedeem, Inc.
Overall Rating:

2.5/5
What is App Trailers
---
App Trailers is an app that allows you to make money by watching videos, playing apps and games trivia from your IOS or Android device.
The app operated by a company called AppRedeem, which claims to offer advertisers the most cost-effective platform for advertising mobile Apps.
Pros and Cons
---
Pros
Many videos available.
You can get paid via PayPal and Amazon Gift Cards.
Cons
Very low-income potential.
It doesn't show how many points you will get per video or trivia.
The minimum payout requirement with PayPal and Amazon Gift Card is relatively high.
How Does App Trailers Work?
---
After you create a free account and install the app, you will see the dashboard.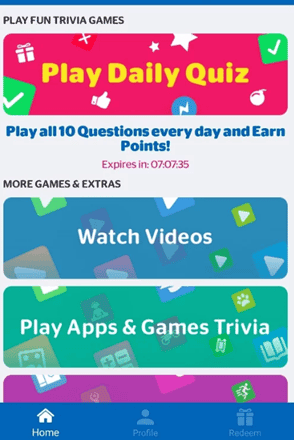 There are basically two ways to make money with App Trailers – Watching videos and playing trivia games.
Watching videos
If you click on "Watch videos," you will see many categories to choose from such as funny videos, game videos, sports videos, etc.
There are also many videos in each category, which gives the impression you will be able to watch videos all day and make lots of points.
Playing Trivia Games
Here you just have to answer quick trivia questions.
Notice App Trailer is making money by showing you ads at the bottom of each trivia question.
How Much Can You Earn? 
---
It is a difficult question because they are are not upfront with you regarding the point system.
The first problem I noticed was that the app doesn't show you how many points you will earn per video. But the biggest problem was to find that after watching lots of videos, my balance on the dashboard was still at ZERO.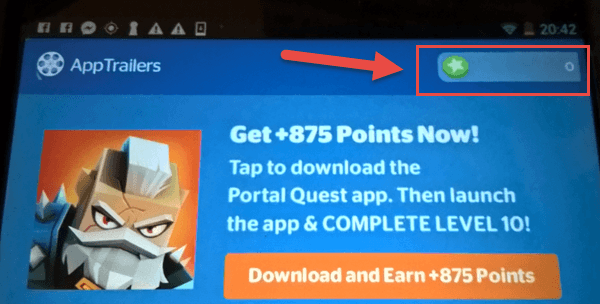 I thought there must be something wrong on my end, so I searched for user reviews on the internet and realized some people were having the same issue.
When I clicked on "redeem" though, I saw my perk points balance was at 80, and then after watching many other videos and answering many trivia questions, the balance didn't grow.
I lost count of how many videos I watched, and eventually, I had to give up.
Considering 20,000 perk points is £10, it means people in the UK will probably earn less than 1 penny per video. 
Well, I earned much less than 1 penny because I watched over 10 videos just to get 80 points.

By the way, some people on Youtube are saying it's possible to make over $100 per day with App Trailers. From my experience, if I make $1 I would be happy.
Cashing Out
---
You can redeem your point after you reach 20,000 via Paypal and 26,000 via Amazon Gift Cards.
It's also possible to redeem via Perk Plastik with only 3,000 points. Perk Plastik is a prepaid debit card that you can use almost anywhere. The only downside is that they retain 100 points every time you load your card.
Final Thoughts – Is App Trailers a Scam?
---
No, App Trailers is not a scam. However, I didn't have a good experience with it as I had no idea how much I was earning for each video. At some point, I thought I was not getting paid at all!
I hope this error is momentary and that it will be resolved soon.
In my opinion, there are much better strategies to make money online out there.
How I Prefer to Make Money Online
In 2015, I discovered a powerful method of making money online called affiliate marketing.
I learned how to build authority sites that get high rankings on Google generates commissions without having to trade time for money. That allows me to work whenever and wherever I want and keep making passive income.
If you have higher aspirations in life and want to build something big that can give you time and location freedom, then you should check out my #1 recommended platform.
It's a huge internet marketing platform that provides all the training, tools and expert support to achieve your goals.
I was a total newbie when I got started, but within 2 years I was able to fo from $0 to $900 /mo. You can also achieve excellent results as long as you don't skip any lesson and take massive action. It works

So, have you tried App Trailers? Are you making money with it? Share your experience in the comment section below. Thanks for reading and I'll see you next time.