How awesome would it be to click one button and start getting more traffic, sales, and commissions? Well, that's what the owners of Insta Crusher is claiming you can do with this software. Can Insta Crusher really automate the hard work or is it a scam?
In this review, I would like to explain all the things you should know and give my honest opinion about this software.
Insta Crusher Review
---
Name: Insta Crusher
Website: www.instacrusher.co
Price: $9.95
Owner: Rich Williams
What is Insta Crusher?
---
Insta Crusher has been advertised as a suite of 3 software designed to get you more followers, free traffic and sales with Instagram.
The idea of Insta Crusher is to automate the process, so you get terrific results with the least amount of time and effort.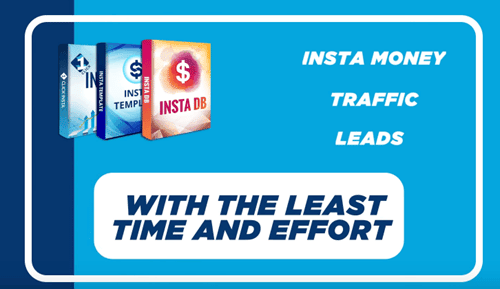 Pros and Cons
---
Pros
The software will help you identify niches and popular accounts, so you know what successful people are doing.
It comes with some decent training.
30-day money back guarantee.
Cons
It gives you the wrong mindset of getting results on auto-pilot.
In my opinion, the auto-generated slogans are not that great.
No free trial.
How Does it Work?
---
The process can be broken down into five steps:
Step 1 – Niche Selection
Use the InstaDB to find very profitable niches and popular Instagram accounts. This means you will be able to select niches that are more likely to yield great results and spy your competitors.
Step 2 – Prepare Your Content
Look for posts that are performing well on the top accounts that you found in Step 1. Then you will select your niche and the keywords you found in that same post and paste them into your InstaTemplate software.
The software will generate a template text that is said to convert followers into buyers. 
Step 3 – Create Your Content
With AutoInsta, you will be able to select the background image, text font and affiliate link to create your post. They say AutoInsta gives you the type of posts that get free likes and build lots of followers.
Step 3 – Hit 10k Followers in a Matter of Days
Insta Crusher will provide some training on how to take advantage of "shout outs" and reposts to rank you high on the news feed and get massive exposure.
Step 4 – Monetize
Step 4 is all about how to turn clicks into sales. They will give additional step by step training on how to advertise products that your audience already wants to buy.

Can Insta Crusher Make Your Life Easier? 
---
Insta Crusher software helps you select popular niches and create posts based on your keywords. That's basically all it does!
I don't know the source the auto-generated slogans and how well they perform, but I believe they won't give extraordinary results by itself. They are not likely to go viral because they lack creativity and uniqueness.
With that said, Insta Crusher can't get you lots of Instagram followers without the hard work. There are no shortcuts.
Final Thoughts – Is Insta Crusher a Scam? 
---
No, it's not a scam. But I think many people will buy it expecting quick and easy results. At least, that's how I felt by watching the advertising video on the front page.
There is too much hype.
It makes you think your life will be so much easier. But the truth is that the training, strategies, and effort necessary to grow your Instagram followers base are far more important than having this software.
Verdict: Legit
My #1 Strategy to Make Money Online
I know many people just make money with social media. It's possible!
However, I prefer building affiliate sites that get not only free traffic from Google but also from any other social media platform.
The website is the foundation for my online business. I can still have an Instagram, Tweeter, Facebook account and direct people to my site where I can communicate better with my audience.
With a website, I can not only promote products as an affiliate but also build a list of subscribers, which is extremely important for any online business.

For a complete training on how to build an affiliate site and get FREE traffic from Google and other many sources, I highly suggest you take a look at My #1 Recommended Program.
It's totally newbie friendly and gives you excellent step-by-step course, support, and tools to build your online business.
I can personally attest the efficacy of their training because it helped me build a site from scratch which is now generating over $900 / month in affiliate commissions.
So, if you are ready to work hard to achieve time and location freedom, this is one of the best platforms that exists!
Click Here and Check Out My #1 Recommendation Review
Hey, thanks for checking out my honest Insta Crusher review. If you have any questions, please drop me a message below, and I'll be more than glad to help you out.

This reward platform is going viral! Cash out via PayPal, Visa, Gift Cards, and in-game currencies - Click here to find out how to generate an extra $10+ per day!