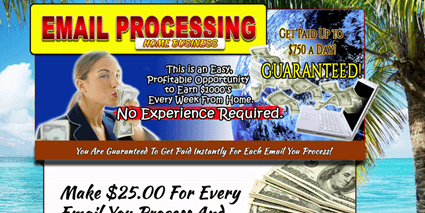 My Residual Profit is trying to sell you the dream of making lots of money online for email processing. Can you really trust this website or is it a complete scam?
Check my review below before you buy into what I consider to be a flawed business opportunity.
By the way, if you want to discover the real strategy that earns me $900+ per month from my laptop, don't forget to check out my #1 recommendation.
My Residual Profit Review
---
Name: My Residual Profit Review
Website: www.myresidualprofit.com
Price: $25
Owner: Unknown
The Hype
---
My Residual Profit is hugely overhyped. It claims that if you process 10 emails per day, you will make $7,500 per month, which is more than enough to live the good life!

You will get paid $25 for each email you process from your home, and it doesn't require any experience.
Processing emails seem like an easy task. Too good to be true, isn't it? But what exactly is this "processing"?
Bear with me as I am going to expose the strategy for you.

This reward platform is going viral! Cash out via PayPal, Visa, Gift Cards, and in-game currencies - Click here to find out how to generate an extra $10+ per day! 
What Exactly is My Residual Profit?
---
My Residual Profit is basically a website that is charging $25 for an opportunity to become their affiliates and promote the same thing to other people.
You will earn 100% commission ($25) when you refer others to join My Residual Profit, and they buy the $25 membership too.
It's important to mention that My residual Profit has no "About us" page, which means we have no idea who operates the site.
Probably you discovered the site from an affiliate who was promoting his links somewhere. If so, this person will make a commission if you pay the $25.
Pros and Cons
---
Pros
Cons
It's overhyped.
You are promoting something of little value to people. To be honest, the only value is the opportunity to make $25 with an automated system in place.
No refund policy.
How Does it Work? 
---
It's simple. When you purchase the membership, you will get access to pre-written ads that contains your unique affiliate links embedded.
These affiliate links will direct people to My Residual Profit Site and will identify you as the one who invited that person to join. If that person ends up paying $25 to join, you will earn $25 commission.
Your job is to post these ads on Facebook, Craiglist, Backpage or any other website that allows you to advertise them.
It's important to understand that all you are getting from the $25 membership fee are:

Basic instructions on how to promote your ads.
Affiliate links that direct people to My residual Profit website.
All the HTML and images from My Residual Profit Site so you can use as you want.
16 ads.
What they call "email processing" is the process of collecting people's email and giving them access to the member's area after they make the purchase.
However, the site does it automatically for you. That is not your actual job!
The real challenge is to get many people to click on your affiliate links (ads) and buy into this opportunity. From personal experience, it's not an easy task!
Can You Make Money With My Residual Profit?
---
Yes, you can. But it's unlikely you will make a significant income without providing value to people, and without a long-term strategy in mind.
Earning money by placing ads on different platforms looks spammy, and so many places such as Facebook groups and forums will ban you for infringing their policy.
In my opinion, it's an outdated and ineffective method that is not worth your time and effort in 2018 and beyond.
No Refund Policy
---
My Residual Profit runs a stringent no refund policy. If you check the Refund Policy page, they say entering a dispute with Paypal to get your money back is strictly forbidden. And if you try to do that, they can take legal action against you.
Final Thoughts – Is My Residual Profit a Scam?
---
My Residual Profit is not a fraudulent website according to the law, but many people will be annoyed when they understand the real struggle behind this strategy.
I don't recommend this website.
Instead of paying $25 for an ineffective method, I highly recommend you invest in education, support and the right tools to build a proper affiliate business.

You can do that with my #1 recommended platform. They will show you step by step how to build a site from scratch and rank blog posts on the 1st page of Google to get free visitors to your site. It takes time and a lot of upfront work, but it's worth it, and anyone can do it.
It all boils down to your motivations and how much work you are willing to do to succeed. In my case, the prospect of being my own boss and travel the World made me overcome any obstacle and work harder day after day.
For more information, click the link below and understand exactly how it works!
Hey, thanks for checking out my honest My Residual Profit review. If you have any questions, please drop me a message below, and I'll be more than glad to help you out.
ot of upfront work to build your foundation, but it's one of the best ways to get started! I did all that for 2 years and now I am making over $900 per month with my website that I built with the help of that platform.