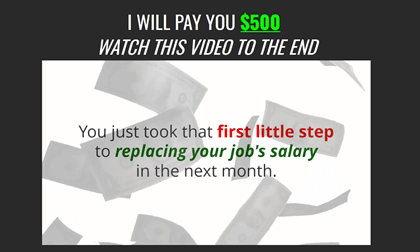 So, you're trying to make money online and found an exciting opportunity called Job Quitter System. They promise $500 and the chance of making a substantial automatic income without much effort. 
Can you trust these guys? Is Job Quitter System a scam or legit?
Find out in my review below.
The Job Quitter System Review
---
Name: The Job Quitter System
Website: www.jobquitter.com
Price: $47
Owner: Richard Harper
Recommended: Discover the step-by-step program that helped me go from $0 to $900 per month. No hype or false promises! (Free training available)
The Hype
---
The Job Quitter System seems like a dream come true for many people who hate the 9-5.
The video claims it's so simple that you just have to listen to the instructions and tap on your phone. You will then start making a job replacing income by next month.
All they want is you to press the "buy now" button out of impulse with absolutely no information.
All scammers use the same tactics, and you shouldn't trust a single word.
What is The Job Quitter System?
---
The Job Quitter System will encourage you to take advantage of affiliate marketing, an excellent method to make money online.
However, the creator doesn't show you what you are getting from the $47 membership or what you will be doing.
There are many strategies to make money with affiliate marketing. Some are good, while others are a complete waste of time. 
So, instead of explaining the affiliate marketing strategy, what you will be doing, and all the advantages of the membership, they prefer to excite things up and force you to jump into the unknown.
It's a significant risk.
Pros and Cons
---
Pros
Cons
Unrealistic expectations.
There is no information about the membership.
There is no information about the affiliate marketing strategy.
It Gives You The Wrong Mindset
---
When you start with the expectation of making a quick and easy buck online, you are setting yourself up for failure from the get-go.
I am telling you this because there are no shortcuts to making a job-replacing income online. Instead, it usually takes years of hard work to reach a point where you can live off of your online revenue.
So, you need to have the right mindset in place to avoid frustration and keep on the right track.
Unfortunately, The Job Quitter System gives you unrealistic expectations.

You Won't Get Your $500! 
---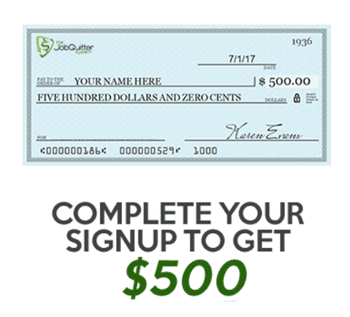 The promise of giving you $500 after joining The Job Quitter System is absurd! 
I have reviewed other programs that use the same tactics, namely Big Profits Plan and Massive Internet Profits.
Why am I so confident about it? Well, simply because the terms and conditions don't even mention the $500. And if it is not on the terms, there is no obligation to keep the promise.
Besides, here is what they are saying:
Results vary, and as with any money-making opportunity, you could make more or less. Success in ANY money-making opportunity is a result of hard work, time and a variety of other factors. No express or implied guarantees of income are made by The Job Quitter.
I always encourage people to read the terms and conditions of any website because only there you will find the truth:
No one can promise you will make money with any method!
Conclusion – Is the Job Quitter System a Scam?
---
I have no proof that Job Quitter System is a scam, but there are too many red flags!
You should never believe that any website or training will help you make easy money online. The easier for you, the riskier for your money!
As a matter of fact, if Job Quitter System offered excellent training and a business platform, they would have no problem exposing all the details to you.
But the reality is that if people knew the whole story, I guess they would make fewer sales.

What I Recommend
---
In 2015 I discovered a great platform that gave me all the training, support, and tools to make money with affiliate marketing.
They didn't tell me I would make lots of money within a month or a year. Instead, they were honest from the beginning and said I should work hard to achieve my goals.
I was not discouraged by the fact I was a total newbie and that it could take years before I earned a decent income.
I was realistic, but at the same time confident because I met many members who achieved excellent results in 1 or 2 years.
So, fast forward two years, and now I am making over $900 per month in affiliate commission. It's not a secret, I watched all the lessons and took massive action. 

This reward platform is going viral! Cash out via PayPal, Visa, Gift Cards, and in-game currencies - Click here to find out how to generate an extra $10+ per day! 
You can register for free and get the first certification course without spending a single penny. No hype, no false promise, and no risk whatsoever!
If you want to learn more about my No.1 recommendation, click the link below and read my full review.

Check Out My No.1 Recommendation Here
Thanks for checking out my Job Quitter System review, and I hope this helps you make an informed decision. If you have any questions, please feel free to ask in the comment box below.
Stay safe!