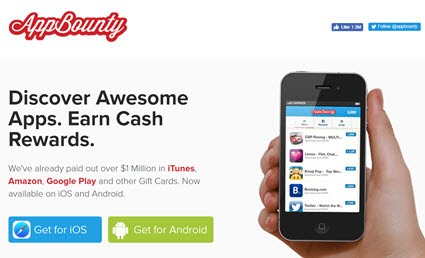 There are probably hundreds of apps designed for those who want to earn cash rewards on the go. One popular option is called AppBounty.
The problem is that many companies behind these apps are not rewarding users. That's why I decided to write this review and answer the question Is App Bounty a scam or legit?
Let's find out!
By the way, if you want to discover the strategy that earns me $1,000 per month from my laptop, check out my #1 recommendation.
App Bounty Review
---
Name: AppBounty
Website: https://www.appbounty.net/
Company: Advertile Mobile GmbH
Type: GPT (get paid to)
Price: Free to join
Overall Rating: 2.6/5
What is AppBounty?
---
Developed by Advertile Mobile GmbH, AppBounty is a popular app that allows you to earn cash rewards for downloading apps, completing different types of offers and watching videos.
It's very similar to AppNana, Storm Play, AppLike, AppKarma, CashPirate and many others.
AppBounty is available in 15 countries and you can install it either on your Android or iOS device.
Pros and Cons
---
Pros
There are many free offers depending on your country.
The minimum payout requirement is not too high.
It's available in 15 countries.
It's available on Android and iOS devices.
Cons
Low-income potential.
No Paypal.
How Does AppBounty Work?
---
Installation and Registration
The first step is to search for AppBounty on Google Play or Apple Store. You can also visit the official website and click the "get for iOS" or "Get for Android" button.

This reward platform is going viral! Cash out via PayPal, Visa, Gift Cards, and in-game currencies - Click here to find out how to generate an extra $10+ per day! 
After the installation, you must sign up using your Facebook account.
You can use my referral code iatdmmtc to earn 50 credits as a referral bonus.
In order to claim this bonus, click on Account, enter the code and click "Submit".
Points Vs. Rewards
It's crucial that you have an idea of how much you will earn per offer.
Your earnings depend not only on your country but also on the gift card of your choice.
Unfortunately, AppBounty doesn't process payments via Paypal. Instead, you will be able to redeem via Amazon, iTunes, Google Play and a few other gift cards.
Here in the UK, you will need 6300 credits to redeem for a £10 Amazon voucher.
Offers
In the Targets section, there is a list of offers you can complete with their respective rewards.

These offers include:
Signing up for GPT, survey and other free platforms.
Installing other apps or games.
Filling up online surveys.
Entering prize draws.
At first, I thought there were not many opportunities, but then I discovered the Fyber Offerwall, which has an incredible number of offers.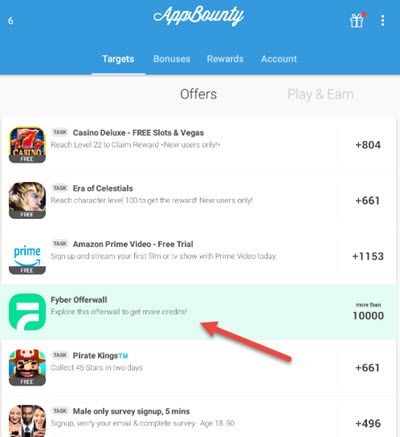 After selecting the task, you should read the instructions carefully to make sure you don't miss any step.
What I like about AppBounty is that most offers are free, and don't even require a credit card.
Be Careful With Non-Free Offers
Some offers require you to purchase a product/service or make an initial deposit.
Therefore, I advise you to calculate your cash reward and subtract it from your payment.
Don't be lured by the high number of points of a given offer because when you deduct the payment required, your profit is usually insignificant.
Not to mention you can spend money on some offers!
For example, a ShaveKit offer was worth 1609 (£2.55) credits, but you would have to pay £3 to have the product sent to you. In practice, you are getting the product for a cheap price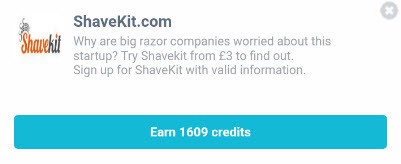 This offer is okay!
However, I am not a fan of offers as some people might lose money after their initial deposit.

Watching Videos
You can also watch video advertising and earn 3 (£0.0047) credits per video.
As each video takes around 20 seconds, you will earn £0.84 per hour.
With all honesty guys, I don't think it's worth it.
Complaints
There are mixed opinions about AppBounty on the internet.
If you read the user reviews directly from the Google Play site, you will see many complaints.
The most common complaint is people not getting rewarded for completing offers. Mistakes and errors can happen, and they are not uncommon, I suppose.
If you didn't get rewarded, but you think you've fulfilled all the requirements then you should contact Advertile Mobile, and show proof that you have completed the offer.
For example, if you need to play a game and reach a certain level, you should take a screenshot and send them as proof.

Conclusion – Is AppBounty a Scam?
---
Even though I found many complaints on the internet, I can't say AppBounty is a scam. That's because I have no proof.
There is no app in the industry that is free from complaints. So, there is always a risk of wasting your precious time and not getting rewarded.
When that happens, you may feel like smashing your phone on the floor. I am sure many people will!
Verdict: Legit
How I Prefer to Make Money Online
---
It's a fact that we can't make a decent income with any cash app.
Offers and online surveys never pay much, and there is also the risk of not getting paid after all the hard work.
Well, there is a better way!
In 2015, I discovered a step by step program that showed me how to build an internet business and earn a job-replacing income from home.
The business revolves around setting up a site and creating helpful articles/reviews that rank on Google.
It's not complicated, but you must put in the time and effort as there are no shortcuts.
I started as a complete newbie, but I watched all the lessons and took massive action. You can also accomplish remarkable results if you have patience and work ethic.
It has worked for me, and I love the freedom of working from my laptop.
Check Out My #1 Recommendation Review HERE
Thank you so much for reading my AppBounty review. If you have any questions, please let me know in the comment section below.
I wish you all the best.