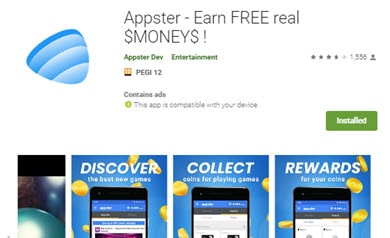 Welcome to my Appster app review!
You may have found Appster while searching for ways to make money with your smartphone or tablet. This is another mobile app that pledges to reward you just for downloading and playing games.
As you are playing, you will collect coins that you can supposedly redeem for cash via PayPal or Amazon gift cards. It really feels like free money!
I have reviewed over 10 similar apps available on Google Play and none of them live up to the hype. Some apps are better than others, but still, you will always find lots of complaints regardless of the company you work with.
After understanding how these advertising apps work, I became more and more skeptical.
In this review, I will explain how Appster works and give you my honest opinion based on the facts. Is it legit? Will you get paid after hours of gameplay? Let's find out!
If you want to learn step-by-step the same strategy that earns me over $1,600/mo from my laptop, check out my #1 recommendation. No previous experience required! 
Appster App Review
Name: Appster App
Company: JustDice GmbH
Type: Earn cash rewards for playing games
Membership Eligibility: Worldwide
App Installs: 100,000+
Similar apps: Mistplay, AppStation, Cash Alarm
Overall Rating: 

1.5/5
What is Appster?
Appster is a free app that promises to give you coins for every minute you play a mobile game. You can also get coins by inviting your friend through your referral link. Once you accumulate enough coins, you can trade them for PayPal and gift cards.
Google Play is jam-packed with identical apps such as FitPlay, Coin Pop, Cash Alarm, and AppStation. These apps are operated by JustDice GmbH and funded by game developers who see in them an exceptional opportunity to gain more exposure.
Appster has been installed over 100,000 times by people all other the world. Although it's available worldwide, residents in the UK, the US, Canada, and Europe usually find more game options and thus, have more opportunities to earn rewards.
Is Appster Legit? Will They Pay You?
I have no proof to call Appster or any similar app a scam, but I have to agree with a user who said: "They take the best of the advertiser's revenue and if a little spill on you, well you're a lucky one!"
Lots of people had an awful experience with Appster as they could not cash out or reach the minimum payout threshold. A common issue reported by users is that Appster refused to open when they tried to redeem their coins.
Some users get banned for suspicious activity after requesting the payout. Unfortunately, the company won't explain the specific reason and won't give users the chance to dispute their decision.
Another recurring issue is that the app does not always track the gameplay properly. So, you can miss out on a huge number of coins.
In the app description, the company claims that payouts are fast and guaranteed.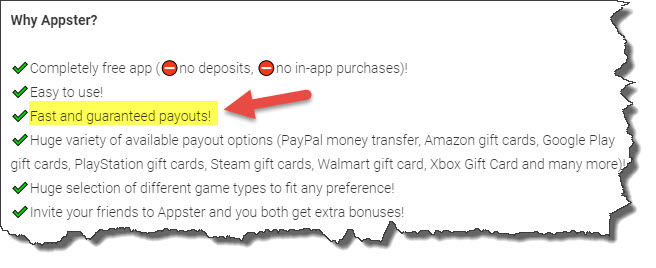 However, if you check the Terms of Use, you will read the exact opposite. It says:
"The provider does not guarantee any winnings. In particular, the User has no right to the payout of a certain award."

"The provider does not guarantee that the app, and services and functions subject to registration, will always work and always be available uninterruptedly and error-free."
Speaking of the Terms of Use, you can only have access to them after installing and opening the app. Most users don't bother opening the ToS page to read about their rights or the lack thereof.

I will let you decide whether Appster is legit or not, but the truth is that there is no guarantee that you will cash out.
Pros and Cons
Pros
No registration required.
It's free.
Earn a signup bonus of 4,444 Coins or 5,555 coins (UK).
Cash out through PayPal and Gift cards.
There are is no advertising while playing games.
Cons
Low earning potential.
There are not many games available.
Users complain that Appster does not track their gameplay correctly and coins are missing.
Users complain that installed games disappear from the "Active Apps" List.
The company blocks users for "fraudulent" activity without explaining the exact reason.
How Does Appster Work?
Installation
Appster is only available on Android devices. There is another app with the same name on the App Store, but it's not the same.
You don't need to create an account to use Appster. Once you install it, you just have to grant Appster access to your usage data so that the company can monitor your gameplay and award you coins.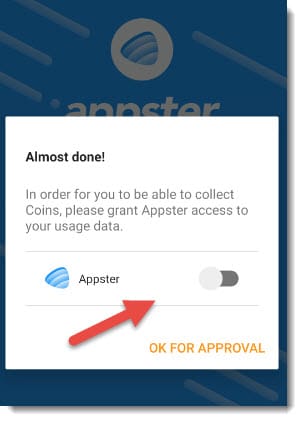 In the UK, there is a signup bonus of 5,555 Coins (£0.44) whereas in most other countries the bonus is 4.444 Coins.
How Much Are Coins Worth?
It's important to calculate the amount of money you are earning while playing games. First, you need to know the exchange rate, which varies from country to country.
Enter the "Payout" section and see how many coins you need to cash out a specific number of coins. In the UK, you can redeem 12,669 coins for 1 GBP. Therefore, 1 Coin equals 0.000079 GBP.
How to Earn Coins
To collect coins, choose the game from the "discover" list, click on Install and start playing. Appster will tell you the number of coins you will earn per minute of gameplay and the maximum number of coins you can earn per game.

As of writing this review, only the game King of Avalon was available for UK residents. In this specific example, users can earn 13 Coins per minute and up to 838 Coins.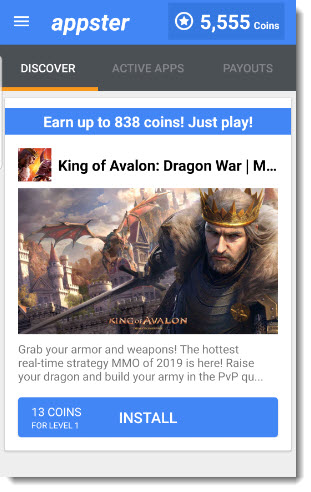 Appster will allocate your games to the "Active apps" section. Make sure you always open them from inside Appster, otherwise, it won't track your gameplay and you won't get coins for playing.
When you visit the "active apps", it will tell you the time you have to play in order to get a specific number of coins. The more you play a game, the longer it takes to collect the same number of coins you used to get.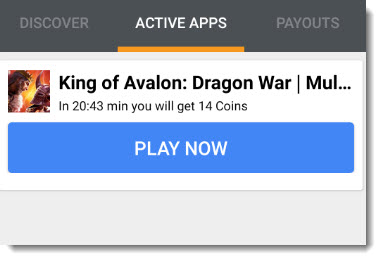 In the beginning, they gave me 13 coins per 1 minute of gameplay, but after playing for another 3 minutes, they were giving only 14 Coins after 20 minutes!

This reward platform is going viral! Cash out via PayPal, Visa, Gift Cards, and in-game currencies - Click here to find out how to generate an extra $10+ per day! 
Eventually, it will take me 12 hours to earn the same amount. It's unsustainable, so if you want to collect more coins, you should always install new games, rinse and repeat.

How do You Get Paid?
You can redeem your points for PayPal cash or Gift Cards from Amazon, Walmart, Google Play, Playstation, Steam.
The availability of gift cards and the minimum payout amount depends on your country. In the UK, the minimum payout through PayPal is £2.50 (31,044 Coins) whereas, in the US, it is $0.50 (4,999 Coins).
How Much Money Can You Earn With Appster?
Very little if any! You may have to play for hours on end only to reach the minimum payout of $0.50. If you live in the US, you can reach 4,999 Coins fast because you already start with 4,444 coins. So, you only need 555 Coins to redeem your first $0.50. But getting the next payout will be a challenge without a doubt!
The problem with Appster and similar apps is that the more you play, the fewer tokens you will earn. They encourage you to install new games to keep earning, but if there is no game, you will get stuck.
Conclusion
Appster is just another reward app that requires too much of your time for very little money. Not only that, but you can consider yourself lucky if you manage to cash out.
After reading lots of reviews on Google Play, I can see that Appster is making it hard for people to reach the minimum payout threshold and get rewarded. Unfortunately, the company has total control over your earnings and may deny your payment at their discretion.
How to Earn a Full-Time Incom From Home? 
If you want to earn a substantial amount of money from home, I advise you to cut off all the distractions and build your own online business as I did.
Apps like Appster make you believe that you can earn free money while having fun, but…
If you have at least 2 -3 hours per day, you could make better use of your time by creating an internet business that will work for you 24/7.
In 2015, I joined this excellent step-by-step program, which helped me create a website, get high Google rankings, and reach $1,600 per month in commissions. This is a remarkable training platform that has been turning newbies into successful online entrepreneurs since 2005!
In a nutshell, I create helpful content and promote other people's products through affiliate links. If you want to learn more about this business model and how it can help you achieve your goals, read my #1 recommendation review here. 
Final Words
Thanks for taking the time to read my Appster app review. I hope it answers all your questions, otherwise, feel free to ask me anything in the comment section below. I am always glad to help!
Stay safe and peace out!