Welcome to my Word Peace app review!
Google Play is jam-packed with puzzle word games that claim you can withdraw money once you collect enough virtual currency.
Word Peace is one of those games that encourage players to play with the expectation of winning big rewards.
I have already reviewed 5 of these apps that end up causing a lot of frustration due to diminishing rewards!
Unfortunately, all of them make it very hard to reach the minimum threshold, which causes many players to give up.
In this review, my mission is to explain how Word Peace works and give you my honest opinion. Will this game pay you? Is it legit or not?
Before you leave, discover the step-by-step program that helped me reach $1,600+ per month from my laptop and quit my job. No special skills required! >> Click here for full details! 
Word Peace App Review
Name: Word Peace
Company: Dream Studio
Type: Word puzzle
Eligibility: Worldwide
Price: Free
Similar apps: Wordy Word, Word Connect, Wizard of Word
Overall Rating: 2/5
What is Word Peace?
Word Peace a word puzzle game where you have to connect letters to form hidden words and pass the levels.
The game itself is great because it helps you pass the time, train your brain and grow your English vocabulary.
It also claims you can cash out with PayPal once you reach $50, which is why thousands of people are installing this app on a daily basis.
Word Peace is owned and operated by Dream Word, which is a company that has other 5 similar apps such as Word Relax, Word Tour, Word Connect, and Word Word. They are all very similar!
The game is available on Android devices and is 100% free to play.
Will Word Peace Let You Cash Out $50? 
The reason why you are reading this review is that you want to make sure you will get paid once you reach $50.
Although I cannot give you a definite answer to this question, I can tell you what will probably happen based on my experience.
In the beginning, the game will dish out $0.50 – $2 after each level, so you will accumulate a decent amount of money quickly.
However, after you play Word Peace for long enough, you will realize how difficult it is to cash out. The closer you get to $50, the less money you will make! It works exactly like this popular crossword puzzle game.
One user reported that once she reached $49.48 at level 536, he started earning just 1 cent after 30 levels. At this rate, users would have to pass over 2,000 levels to reach $50.
It gets worse! This person claims that at level 967, she was making 1 penny every 89 levels.


There are probably hundreds of reviews saying that it's practically impossible to reach $50.
It's heartbreaking to know that people are playing for hours and got getting the reward they deserve!
Is Word Peace Legit?
So, that means Word Peace is a scam, right? Well, I cannot make such a strong statement because what if some brave players get paid after reaching level 2000, or even 6000?
I haven't seen anyone who did it.
Probably less than 0.01% of players will get to this point to check whether Word Peace pays to not.  The problem is that even if you reach $50, the company can ignore your payment request.
That's why many people will eventually give up depending on their tolerance level.
How Does Word Peace Work? 
Installation
You can install Word Peace on your Android device via Google Play. The game is free and doesn't require registration.
How to Play? 
Simply connect the letters to form words!
In the beginning, it's very easy to guess hidden words made up with just 3 letters, but at some point, you will have to play with 4 and even 5 letters.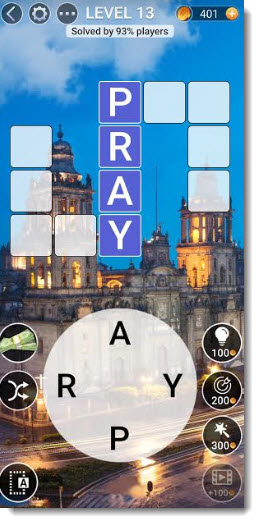 If you get stuck, you can use your coins to buy hints. For example, you can use the hint arrow to revel any letter you choose and the magic want to revel five letters.
Some levels will give you coins after you guess specific words. You can also earn more coins by completing specific milestones in the task list as well as watching videos.
As for the cash rewards, you will collect after passing a certain level. When you start playing Word Peace, you will earn cash after each level, but then it will take you more levels to earn cash. Besides, the cash amount will decrease!
What I like about Word Peace is that you can play offline and avoid the ads. The only problem is that if you run out of coins, you won't be able to get hints that will help you solve the puzzle.
So, you may get stuck unless you go online and watch an ad to earn more coins.

This reward platform is going viral! Cash out via PayPal, Visa, Gift Cards, and in-game currencies - Click here to find out how to generate an extra $10+ per day! 
How Do You Get Paid? 
First of all, if you reach $50, let us know in the comment below because you are a hero!

Then, all you have to do is open your cash balance, click on your "Cashout with PayPal" and enter your PayPal email.
Now, you just have to cross your fingers and hope the company will recognize all your hard work. After all, you guessed thousands of words and watched hundreds of videos, so you deserve it!
Pros and Cons
Pros
It's good for your memory and your vocabulary.
You can play online and offline.
There are thousands of levels, so there is always a new challenge ahead.
Cons
You may have to play thousands of levels to reach $50.
There is no payment guarantee.
There are no Terms and Conditions.
Conclusion
Word Peace is a cool puzzle word game, but if you check on Google Play, lots of players are angry at how the reward system works.
It makes you think you will reach $50 and cash out after passing less than 100 levels. However, the diminishing rewards will make you feel like chasing the carrot on a stick.
The $50 reward seems unattainable like a mirage. Maybe you can cash out after passing thousands of levels, but still, the company can decide whether you will get paid or not.
That's why I advise you to play Word Peace with no expectation to cash out. You may also try Wordscapes, which is one of the most popular crossword puzzle games on Google Play.
Is There a Better Alternative to Word Peace? 
No, there is no better alternative because all similar apps make it ridiculously hard to cash out. You are much better off joining secret shopping applications, survey panels or get-paid-to sites.
For example, this reliable GPT platform can help you reach $100 per month by taking surveys and completing offers.
There are great options out there, but I still prefer using my time to grow my own internet business and earn a full-time income online.
In the next section, I will show you how you can do it!
Earn a Full-Time Income Online
The method that I use to work remotely and make $1,600 online is called affiliate marketing. It consists of providing helpful content through your own website and promoting relevant products and services.
There is unlimited income potential because it allows you to attract people from all over the world!
I started my own internet business with the help of an excellent step-by-step program and took massive action to achieve my goals. >> Click here to learn more!
I wanted to quit my job so badly that I put in the effort during every free time that I had. It paid off!
Today, I am able to work whenever and wherever I want from my laptop. This is me, working inside my Teepee tent in front of the beach in Cambodia. Then, soaking up the sun on the rest of the day. 🙂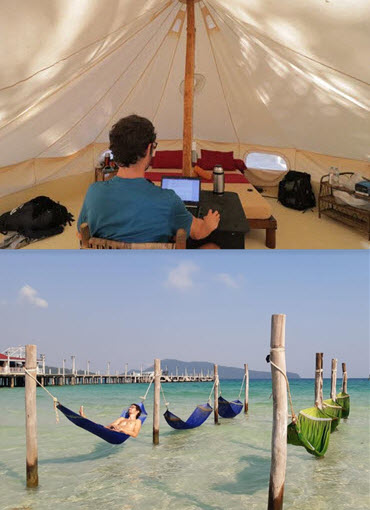 Keep in mind that I didn't have any prior experience when I created this business. Every lesson helped me take one step further to success. Then, I just had to rinse, repeat and keep consistent!

If you want to give it a try, sign up for free now and take you first steps!
Final Word
Thanks for dropping by and reading my Word Peace app review. I hope it helps!
If you have any questions or would like to share your results with this game, share with us in the comment section.
Stay safe and peace out!