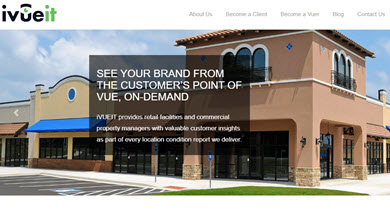 Welcome to my iVueit app review!
IVueit claims to put money in your pocket just for completing simple tasks from your smartphone.
All you have to do is take pictures and submit basic information on commercial properties in your city.
If the client accepts your project, you can earn anywhere from $7 to $50, which is an excellent rate for such an easy job.
There are lots of money-making applications that don't make it easy for people to cash out, causing too much anger and frustration.
You don't what to fall victim of apps that will make you work for free and waste your precious time. That's why it's important to investigate iVueit before even installing the application. So, iVueit a scam or a legit app? Does it pay or not?
In this review, I am going to cover all you need to know about this app and give you my honest opinion.
While you are still here, you may also want to discover the step-by-step program that helped me reach $1,600/mo from my laptop. It's free to get started and you don't need any previous experience. 
iVueit app Review
---
Name: iVueit
Website: ivueit.com
Company: IVŪEIT Media, LLC
Membership eligibility: US residents only
LEGITIMATE
Overall Rating:

4/5
What is iVueit?
---
iVueit is a mobile application that allows you to make money by completing simple assignments known as Vue.
Founded in 2014, the company provides photographic proof-of-service to property managers and retail facilities all across the United States.
As a Vuer, you will get paid for taking photos and answering quick surveys on nearby stores and public areas. These simple tasks are crowdsourced by companies in order to collect valuable information at an affordable price.
For example, instead of hiring someone to check if a parking lot is clean, companies prefer to pay Vuers to do the job. As a result, clients can save time and resources by hiring unlimited workforce on demand.
Once iVueit approves your project, you will receive the money in your wallet, which you can redeem via PayPal or Chase Quickpay.
Is iVueit Legit? Does it Pay? 
---
IVueit is a legitimate application that you can use as a side hustle. I couldn't identify any red flags about the company, so I am confident that it's safe to join.
It's understandable why lots of people distrust app companies that claim to pay for easy tasks. The reason for the scepticism is an abundance of complaints on Google Play and App Store.
The main problem is that most tasking apps are very picky, so they reject the whole project if you commit little mistakes. For example, lots of users are frustrated with the Field Agent app because of how the company reviews and validates missions.
Well, after testing iVueit and reading lots of user reviews, I concluded that it's a trustworthy app.
I haven't seen any complaints about rejected assignments and missing payments, which is reassuring. However, technical problems can ruin your Vue.
For example, a user left a negative review because the app crashed while he was uploading the pictures. I can feel his frustration as he spent 1 hour driving to and back the site plus another hour completing the tasks.
On the other hand, a user left a positive testimonial as the company let her submit the pictures via email. So, it's great to see that support is helpful and flexible.
I don't think technical issues are common with iVueit app, but glitches can always happen with any application. That's why I'd rather reserve jobs that are not too far.

Pros and Cons
---
Pros
The tasks are very straightforward.
Decent rate of pay compared to other similar apps.
Reasonable timeframe to complete projects.
Very easy to use.
You can cash out after completing each Vue.
Quick payments via PayPal and Chase Quickpay
It's available for Android and iOS devices.
Cons
There is a lack of jobs in many locations.
The app is only available for U.S. residents.
Some people complain about technical problems.
How Does iVueit Work?
---
Installation and Registration
You can download the iVueit app on Google Play or App Store depending on your device.
After installing the app, you must register with your Facebook or Google account. You should also provide some basic information such as your last name, email and home address.
You will also have to allow iVueit access to your device's location in order to receive projects in your area.
How to Find Vues
To find Vues, tap on "find Work" and then "New Vues".
Then, check the map to see all the available opportunities in your area.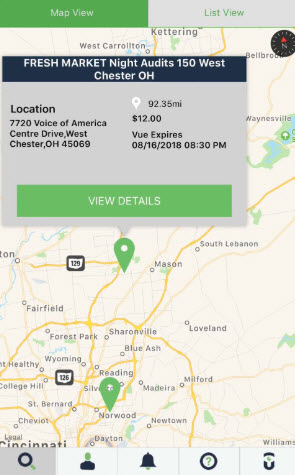 You can select a larger area to identify opportunities a bit further away.
Keep in mind that iVueit is still a small startup, which means they can't provide consistent work all over the U.S.
Therefore, you may not find many opportunities, especially if you live away from big urban areas.
Instead of checking the map every day, you'd better activate the push notifications to make sure you don't miss any jobs in your area.
The notification will tell you how much the project pays so you can decide whether it's worth it or not.

Accepting and Completing Vues
Before you accept a Vue, read all the instructions carefully to avoid submitting incomplete or wrong projects.
Most of the time, you will take photos of landscapes, parking lots, streets and building facades.
Here are some examples: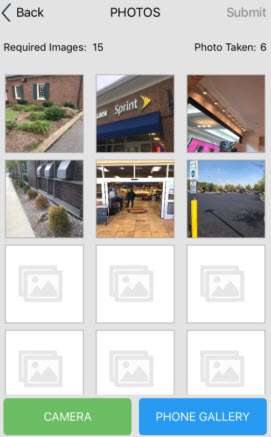 Also, expect to find mystery shopping gigs that involve taking pictures of aisles and individual products.
You will have a specific timeframe to complete each Vue, so you should only accept the job if you are sure you can complete it on time.

This reward platform is going viral! Cash out via PayPal, Visa, Gift Cards, and in-game currencies - Click here to find out how to generate an extra $10+ per day! 
After submitting your photos, iVueit may take 48 hours to approve and process your payment.

Vuer Rating
The more Vues you complete successfully, the higher your overall Vuer rating.
iVueit recommends keeping a rating of 75% in order to claim more opportunities and receive earlier notifications.
How Much Money Can You Make With iVueit?
The payment varies from project to project, but you should expect to earn between $7 and $50 per project.
The problem is that iVueit still doesn't have enough clients to offer lots of jobs.
Therefore, you should not expect to earn a high and consistent income with this app.
Nevertheless, many members are happy to complete the Vues whenever they have the chance.
The reason is that projects are very easy and pay very well compared to similar apps on Google Play.
Are you Travelling? 
One thing that I like about iVueit is that we can log in and complete Vues even if we are travelling.
If you move to another location, just update your profile with the new address to receive projects that are closer to you.
Now, if you are just travelling temporarily, you can still complete Vues and earn money.
In this case, you just need to seek nearby projects by using the map's filter.
How Will You Get Paid?
To receive your payment, you should access your wallet through the "my Account" menu and tap on the "withdraw" button.
One of the best things about iVueit is that you can cash out as soon as your project is approved.
Conclusion
---
IVueit is not only legit but a decent application to make some extra cash.
In my opinion, it's much better than mystery shopping apps because projects pay well and are very straightforward.
Most of the time, you will earn over $10 just for providing exterior photos and answering simple questions about the location.
The main drawback of iVueit is the lack of jobs in many parts of the U.S. The company still don't have lots of clients, so they cannot cover many places yet.
Verdict: Legit
Learn How to Earn a Full-Time Income Online!
---
iVueit is a great app, but…
Maybe you would like to open your computer and see commissions that can actually change your life!

Here are some commissions that I receive every month as an affiliate marketer.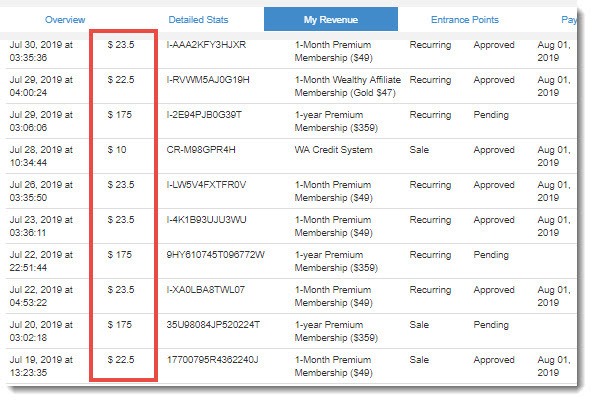 I was able to reach a full-time income and quit my job after growing a successful affiliate site.
The strategy involves creating helpful content that ranks high on Google.
Yes! It does take time and upfront work to start making some serious money.
But, if you are consistent, you will eventually stand out from the crowd and start generating a good income from home.
If you are interested in creating your income generating website, check out my #1 recommendation.
Many members (including me) were able to quit their jobs after applying the strategies we learned from Kyle and Carson.
Final Words
---
Thanks for taking the time to read my iVueit app review. I hope it was helpful!
If you have any questions about the app, just leave me a comment below and I will be more than glad to help.
All the best
Stefan